Outrigger Canoe Club's unique logo has been seen around the world for more than a century.  It first showed up in photos around 1915.  The logo changed frequently in the early years but always had a large O with a paddle through it.
The current logo was adopted in 1964 and has not changed since then.
Here's a look through the years of the various logos used by the Club.
---
---
---
---
---
---
---
---
---
---
---
Other Logo Items
---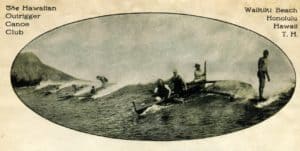 ---
---
---
---
---
---
---