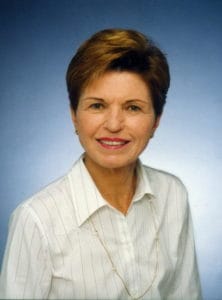 Barbara Stehouwer was elected to Life Membership in the Outrigger Canoe Club on February 8, 2022.
Barbara Stehouwer is one of the Outrigger Canoe Club's longest members. She joined on her tenth birthday in 1951 and has been a contributing member for the past 70 years. Before joining, she came to the Club with her parents so her association with the Club goes back even further.
As a youth she participated in the usual activities of the Club: surfing, paddling, volleyball and hanging out. As a wife, she and her husband Ken, dined and entertained here and as a mother, she raised her daughters at the Outrigger.
She began her three decades of Club service in 1981 when she joined the Historical Committee. That expanded to serving on the House Committee, serving on and chairing both the Buildings & Grounds and the Admissions and Membership Committees, and then finding her home on the Long Range Planning Committee.
After several refusals, and when her work schedule finally permitted, she agreed to run for the Board of Directors and won her seat in 2002. She served as a Coordinating Director, Secretary, Vice President of Operations and was elected as President of the Club in 2006, only the second woman to service in that capacity. In her final year on the Board, she was Coordinating Director for the Elks Ad Hoc Committee.
"Barbara Stehouwer succeeded me as President in 2006," says former President Alan Lau. "I became the Chair of the Elks Ad Hoc Committee and reported virtually daily to Barbara on the comings and goings of the negotiations which then turned into arbitration. During the course of those proceedings, Barbara and I became very good friends with great mutual respect for each other's commitment to ensuring the Club got the best result possible in the Elks' matter.
"Together, we worked long hours with the Elks Ad Hoc Committee and the attorneys representing the Club," Lau added. "When the favorable award came out from the Arbitrators, it was a huge relief as well as great satisfaction in what was accomplished. I truly believe to this day that Barbara did not receive enough credit for the job she did as President during that very important year in our Club's history."
There is no one more deserving of Life Membership in the Outrigger Canoe Club than Barbara Stehouwer.
---
Contributions to Outrigger Canoe Club
Board of Directors
2002 Coordinating Director Buildings & Grounds
2003 Secretary
2004 Secretary
2005 Vice President Operations
2006 President
2007 Coordinating Director Elks Ad Hoc Committee
Historical Committee
1981 Member
House Committee
1982 Member
1983 Member
1984 Member
Building & Grounds Committee
1985 Member
1986 Chair
Admissions & Membership Committee
1987 Member
1988 Chair
Long Range Planning Committee
1990 Member
1992 Member
1994 Member
1995 Member
2006 Member
2007 Member
2009 Member
Nominating Committee
2009 Chair