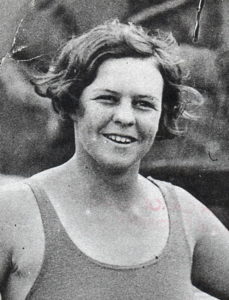 Mariechen Wehselau Jackson was first elected to Honorary/Life membership in the Outrigger Canoe Club after the 1924 Olympic Games where she won a Gold medal and set a world record with her 4 x 100-meter freestyle relay team.  She also won a Silver medal in the 100-meter freestyle, setting a world and Olympic record in a preliminary heat.
Mariechen was recruited to the Outrigger by Dad Center in 1919 and swam on Dad's famous girl's crews for about nine years. She also paddled for the Club and steered the girls crew in the 1933 Kona races. She was an avid surfer.
When the Club changed its Honorary/Life memberships to Life Membership in 1964, she became a Life member.
Board of Directors
1960 Director
1961 Director
Historical Committee
1968 Chair
1969 Member
1970 Member
1971 Member
1972 Member
1973 Member
1974 Member
Admissions & Membership Committee
1963 Member
1964 Member
1965 Member
Planning Committee
1960 Member
Swimming Committee
1945 Member
1946 Member
1947 Member
Forecast Committee
1960 Chair
1924 Olympics
Silver Medal, 100 Freestyle (set World and Olympic record in preliminary heat)
Gold Medal, 4×100 meter Freestyle Relay (set World and Olympic record in final)
International Swimming Hall of Fame
1989 Honor Swimmer
World Swimming Records Held by Mariechen Wehselau
50 Yards Freestyle, :28.8, bath, Honolulu 5/26/1923
50 Yards Freestyle, :28.6, straightaway, open salt water, Honolulu, 5/26/1923
100 Yards Freestyle, 1:03.0, straightaway, open salt water, Honolulu, 5/26/1923
100 Meters Freestyle, 1:12.2, Paris, 7/19/1924
4 x 100 Meters Freestyle Relay, Paris, 7/19/1924
Canoe Racing
1933 Steered Outrigger girls crew in Kona canoe racing revival