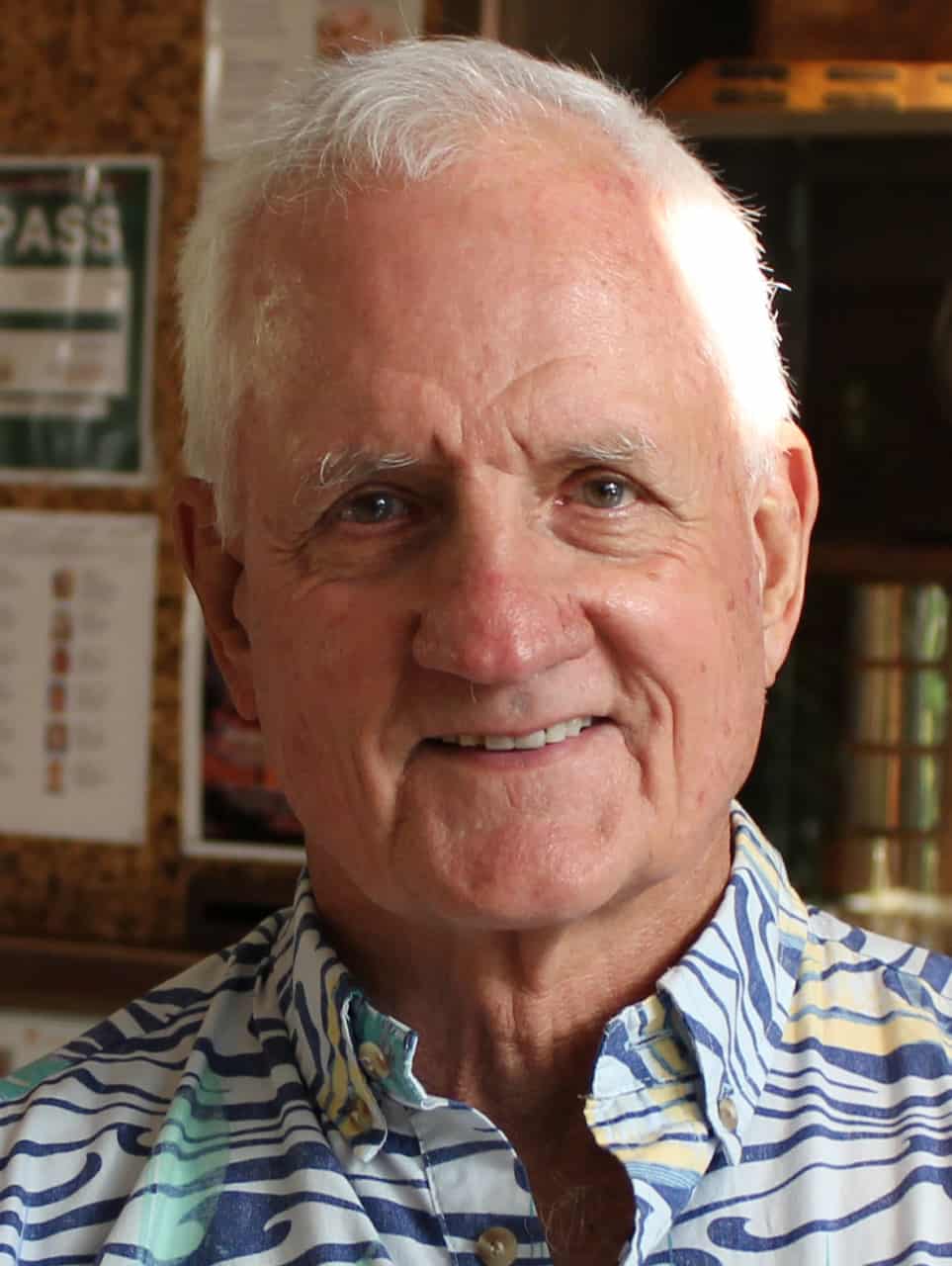 Oral History (2011)
Oral History (2018)
Tay Perry was voted to Life Membership in the Outrigger Canoe Club at the Annual Meeting on February 12, 2018.  Tay joined the Outrigger in 1955.
Tay Perry's family arrived in Hawaii in 1870. His father was a member of the Outrigger for many years but resigned when the family moved to Lanikai. He was a founding member of the Lanikai Canoe Club and became a superb canoe builder and restorer, paddler and coach.  When his father was accused of nepotism when selecting crew members for the Lanikai Canoe Club, he encouraged his sons to join the Outrigger: they joined in 1955, became paddlers, and incidentally, repeatedly beat Lanikai.  From his father, Tay learned to build and restore koa canoes and to this day, it remains his passion.
In 1964, when the Club moved to its present site. Tay, newly married, living in Kailua, and having a small income, resigned from the Club and again paddled for Lanikai. In 1989, he rejoined the Outrigger and since then, has paddled, coached, built and restored koa canoes for the Club, and also served on several committees.
In 2000 Tay led a group of Club members to Kauai, where they found and returned one of the Club's most treasured koa canoes, Ka Mo'i, to the Outrigger. Tay and several others spent over eleven hundred hours restoring it after which it was hung from the ceiling of the Lounge, where it remains to this day. The popular gathering place was renamed Ka Moi Boathouse.
Tay has also designed and built from scratch many of our canoe racing trophies, as well and remodeling and refinishing others. He also built the miniature fishing canoe which is now in the Koa Lanai.
Tay not only works on canoes, but paddles and coaches as well. He has been closely associated with the Canoe Racing Committee and served as Chairman in 1996. Tay paddled on six state championship crews and has crossed the Molokai Channel innumerable times.
He has also coached crews in both regatta and distance races, the Master's Women winning first place in the Na Wahine O Ke Kai in 1990.
Tay has been a member of the Historical Committee for the past 24 years and is its present Chairman. He also served on the Outrigger Duke Kahanamoku Board of Directors for six years and on the Beach and Water Safety Committee, Judges of Election, and Fitness Committee.
Beach and Water Safety Committee
1992 Member
1993 Member
1994 Member
Canoe Racing Committee
1992 Member
1996 Chair
1997 Member
Fitness Center
1999 Member
Historical Committee
1994 Member
1995 Member
1996 Member
1997 Member
1998 Member
1999 Member
2000 Member
2001 Member
2002 Member
2003 Member
2004 Chair
2005 Chair
2006 Chair
2007 Chair
2008 Member
2009 Member
2010 Member
2011 Member
2012 Member
2013 Member
2014 Chair
2015 Chair
2016 Chair
2017 Chair
2018 Chair
2019 Member
2020 Member
2021 Member
Judges of Election Committee
1993 Member
1998 Member
2003 Member
2004 Member
Outrigger Duke Kahanamoku Foundation Board of Directors
1998 Director
1999 Director
2000 Director
2001 Director
2002 Director
2003 Director
---
OCC Athletic Accomplishments
Hawaii Canoe Racing Association Championships
1991 Senior Masters
1992 Senior Masters
1996 Golden Masters
1998 Masters 55
2008 Masters 60
Outrigger Molokai Hoe Races
1990 3rd, Men 45
1991 3rd, Men 45
1992 4th, Men 45
1999 6th, Men 45
2008 Coach, Men 55, 4th
2009 2nd, Men 60
Macfarlane Regatta Wins
1990 Makule
1994 Makule
1995 Masters 45
2001 Masters 55
2002 Masters 55
2005 Masters 55 (Lanikai)
2006 Masters 60 (Lanikai)
2011 Masters 65
2012 Masters 65
Na Wahine O Ke Kai
1990 Coach of 1st Place, OCC Masters