This oral history interview is a project of the Historical Committee of the Outrigger Canoe Club. The legal rights of this material remain with the Outrigger Canoe Club. Anyone wishing to reproduce it or quote at length from it should contact the Historical Committee of the Outrigger Canoe Club. The reader should be aware that an oral history document portrays information as recalled by the interviewee. Because of the spontaneous nature of this kind of document, it may contain statements and impressions that are not factual.
---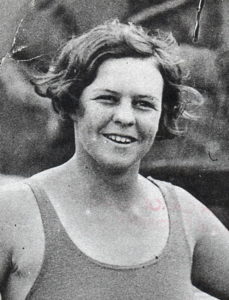 ---
Interview by Josie Achimore (JA)
May, 1979
Interview with Frederick E. Steere, Jr. (FES), Mariechen Wehselau Jackson (MWJ), Helen Moses Cassidy (HMC) in Kamuela, Hawaii.
FES:    I was born in 1907 down in what is now Ft. DeRussy property near the present Hawaiian Village in the district of Kalia. I joined the Outrigger sometime around 1916, because I can remember getting in to big surf when I was 10 years old in 1917 and getting frightened out of a year's growth. The nine and 10 year old kids learned to surf in front of the Moana and in front of what is today the Royal (Hawaiian Hotel).
JA:       How big were the boards in those days?
FES:    Most of the boards were 10-footers made of cedar or redwood and we were not allowed out into the big surf until the Hui Nalu group decided we were competent to go out there. The first time I remember going out there, I got into too big a surf for me and I got scared out of a year's growth and came hustling back in. I must have been about 10 years old. Sam Kahanamoku was one of the so-called policemen out there who decided who was allowed out there and who wasn't.
Swimming time at Punahou was in the old little pool which was surrounded by a wooden fence and some of us little boys would go in there and swim when we didn't belong in there and one day Bill Kanakanui decided that he'd teach us a lesson, so every time we came out he'd dunk us back and hold us under water and when I was about three-quarters drowned, he decided to let me go.
The Waterhouse Pool was built in 1923 (1922) and named for Elizabeth Waterhouse, who was killed in an automobile accident on Kauai. And I did not start swimming competitively until I was a senior at Punahou, swimming under "Dad" Center, and my swimming career was very limited because "Dad" decided that I should swim the 100 and I thought I should swim the 50. And about then "Dad" cut me off and told me to forget it.
Going back to the time around the old Outrigger Club, at lunch time we'd all eat under the hau trees there and the Crabbe boys would throw their plates across the fence into the Royal Hawaiian rather than taking them back to the kitchen. And a lot of the younger boys broke the eating utensils into little pieces. And that's the only crime that I didn't commit and I was called in front of the Board of Directors and nobody would believe me and I was bounced out for 30 days in the summer. So I decided to come back, since I'd been shoveling sand for two weeks for my dues. I decided to climb through the back window and change in the locker room and they caught me and then I was bounced out for 90 days. Next time they caught me, I quit and was invited to join the Hui Nalu and spent the next 20 years over with the Hui Nalu.
FES:    In 1929 the Leeds family came over from England and in order to entertain them, the beach boys started up a competition called surfboard water polo in front of the Royal Hawaiian and the Outrigger had a team and the Hui Nalu had a team. There were seven men on each side playing with an inflated ball something like a soccer ball. The object of the game was to throw the ball through two markers to score the goal. With 14 surfboards on a small field of water, the collisions were quite frequent and there was considerable difference of opinion as to violations of rules, but it was a very interesting competition and the Leeds family from England enjoyed it so much that they put up individual trophies for those who competed.
The inter-island canoe paddling competition was really started by "Dad" Center, George Ii Brown and probably Charlie Amalu and Lorrin (P.) Thurston because Thurston was promoting travel into Kailua-Kona. And the first races were held in Kealakekua Bay in the summer of 1933, with three teams from Oahu–Outrigger, Hui Nalu and the Queen's Surf–and three teams from the Big Island–Milolii, Kailau and Honaunau.
Outrigger won the senior race the first year, and the following two years the races were held in Kailua Bay.
MWJ:  I remember that race. We went up. There were Ruth Gillmar–Ruth Scudder Gillmar, Oma Haley, Ann Barkey who later became Mrs. Edric Cook, and I went up on the Waialeale as "excursionists" to see the Kona races. Prior to going up, "Dad" had said to me, "Now, 'Squeaky, 'why don't you get a crew together because then you can race against the women up in Kona." And I said, "Oh, no." And "Dad" of course, was always full of jokes so I didn't take him earnestly. So we got up there and we were watching the races and having a very good time way up on the top (of the Waialeale) and all of a sudden Lorrin Thurston came out with a megaphone–and he was on his boat–and he yells, "Squeaky, 'Dad' wants you to get your crew together." (Laughter)
And so I said to them, "Come on, this is our cue to get off the (excursion) boat. Come on, we'll go in and we'll have fun"
There was also Ginger Joyce on board and so we grabbed her and the five of us went aboard Lorrin Thurston's boat and went ashore. When we got there, "Dad" said, "Now, come on, you girls are going to have to race."
And I said, "Oh, no."
And he said, "Yes, you are."
And I said, "Which canoe?"
And he said, "The 'Hanakeoki."
And I said, "Oh, 'Dad,' that's so big! Will you put a boy in front of me and let me go out a ways and see how to steer it" Because I had only steered a 10-foot canoe.
He said, "Oh, you'll be all right–you'll be all right."
And so Dot Ruthmann Lambert, who was there (in Kealakekua) made up the sixth crew member. We started out and I steered the canoe and, as Gay Harris said, we went out just as straight as could be, very nicely, and the Coast Guard acted as the officials. Of course, we flirted with all of those guys at the starting line, waving and having a great time. And we waited and waited and waited and finally the other crew came along. And they were elderly women, all white long hair, and they were wearing muumuus and the top of the canoe was just about three of four inches from the water. They were large women. They came out paddling very steadily and when they got out there the Coast Guard explained the rules and regulations to them and we lined up and, as Gay Harris said, "Gee, I looked and I thought–'Squeaky,' I thought you beat the gun. You just went out there so fast. And then when I looked again, I had to shake my head. I couldn't believe it. You were going around in a circle." (Laughter)
And then we were headed right for the judges' boat and we had to yell to the judges to get out of our way. I couldn't handle that canoe. We mowed down a couple of flags. We went all over the place.
JA:       How wonderful!
MWJ:  And that's the way it should have gone. Then we became "crew" and we mingled with all crews there at the time and participated in the good luau for all the crews at Napoopoo. When that was over, we went with the crews to Kailua.  Well, then we became "excursionists" again. We went to the other luau. (Laughter) And finally we left on the Waialeale at midnight.
JA:       How long did it take to get back then on the Waialeale?
MWJ:  We got back the next morning after we left at midnight.
JA:       But you've never pursued canoeing?
MWJ:  Yes, after we got back to Honolulu, we decided that we really should paddle and show the others that we really could paddle, you know, and not just put on a comedy act. So we did get in and train. I paddled in one race after that. I didn't steer though; I let somebody else do that. (Laughter)
JA:       What was "Dad" running? Was he the coach?
MWJ:  Yes, he was. Very definitely.
FES:    The paddling in Kona lasted through 1935 and then in 1936 the inter-island paddling was in Honolulu Harbor and the Honaunau people swept the bay that year. The inter-island ceased until after World War II and the Waikiki Surf Club and the Outrigger started it up in 1945 or '46 on a formal basis and they later formed the Hawaiian Canoe Racing Association and then it was called Surfing Association, which was the forerunner of the present-day HCRA and the women were brought in to it sometime after World War II.
"Dad" Center found the "Malia" hull somewhere in Kona in the early 1940s and he brought it to Honolulu and turned it over to the Waikiki Surf Club and this canoe is the basis on which all today's fiber glass canoes are constructed.
JA:       Can you tell anything about the history of the canoe? Who did it originally?
FES:    Most of these old canoes were stashed away in Kona in various locations. The koa canoe (Kai Malino) of the Kai-Opua in Kailua was found under a church. It hadn't been used for 30 or 40 years. It was found by someone under one of the Hawaiian churches. And lots of the older logs were found stashed away in the upper hillsides of Kona. And there was a canoe called the Malolo which belonged to the Kaupiko family from Milolii–I think it came from Milolii and later was broken up in the Molokai race–the tremendous strains of the Molokai rough weather. It was lost at that time.
In 1954 the Waikiki Surf Club builders–George Downing and Wally Froiseth–slimmed down a 34-foot canoe call the Lanakila and then built up its hull with fiberglass. It was a very light canoe that nobody could get anywhere near keeping up with, so at the end of the paddling season–I was the president of the Canoe Association and I reminded these two men that there would be no further canoe competition–and what could we do about it? They said, "Form a committee and we will weigh all the racing canoes in the Territory."
The upshot was that it was decided that the hull of the racing canoe would be set at 400 pounds and no less. This meant that the Waikiki Surf Club's little Lanakila had to be discarded because it was 265 pounds. The Outrigger Club had to build up their smallest racing canoe from 365 to 400 and today's races are based on this limitation all over the state. No one can paddle with a canoe hull that weighs less than 400 pounds.
FES:    Coming back to my origin here–my folks came from Rhode Island in October, 1898–came to this island, the Big Island, by small inter-island vessel, landed in Kailua-Kona and took one month to get around to Hilo by horse and buggy and horseback, which must have been a wonderful trip. My sister, I think, has the written recording of their travels.
After my folks returned from the Big Island, they ended up out in Waianae, out in Makaha Valley where my Mother worked for $40 a month as a school teacher and my Dad was raising limes and coffee in the upper part of Makaha Valley. After a couple of years of that, the finances ran out and he went to Honolulu and went to work for Allen & Robinson, then the Waterhouse Trust Company, where he stayed until the trust company went down the drain in 1932.
JA:       All right, "Squeaky."
MWJ:  I'm Mariechen Wehselau Jackson. I was born in 1906 in Honolulu. My parents came from Bremen, Germany. My father got to Honolulu aboard a sailing vessel and went around the Horn. He arrived in Honolulu in 1895. My mother got there earlier. She came with the Schmidt family and came along with them to teach the children German.
JA:       Isn't that amazing!
MWJ:  My parents met each other in Honolulu. They knew of each other in Bremen, but they had never met, and they were married in 1896 and I was born in 1906, and went to Punahou from the first grade.
Later on I learned to swim in the old pool at Punahou–a 15-yard pool. Mrs. (Agnes P.) Driver was the instructor. She was there about a year or so, I think, and then Helen Jones came along. She later became Mrs. (R. J. H.) Farrar. She was a marvelous teacher, and she wore an Annette Kellerman bathing suit and she used to "porpoise," and I loved to get on her back and hang on to her.
JA:       How old were you then, "Squeaky?"
MWJ:  I must have been around 10 years old. When I was 13–each September they would examine the children at Punahou–I had a bad cold at the time and the doctor thought I had a heart murmur. They asked my mother to come to Punahou and they told her that they thought I had better be kept out of school a year. But my mother wouldn't hear of that. She insisted that I continue school. But Punahou said that I couldn't take the physical ed. program and they wouldn't take any responsibility for me. So I joined the Outrigger Canoe Club and learned how to surf at that time. That was in 1919. That's when I swam my first race.
JA:       What was your–50-yard dash?
MWJ:  No, I think it was 40-yards novice or something like that.
JA:       In the ocean?
MWJ:  No, that was in the YMCA pool. The old YMCA downtown.
JA:       Was "Dad" the coach?
MWJ:  Oh, yes, he was. And that was once reason I went to Outrigger because I'd heard about him and about how wonderful he was. Then I started training.
JA:       In spite of your heart murmur?
MWJ:  Oh, yes. Well, I had a bad cold at the time they tested me, you see. And so the next year, when we had our examinations again, they said there was nothing the matter with me. So I promptly took phys. ed. too. Well, that's how I started swimming.
JA:       What was the impetus to get you into the Olympics? Was there a great deal of excitement in Honolulu about the Olympics?
MWJ:  Helen went to the 1920 Olympics. And then we had a number of mainland swimmers who came after that. There was Ethelda Bleibtry and Charlotte Boyle and a few others, so we did have a few meets between 1920 and '24. Then I was selected to go in 1924 and Mrs. Fullard-Leo was my chaperone. I went to Briarcliff Lodge (N. Y.), where the women's try-outs were held and I won the 100-meters and, of course, made by berth on the team then.
We went to–the Olympics were in Paris. We boarded the ship in New York and trained going over the Atlantic Ocean.
JA:       Was there a pool on the……. ?
MWJ:  We had a tiny canvas pool. They would harness us in. Each person would swim for about 15 minutes, swimming once in the morning and once in the afternoon, and that was our training.
JA:       Primarily for just the exercise.
MWJ:  Yes.
In joining the Outrigger Canoe Club and Outrigger's swimming team, I started training and that training then consisted of swimming Friday evening at the Punahou pool. That we did practically the year round. However, if a meet was coming on, we would train Tuesday and Friday nights and in between we would swim down at the beach.
JA:       Oh, did they have lanes set up for you so you could actually practice your swimming in the ocean or in the bay?
MWJ:  Oh, no, no. Not at all. We just swam out in the ocean wildly, through the waves and all. We thought that we were training very, very hard in those days, but in comparison to what they do now, it was child's play.
JA:       What about the Ala Wai Canal? Someone said you tossed them in or they tossed you in. (Laughter)
MWJ:  I remember swimming a half-mile in Ala Wai once.
There were occasional meets down in Honolulu Harbor and the course, I believe, was 50 yards or a hundred yards. And they put up lanes. The lanes consisted of ropes with cork floats. Of course, we trained down in the harbor prior to those meets, too. And that wasn't any too clean, either.
JA:       Isn't salt water much easier to swim in?
MWJ:  Yes, it is. It's much easier to swim than fresh water.
JA:       So it doesn't give you the resistance that you really need if you are going to be competing in a pool.
MWJ:  That's right.
As I said, the '24 Olympics were held in Paris. The girls were housed out at Chateau de Prince Murad. We had the two gatehouses. The women–or the girls–who won first place had the best quarters. Actually, I was in the living room of the two-story gatehouse. And there were three others with me in the living room.
JA:       Are these the qualifying races prior to the …
MWJ:  These were the girls that won the try-outs at Briarcliff Lodge. And we had a gorgeous big bathroom with a huge bathtub. Of course, we were able to take our baths in there. The girls over in the other gatehouse didn't have those facilities. They had to buy one of those big round iron tubs.
JA:       Fill it and empty it?
MWJ:  That's right. And finally they came over and used our bathroom, too.
JA:       Were you then all together?
MWJ:  There were about 25 girls and there were 450 all together in the whole team–men and girls.
JA:       Yes.
MWJ:  And, of course, there were loads of chaperones. (Laughter)
JA:       They needed them.
MWJ:  The Chateau itself housed the Olympic officials from the American team. And then all the men were up on the hill. The dining room was up there, too. So we'd have to go up there for our breakfast and dinner.  Right after breakfast we would go by limousine in to Paris. Then we would train in the morning, and then we would go to a wonderful restaurant at noon. We would have steak every day. And then we swam in the afternoon again.
JA:       Where was this pool in Paris?
MWJ:  It was right in the center of Paris.
JA:       They must have set it up, then, at the Olympic Center there.
MWJ:  Yes. And I swam in the 100 meters and on the relay. And in the 100 meters I broke the world and Olympic record in the semi-finals. I was beaten in the finals in slower time, so I had the unique distinction of having the record, the world's record and the Olympic record, but I got the silver medal for that. And then I swam anchor on the relay and got a gold medal for that.  After the Olympics, a few of us were invited to swim in Brussels. I was one, and we went up there and swam for the then Crown Prince.
JA:       You mean he had his own little competition with medals and……?
MWJ:  Oh, no, no. We were invited to swim for him at this beautiful pool. It was a club in Brussels. He wanted to meet the girl from Hawaii, I guess he thought I was Hawaiian, you see. Then he found out I was German–and this was right after World War I….
JA:       Oh, oh.
MWJ:  Anyhow, I met him and he was a very fine person. Then after that we went to London and put on an exhibition there.
JA:       Now, that would have been how many of you girls?
MWJ:  There must have been about maybe 10 of us.
JA:       That were doing these exhibitions…..
MWJ:  And then we were in London for a few days. We went to the Wimbledon exhibition, which was yummy, and then we joined the Olympic team in Southampton and boarded the ship there. And went back to the United States via Ireland–and just stopped off there to take on some immigrants.
JA:       Um hum–my ancestors, no doubt. (Laughter)
MWJ:  Then we went back to New York and, of course, we had a huge ticker–tape welcome.
JA:       Wouldn't that be wonderful!
MWJ:  And that was fun. And then I had some friends there which was nice seeing them too. Then there were a number of exhibitions that we swam in. And then I returned to Honolulu and was in Honolulu not too long–well, I left for Australia on Christmas Eve of 1924 and swam down there in all the championships in Sydney, Melbourne and Brisbane and in some of the meets in the out-country.
JA:       That would be their summer then.
MWJ:  That's right.
JA:       But they were not international meets–or were they? Just regional?
MWJ:  No, no. They were just the Australian championships.
JA:       And where were you–how old were you? What were you in school? Were you pau school or were you …
MWJ:  No, actually I didn't finish. You see, I went on to the Olympic Games. And I went over to Philips Commercial School after that.
JA:       Oh, I see. And this was in 1924.
MWJ:  And then in '26 I went to the Nationals in Florida.
JA:       Competing in the same two categories?
MWJ:  No, the 100 and the 200.  Then in '28 I went to the try-outs in New York for the Olympics, but I didn't make it. After that I helped "Dad" Center train. And I helped him from then until 1937.
JA:       You'd be a marvelous help for him.
MWJ:  And that was fun.
JA:       But you were working?
MWJ:  Oh, yes.
JA:       And teaching–and coaching.
MWJ:  Um hum–Friday nights.
JA:       Well, that wasn't too bad. How do you think the techniques have changed?
MWJ:  Well, of course, the turns have changed.
JA:       Right. Describe them. How?
MWJ:  Well, I wouldn't know how to do one of those turns.
JA:       You seem to head first in and then flip over.
MWJ:  And flip over–and they are very fast and very good. Of course, they've got these other strokes–the butterfly, which we didn't have then, and the breast stroke and back stroke and crawl. Diving, of course, is very, very different.
JA:       But the crawl–how much has that changed? Isn't that the fastest?
MWJ:  I don't think it has changed any.  Maybe some of them, I've noticed, hardly kick their legs at all. We used to give them all we had.
JA:       Do you think more of the arm movement is different now? I never mastered it myself.
MWJ:  Way before I joined the Outrigger Canoe Club, my father and mother used to take me down to the Waikiki beach on Sundays and they loved to sit there and I would rent a bathing suit either from the Seaside or the Moana and I would swim and it was simply wonderful to get into the water.
At that time there was a pier at the Moana Hotel. The beach boys, of course, would play music there on weekends, which was nice. Then there was a tiny pier right between the Outrigger and the Moana. It was a little cement pier. We could go out on that and jump off or dive. Later on, they made it pointed so people couldn't dive off and get hurt.
JA:       Was it a groin or–to hold sand? Or was it somebody's pier?
MWJ:  No, it was actually a pier. But there was also a stand, a big stand, way out from the Outrigger just off of Cornucopia surf. It was sort of a double-decker deal and there were some diving boards and you could also jump off of the top. I never did get up to the top. There was a rope that went out from the beach out to this enormous stand. It had floats intermittently and people who couldn't swim, you see, could pull themselves way out. They could go out and come back again–which was quite something.
JA:       There are pictures of this. But people can't remember the name of it. Do you remember, Helen, the name of the pier…..
HMC:  I'm trying to find it. I read it a little bit earlier today. It's–there it is.
MWJ:  Here, that's it.
HMC:  But I can't find–it gives the name some place……
MWJ:  The third pier, beyond the pier which went out from the Moana, was the Kuhio–Prince Kuhio–and that was a little distance down. It was Prince Kuhio and family and they used that pier.
JA:       Ainahau? Was that by the Steiner house?
MWJ:  Beyond–just a little beyond.
JA:       And then was that the last one?
MWJ:  That was the last one.
HMC:  Here it is now–pergola……
JA:       And that was the pergola double deal?
MWJ:  No.
JA:       Oh, that was the other……
MWJ:  In 1921 a girl in Hilo by the name of Kuualoha Keliipio challenged all the girls in the rest of the Territory to a race or races. And that started the planning for a meet on Maui which was held. Outrigger Canoe Club sent up a team of swimmers. We had Helen Moses Cassidy, Ruth Scudder Gillmar and Cecily Cunha and Dolly Mooney and …
JA:       Lillie Bowmer?
MWJ:  No, Lillie wasn't there.
HMC:  Estelle?
MWJ:  No. I can't remember. Anyway, there were quite a few men and we swam and Kuualoha Keliipio won the breast stroke, I believe. That was the only event that she did win.
JA:       Who was her coach, for example?
MWJ:  Her father over in Hilo. And we swam in the Puunene pool. And after those races there was a conference–there was a big press conference–and we put an exhibition on for them. And when that was over, we went to a big luau out at Haiku. And then it was, I think, the next day that we all went out to Olinda. We got on horses. Helen's mother was the chaperone and, of course, "Dad" Center was the coach. We got on horses and we went to the top of Haleakala. There was no road to the top at that time and we were told–we were instructed to stay together because when the fog comes down, you know, you were apt to, you know, get lost. There was just one big concrete building up there and it was cold as the devil. This was in October–and it was a full moon night and I remember that we were all above the clouds. The moon was coming up above the clouds and the sun was going down and it was the most gorgeous sight. We told ghost stories that night and we just about froze to death. In the morning, "Dad" Center's horse had jumped the corral fence and went back to Olinda. So two had to go back on one horse, Bouldin Baurbank, who was a beautiful diver, rode this one horse and Dolly Mooney sat on the back going all the way down and poor Dolly had terrible "cherries" after that. (Laughter)  It was a wonderful trip and we had a great time. There were 21 of us and that was in 1921.
In 1937 I married Chester Jackson and that ended my career of coaching and helping "Dad" Center. He had others who carried on after that time.
HMC:  Well, to begin with, I guess my claim to fame, most certainly, was that I was born in Hilo many years ago. My father first came to Hilo to be an accountant for the old Volcano Stables–bookkeeper or an accountant, whichever. That was in 1900.
JA:       From where, Helen?
HMC:  From California. And then my mother followed in a couple of years and about two or three years later I arrived on the scene.  And I suppose my early swimming, there's no doubt about it, started at Coconut Island. In the old days when you had to whistle across to Isaac Keliipio and he'd row a little rowboat across to the main shore and you could ride over for five cents.  Then in around the end–it was in the end of 1919, year, I believe it was then–that the Outrigger Club sent the track team to Hilo to compete. And "Dad" Center and "Jinky" (G. Douglas) Crozier, at that time were invited by my parents to stay in our home because hotel accommodations were very scarce.
JA:       Was this in Hilo or at the Volcano?
HMC:  No, this was right in Hilo. No, I never lived up at the Volcano, just in Hilo–Pueo.  At that time–it must have been during the regatta or something like that–in July, or maybe in September; I don't remember just exactly when–but at any rate there was a swimming meet in Hilo Bay, right off Kuhio wharf, and the Kuualoha Keliipio that "Squeaky" spoke of was a competitor in that race and "Dad" saw me swim in that race and prevailed on my parents to let me come over to Honolulu to train. And so……
JA:       Oh, Helen, all by yourself?
HMC:  I was 14. And so I came over and–due to dear old "Dad" Center, I guess, is the only reason I ever left Hilo–probably would have lived there my entire life. So I came over to train under "Dad."
JA:       Well, did this mean you had to move over there–go to school there?
HMC:  My mother came over with me. I was still the eighth grade so in January started at Central Grammar School. And before you go on with anything on that, I'd like to say something about "Dad." He was, without a doubt, the greatest guy that ever lived. Friday nights that "Squeaky" spoke of he'd come around in his–we would get ourselves up there to the Punahou pool, as I remember–then he'd take us in his Stutz. He had an old Stutz car and–didn't it drive on the left-hand side? His right arm was always around here. (Laughter) And after our training–tell you how hard we trained–he would take us down to Rawley's Ice Cream Parlor and would treat all of us to whatever we wanted–ice cream soda or ice cream sundae, or what have you. And then, bless him, he would take us all to our homes.
JA:       How long would you be in the water swimming? An hour?
HMC:  A couple of hours, I guess.
JA:       A couple of hours.
HMC:  Yes. And I can remember "Dad's" favorite expression. A lot of times you didn't feel like training quite as hard as you did the next time. And he'd come along and he'd say, "Hey, what's the matter with you–you got the hookworm?" Which was always funny–good for a laugh.
HMC:  I do remember going and swimming just for a short time in the old Punahou tank that has been mentioned a number of times.  Well, of course, when I first came over to Honolulu–I can't even remember my first day of going down to the Outrigger. I remember going down there many, many times and getting off the streetcar and walking down this wooden walkway that they had along the lagoon in to the Outrigger Club proper. I remember the girls' dressing rooms were all over in a sort of barracks thing on the left-hand side. Farther on down was the rest of the Club and the Volleyball court was this little court right, more or less, in the middle of–these buildings.
JA:       Was that the green and white two-story building?
HMC:  Well, the pavilion was green–that dark green open building. The commissary, of course, was always a great place. With dear old Sasaki running the commissary–and all of us kids, never with a whole lot of money. And, of course, he had chocolate sundaes there.  He sold canned beans and the kitchen was right around the corner. When we were there weekends, of course, we would buy a can of beans and there was always rice–we never had to bring rice. And you cooked yourself rice and had canned beans and rice and a chocolate sundae for dessert. (Laughter)
JA:       Oh, my!
HMC:  Yes–double decker cones or double decker sundae. After you charged–you know–and your bill got up to say a little bit more than fifty cents, Sasaki would begin to say, "Well, when you going to pay your bill?" And that was always fun.
JA:       Did they have a membership fee they charged you youngsters in those days?
MWJ:  We paid about six dollars a year.
HMC:  I don't remember, I really don't remember. Well, at any rate….. And then another fond memory of the Outrigger was training, and part of our training was to punch the bag. Under the pavilion, around at one corner, there was a punching bag and we were taught how to punch that, you know, to build up our strength, I guess. And that was always a lot of fun.
I remember-I don't remember exactly what year it was–but my father had written down and asked "Dad" to make me a new surfboard. And in those days it was redwood. They were big, thick things and it was about all you could do to carry it. Of course, I had my own surfboard locker. One day I was going to go surfing and, you know, I had the key to unlock my locker and there's no surfboard there. And Lord, you know, I was very indignant, to say the least–sort of blew my stack, to put it more bluntly. You know, nobody knew where my surfboard was. They kept me that way, in a complete state of turmoil, for hours on end–I guess until I almost reached the point of tears. And then they told me. They had buried it in the sand right in front of my locker–only about four or five inches under the sand. (Laughter)
JA:       Well, it was there.
HMC:  Yes, somebody had fun burying it there, you know. And then I can remember, as Freddie Steere said, going out and being scared to death. I remember one time the waves were running real high and all the people were going out to surf so I thought I'd have to go and I got out there and, my Lord, the waves were so high I was scared to death. And I had a heck of a time getting back to shore without catching a wave. (Laughter)  So I sort of paddled down towards Gray's site–that way–and tried to go in along that way so I wouldn't catch a wave. I had my share of "pearl diving" and all that that everybody else had.
MWJ:  Um hum.
HMC:  Getting back to the training. Besides Punahou tank and paddling surfboard and swimming out in front of the Club, we used to walk down to Ft. DeRussy where there was deep water and smooth water, where it had been dredged many long years before. We'd train down there.  And there's one thing that I remember about "Dad" Center. He didn't always walk on the wall. Lots of times we just went along by the old Seaside Hotel and then Gray's and then on the wall down to where we swam. But when "Dad" went along, we'd come back on the road and I remember "Dad" had this funny "click" in his knee. Every time he took a step, his knee would "click." (Laughter) It always fascinated me.  Well, at any rate, there were many races. In fact…..
(Pause and some omission on tape)
(Evidently talking about Adele Baird Brown, who lives at Kamuela)
HMC:  She married "Buster" (Arthur M.) Brown. He used to swim for the Outrigger Club, too. But he died a number of years ago up here–actually up at Puuwaawaa Ranch. The other day she sent me–I guess I was in the habit of giving away medals, or something. She was cleaning out a drawer and she sent this thing to me. It's a 50-yard race. It's a bronze medal, which most of mine were–50-yard girls under 15. April 17, 1920, and this was in celebration of the Hawaiian Mission Centennial, 1820-1920. I have no recollection of ever having given that to her, none whatever.
JA:       Do you remember the race?
HMC:  No. Well, I do know that in a lot of the races–in the first races down there between the piers, that I swam around under the piers trying to get to the end of the race on a number of occasions. (Laughter)
JA:       Was it safer down below?
HMC:  Well, at any rate, there were many races–swimming races and what have you–and then finally a Hawaiian swimming team was selected. It was the first Hawaiian swimming team. And there was, of course, "Dad", the coach, and there was Duke Kahanamoku, Pua Kealoha and Warren Kealoha and Ludy Langer and Bill Harris and myself. My mother went along a chaperone on this trip.  And we left in May and had Far Western Trials at Neptune Beach in Alameda. And then the boys had trials in Detroit–no, not Detroit, in Chicago some place. And I went on with my mother to New York and stayed with Ethelda Bleibtrey and her mother in Flatbush and the Far Eastern Trials were held at Manhattan Beach. And it was nothing more than a swamp, a miserable place to hold a swimming meet, with barges put at each end and…..
JA:       To back the water up?
HMC:  No. There was a swamp–there was a beach there and I remember we had to wear long cover-ups and long stockings. You couldn't even walk down on that beach without long stockings.
HMC:  No, no, not swim. But the water was just like ice-water, you know. But at any rate that particular race I came in last. This was the 100-meters trials, which was very serious. But at the 50-yard mark was when Ethelda Bleibtrey climbed all over my ankles and threw me all off and so that's how come I ended up last. And it was very embarrassing because we were living there together.  It was really something–the end of the race. But the judges took this into consideration and I went over more or less as an alternate.
JA:       Now, what year was this?
HMC:  This was 1920. And the games were held at Antwerp, Belgium, in that year. And, of course, it was very shortly after World War I. And one of the things that really shook me up was when we left New York we had to walk down through this long, long pier and on either side were all of these coffins draped with American flags.
JA:       Oh, yes.
HMC:  These boys that had been returned, you see. We went over on the Princess Matoika. It really kind of…
JA:       Well, you were just a teenager.
HMC:  I had my fifteenth birthday in New York. So, we went on over. Well, in Antwerp–and that's where the games were held–and of course the Americans all did very well. I can remember, in the water polo competition, Norman Ross almost–almost nearly drowning some European fellow–which wasn't funny, because he came so close to drowning.  Well, at any rate, while we were there, we stayed at YWCA Hostess (House) place–hotel. It wasn't really a hotel. A building. We weren't taken in limousines like "Squeaky" was. We were picked up by an army truck every morning and taken to the stadium–the swim stadium–and brought back in this army truck. And we also were treated to a trip in the army truck to Flanders Fields. And we went to Ypres. Remember that?
JA:       Yes.
HMC:  Y-p-r-e-s. And there was just nothing left standing there. It was really quite something to see.
JA:       You were so young.
HMC:  Yeah. And I was right out of the …..
JA:       The boonies.
HMC:  Out of the boonies from Hilo, you see.
JA:       Who else was with you from Hawaii? Or were you the only girl qualified?
HMC:  I was the only girl, yeah, but I mentioned the names of the fellows. And, of course, I met a lot of the other girls–New York girls and Philadelphia girls. And then, oh, after the Games were over–of course we were able to see some of the track and field events, but really very, very little of it–Mother and I went down to Paris.
JA:       Oh, at 15–how wild! (Laughter)
HMC:  I was too green. And I, of all things, went up in a captured German plane. It didn't have any top on it or anything like that, you know.
JA:       In those days they didn't.
HMC:  And when "Dad" Center heard about that, he nearly threw a fit. But Duke had flown over to London in a plane. At any rate–and so we came back and we stopped at Cherbourg to pick up more caskets. And so, while they were loading the ship, we all went down on Calais beach and had a picnic there. But it was kind of gruesome. And so, at any rate, they came on the Antigone.
JA:       How long were you actually over in Europe, though? Three weeks, six weeks?
HMC:  Let me see. Oh, golly, I don't know. It was a number of weeks. We left Hawaii at the end of May and we got back to Hawaii in October. But we did, like "Squeaky," you know, exhibitions along the way and everything. Uh, I forgot what I was going to say–we arrived home in October.
HMC:  After our return to New York, of course, there was the usual big parade and celebration and what have you and …..
JA:       And, in concluding, I think I would like to say that probably the best medal that I ever won was–that I never got–was a gold medal I got for walking in a parade for five miles down Fifth Avenue. (Laughter)
HMC:  During the swimming days, of course, we had many fine relay teams–Ruthie (Scudder) Gillmar, Lillie Bowmer Mackenzie and "Squeaky" and myself and Estelle Cassidy, who later married St. Clair McKelway. Well, Estelle, after 1930 was my sister-in-law. I married her brother, Charles E. Cassidy.  And the Cassidy family–I think it is sort of interesting–were living down on Kalia not too far from where Freddie's folks lived, way back in the early teens, and they actually started what was called the Pierpoint Hotel. John Cassidy, Charley's father, accreted more than a hundred yards of land in front of the original shoreline just by studying the currents. There were many coconut palms all around there and he'd gather them up and stack them around in different ways and it was in this manner that he got all that extra land. Around in about 1922 or '23–it was somewhere about then–Grandma Cassidy, Eliza Cassidy, sold the Pierpoint. She had lost her husband many years before, back in about 1914. Mr. (Walter) Childs bought it and it became the Niumalu Hotel and then after that the Hawaiian Village where it stands today. And the Kahanamokus lived just around the corner and the Paoas lived on the corner–all good friends, you know, and they played together as kids and all–in the Kalia area.
JA:       Were there named surfing places off that beach like Castle and all the rest of them?
HMC:  No, because it is all kind of shallow reef there. But Charley's father had dredged out a pool of some kind and he had this long, long pier that he built. It went way, way out. It must have been a hundred yards long. And then there was a little pool where the people could go out there and swim–down the stairs and swim in this little pool.
JA:       I wonder if there are any pictures of that?
HMC:  Oh, yes, I have some. Not here, but over at the house on Maunalani Heights. It was really a wonderful place. And from there we'd walk on up to the Outrigger, too. After a while why Mother and I lived down to Kalia. It's quite a place.
JA:       So you could be near the ocean and swim every day.
HMC:  Yes, just about–yeah.
JA:       So when you came back from the Olympics then you did compete a bit?
HMC:  Yeah, and I went to Punahou and I taught swimming there, too.
JA:       Oh, did you?
HMC:  Yeah. Then, later on–I guess it was about '25 or '26–"Dad" started a sort of a swimming school out at his place, his home out there toward the end of Kalakaua. I used to go there. then it would have been '26 or '27 because then I was working up at the University. I only had a year and a half of the University there after Punahou. And I'd go out there in my little old Ford and teach kids. "Dad" would get the kids and we'd meet at his home there, walk along the wall to Castle and swim there–that old Castle home which was the Elks Club.
JA:       Oh, dear.
HMC:  Yeah. I kept that up for a few years and then I got married…..
JA:       And that was that.
HMC:  Then I got married in 1930 to Charlie Cassidy.
JA:       Did your children swim?
HMC:  Loujean did at Punahou. She won quite a number of gold medals there, John never did. He went into the JV Football at Punahou and then he went to the mainland to school.
JA:       He wasn't following in Mamma's footsteps.
HMC:  Well, we're on the air again and "Squeaky" and I, neighbors here in Waimea and friends since 1920, would like very much for some people to know just how much we dearly loved our coach, our wonderful, wonderful swimming coach, "Dad" Center.  If it weren't for "Dad," if it had not been for "Dad," I probably never would have left Hilo. As a result of knowing "Dad," his suggesting that I go to Honolulu, I got a trip to Europe, to meet all sorts of new people–and he gave to me a new life. And this is something that I could never ever thank him for. It's something that's the dearest thing in my heart and he was a man of courage. He never blew his top. He was always fair and square and he was so very, very generous–a person that I am happy to have ever known.  Come on, "Squeaky," what do you feel about him?
MWJ:  Well, I first met "Dad" in 1919 at the Outrigger Canoe Club and I can truthfully say that he was like a second father to me. He did so much for me in encouraging me and–so that I did go to the Olympic Games in 1924 and then went to Australia and New Zealand and to Florida and Canada, and then to New York. All of this I would never have done and, in all, the travels and contacts with people enriched my life. But "Dad" was hovering all around–encouraging, encouraging, encouraging. He was a wonderful person. He gave so much of himself to so many, many, people. He loved the youngsters. He just loved teaching children and I dare say that he has changed many, many lives.
HMC:  To add to "Dad" Center's career and coaching, we're going back a little bit. In 1928, at the time of the War Memorial (Natatorium) of course there was the regular big to-do with the inauguration of the War Memorial and then a little bit later there were swimming Nationals at the Natatorium. And during this time, there were a number of mainland swimmers who came over here and "Squeaky" is going to tell you about them.
MWJ:  Well, there was one–Agnes Garaghty–who came over, who was the world champion breast stroke swimmer. We had some of our local gals also. There was Janice Lovett, who was a wonderful swimmer who really didn't get her due. She should have gone places, and many others. And the War Memorial Natatorium is a wonderful place for training. I hope that in some way it can be kept on. "Dad" Center thought that is was a wonderful place for training and it has its place in Waikiki and in the lives of swimmers.
Additional Biographical Notes
FREDERICK E. STEERE, JR.
Frederick E. Steere, Jr. graduated from Punahou Academy in 1925 and from the University of Hawaii in 1929. He was employed by Alexander & Baldwin from 1929 until 1962. Fred met his wife-to-be, Beatrice White, at the Outrigger Club in 1934. Their two children are Lissa Atkinson and Frederick E. III, who is known as Rick. Fred's present activities are swimming at Mauna Kea Hotel beach and helping Bea maintain 36,000 square feet of land in Puukapu, Kamuela, Hawaii.
MARIECHEN WEHSELAU JACKSON
Mariechen Wehselau Jackson was employed by the Honolulu Community Chest, now the Aloha United Way, from 1926 until her retirement as office manager in 1962. She chose Waimea, Hawaii, for her retirement residence and also spends some time at her Volcano home. She considers this a good change of pace from Honolulu. She continues to weave on her looms. She has exhibited her wall hangings in a number of places on Hawaii. She spends a great deal of her time with the Waimea Arts Council and the Fibers Hui of Hawaii, an organization with many weavers in its membership. She also travels quite a bit and still loves swimming.
HELEN MOSES CASSIDY
After leaving Hilo for Honolulu in 1919, Helen graduated from Punahou in 1924 and studied for a year and a half at the University of Hawaii. Then she worked for some time in the registrar's office at the University before her marriage to Charles Cassidy. She returned to the Big Island to live at Waimea in 1937. Her daughter, Loujean Vannatta, is in Honolulu with her children, Lauren and Charles. Her son, John E. Cassidy and his wife, Rae, live in Walnut Creek, CA. also living there is her other granddaughter, Lisa Cassidy. Oil painting is Helen's hobby and she is a staunch supporter of the Waimea Arts Council. Recently she became interested in writing lyrics for her musical efforts. She calls a "pleasant diversion" rather than actual song writing. The first Cassidy to attend Punahou was Eliza Emily Emmes (1877-93) whose father was a shipwright in Honolulu harbor. She married John Cassidy. Three generations since have attended Punahou, with Charles W. Vannatta III in the eighth grade in 1980-81.