This oral history interview is a project of the Historical Committee of the Outrigger Canoe Club. The legal rights of this material remain with the Outrigger Canoe Club.  Anyone wishing to reproduce it or quote at length from it should contact the Historical Committee of the Outrigger Canoe Club.  The reader should be aware that an oral history document portrays information as recalled by the interviewee.  Because of the spontaneous nature of this kind of document, it may contain statements and impressions that are not factual.
---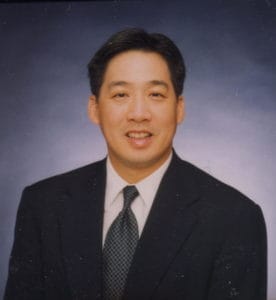 ---
Interview by Moana McGlaughlin-Tregaskis
June 24, 2010
MMT:  Today is Thursday, the 24th of June 2010. It is a lovely Hawaiian morning and we are sitting in my home in Nohona Kahala. I am Moana McGlaughlin-Tregaskis (MMT), member of the Historical Committee of the Outrigger Canoe Club, and I have the pleasure this morning of talking with Alan K. Lau (AKL) who was President of the Club from 2005 to 2006, a very crucial time in the Club's history. Also with us is Ja-Ne de Abreu, Chair of the Historical Committee; she will be making a video as we speak.  It is the first Club oral history to have an accompanying video.
Alan, let's talk a little bit about background.  When and where were you born?
AKL:  I was born on January 22, 1959, just prior to Statehood. I was born in Kapiolani Hospital, two years before President Obama was born there – who, was at Punahou when I was – by the way.
MMT:   Did you know him then?
AKL:   Not well, he was a couple of years younger than I was but we played basketball together.  I didn't know him well but we knew each other.
MMT:   Has your family been here for some generations?
AKL:   My grandparents moved here from China in the late 1800s or early 1900. My grandfather on my father's side was one of the men who founded Liberty Bank.
MMT:   What part of China did they come from?
AKL:   Southern China.
MMT:   What does the K initial in your name stand for?
AKL:   The K stands for Kwaichen which means "completely good" so it's kind of a misnomer. [laughter]  I went to Punahou and graduated in 1977.
MMT:   And then what did you do?
AKL:   I attended the University of California at Santa Barbara and graduated in 1982. I went to school there to play volleyball, on a volleyball scholarship.
MMT:   Did you! – was that a good time?
AKL:   I think my father thought it was too much fun! I majored in economics and political science, and from there I went to Boston College Law School in 1982. Looking back – hindsight is 20-20 – I could have gone to Spain to play professional volleyball. But at that point my father was telling me to move on. And so I went to law school. What I should have done was to have gone [to Spain] for a year before my law school.
MMT:   Was the law school at Boston University?
AKL:   Boston College.  So I tell kids now to do what you need to do because once you get going with life the free time is gone. One's got to grow up and that time is precious.  After the second year of law school I came back to Hawaii and had a clerkship with a law firm: Hamilton, Gibson, Nickolson, Rush and Moore, which was one of the larger firms in Hawaii at the time. After I graduated from law school I took a full-time position with that firm, and have had various jobs since then with different firms. Most recently, we created our own firm in 2005, the Moseley Biehl firm.  What's interesting is that we started the new firm a month after I became president of the Club. So it was a little hectic and I remember one of the e-mails that I sent to the Outrigger Board members was that "now that I've been a president for a month I realize how much work it entails and so I've quit my job to devote full time energy to the Club." But really what I did was switch firms. We've been in existence five years.
MMT:   Are you happy?
AKL:   Frankly, I think it was the best move we've made.  It's been a little tough in the last two years in this economy and I don't think that's unique to us.
MMT:   What type of law do you practice?
AKL:   Civil litigation primarily; disputes.  I also do a lot of work with developers and leasing work which did lead into my role here [at OCC].
MMT:   I should say so.  That follows right into what you had to do for the Club.  Did you make life-long friends at Punahou?
AKL:   I was reading your notes here and I think the friends I've made at Punahou have significantly impacted my life – and whatever roles I've served at the Outrigger. Four of my closest friends are Peter Balding Jr., Peter Ehrman, Kilo Baird and Marc Haine. They were classmates of mine at Punahou and we played on the volleyball team together.  Another person who I met through Punahou  and remains a good friend is Dave Shoji. He's turned out to be a legend in women's college volleyball. He was our coach on the junior varsity team, and we went on to win a couple of varsity state championships. Our 1976 State Championship team was coached by Jim Iams; he's a Club member. That was in the Fall and at that time Peter Balding Sr. and William Ehrman, the other Peter's father, sponsored me for membership at the Outrigger.
MMT:   What year was that?
AKL:   1977.  The Outrigger was, for the first time, sending a junior boys team to the AAU Junior National championships and they asked me if I wanted to play. So I joined; I think it cost me $200 or something like that for my membership. A few months later the Club sent us off to Chicago to play in the AAU's and came in third and then spent a couple of weeks touring through Canada playing Canadian teams. We took third in the national championships and I think what struck me there was that from then on the Club really supported its athletes. When I was asked to run for the Board –
MMT:   What year was that?
AKL:   It was 2000 that I was asked to run.  My feeling was that it was important to  give back to the Club – not only for the support at that junior tournament but the support received in the years after that I played adult volleyball at the Club and we'd go to the nationals every year. It really did shape who I am – being a member of the Club and the club members I hung around with.
MMT:   At the time you joined, the Club was well-established at its current location?
AKL:   Yes, it was the 70s.  I have to say that besides Daddy Haine and Peter Balding [Sr.] and Mr. Ehrman, the person that made me feel most welcome was Cline Mann.
MMT:   Yes.  Cline Mann was one of my sponsors.
AKL:   Right.  I remember sitting in the bar with him – drinking age was 18 back then – he was sitting with his Budweiser holding court and he was just as welcoming as could be, and that really helped.
MMT:   How old were you then?
AKL:   I was 18 when I joined.
MMT:   Tell me about any activities outside the Club you'd especially like to mention – that is, if you had any time.
AKL:   The only real outside activity,  besides  work,  I've  been  involved  in  is  the Outrigger.  At one point I was helping with an organization – Kids Voting  Hawaii – which I was on the board of for a very short time; I have two children and I devote pretty much every spare minute to them these days.
MMT:   Boy?  Girl?
AKL:    I have a daughter who is 15 and a son who is 10. Actually just before I left my office [this morning] I was speaking to Peter Balding Jr. and arranging for him to sign the application for my son's membership. And I've asked Peter Ehrman as the other sponsor.
MMT:   He'll be happy to have joined now. [BREAK]  To go back a bit, was it 1977 that you joined the Club?
AKL:   It was my senior year at Punahou. Probably it was the Spring of 1977 and then graduated, went to the mainland to play volleyball with the Club. I'll try to get a picture of our team –
MMT:    Yes, that would be good for appendices to this oral history.
AKL:   I know Bill Comstock [former club manager] found one and it included Marc Haine, Peter Balding, Peter Ehrman, Kilo Baird (Bill Baird's son), Kaipo Young (Wally Young's son) and Kahea Chock who was Colin Chock's son. It was a good group.
MMT:   Any other important clubs in Honolulu?  No time probably.
AKL:   I was a long time member of Oahu Country Club.   I'm a golfer but my handicap now is two kids. More recently, I resigned from Oahu Country Club and am a member of Waialae; I still don't play much at all.  No time.
MMT:   Are there some professional organizations you'd like to mention?
AKL:   I'm a member of the American Bar Association and the Hawaii  State  Bar Association, certain professional organization, the CCIM which is a commercial real estate organization, the International Council of Shopping Centers;  I represent shopping centers -– those types of organizations.
MMT:   Let's move on to the Outrigger now. We know now who your mentors were there.
AKL:   I've got to say that one of the most influential people at the Outrigger has been Peter Balding Sr. Talk about a Club man who lives for the Club – that's him. Sometimes his views aren't necessarily ones that I agree with because times  have changed but there's no doubting how much he loves the Club. That love for the Club is significantly passed on [to me].  I was really just a volleyball player until – I came back from law school and started playing volleyball and was involved with masters volleyball eventually. There was a time when Karl Heyer, who was a Board member at the time, asked me to chair the Volleyball Committee because it was having some problems; he asked me to come in and help get the program straightened out. I did; we got it back on its feet.
At that point John Rader was Club Manager and John started giving me little pieces of legal work for the Club; one had to do with the re-building of the kitchen, a legal dispute that came up with either the architect or the contractor who did the kitchen. So I took a look at the situation and made a recommendation to the Board that they should just settle and not fight the contractor, or engineer or architect. At that point a couple of Board members disagreed with my recommendation and asked that they meet with me. That was Jaren Hancock and Joyce Timpson. So they came to my office downtown and I walked them through the reason I was making my recommendation, and convinced them that was the right thing to do. I guess this must have been around 2000 because sometime later that year I was nominated to be a Board member. I agreed and was elected in 2001.  Hal Henderson was the President that first year.
The first couple of years I was Board liaison to athletics, admissions for a couple of years. I don't remember all of my assignments; it was primarily athletics and admissions.  In 2000 I understood that the nominees – or at least that were still elected — were chosen in anticipation that in 2006 a lease rent increase would be occurring. The two other Board members that were elected at that time were Bill Swope, who was a long-time attorney at Cades, Shutte, Fleming and Wright, and Don Horner who now is the President of First Hawaiian Bank. There were looking for people with either legal or business experience in anticipation of 2006 and the rent issue.
MMT:  Probably one of the most critical periods of the Club's history, and I wonder if I can ask you about that time, and perhaps lay the scene by saying that in 1954 the Elks Club had offered one-half of its property with a 193-foot frontage on the beach, 395 feet deep, 73,800 square feet. I understand that there was an offer to buy the property in fee by the Outrigger Canoe Club for $450,000; the Queen Emma Estate/Matson lease on the old property on Kalakaua Avenue would expire on 30 October 1963, with a 1-day change-back making the lease actually expires on 31 October. Elks Club rejected the offer and in lieu of that they eventually countered with a proposal for a long-term lease, leading to lengthy negotiations.
These negotiations led, finally, to a 99-year lease at $30,000 a year with certain concessions, including renegotiation after the first 50 years. It was signed 16 November 1956.  At that time Club negotiators stated that the renegotiation would be based upon the use of the property as a club, not, for example, for hotel or commercial purposes.  I believe this point led to very complicated negotiations and mediation under your watch.  Can we talk about that please?
AKL:  I was elected president of the Club in my fifth year on the Board.  I guess for the most part people are elected [president] in their last year. When I was asked if I would consider becoming President, I was not certain because I was in the process of starting a new law firm with some partners. It was not an ideal time to take on such a large time commitment. However, I thought it was important for me, being Chinese, to accept the Presidency. I understood that the Outrigger was a place that previously excluded Asians. My father could not eat dinner or be on the premises at the Club in the old days. I understood it was just the time in our history so there is no bitterness. I just thought it was the best thing to show how far the Club has come. I never make a big deal about it but I am glad to see how everything has progressed.
In my fifth year I became President and Bill Swope was head of the Elks Ad Hoc Committee, and frankly, up until that point I hadn't been overly involved. I knew what was going on but had not been directly involved in meetings and negotiations that had happened. So Bill was in charge of the Elks Committee at that point. In 2006 Barbara Stehouwer was elected president and at that point she appointed me as the liaison to the Elks Ad Hoc Committee to replace Bill; I think Bill was traveling or had a lot of things going on at that time.
MMT:   Was this an actual sub-committee of the Board?
AKL:   On the Board there were – I think Wendell Brooks was the only Board member on the Elks Ad Hoc Committee.
MMT:   Who were the others – specialists that were not board members?
AKL:    Yes. It was an ad hoc committee but not made up of Board members; we were trying to keep things separate so that the committee would report to the Board and there wouldn't be too many over-laps. We were looking for independent specialists.
MMT:   The Board approved this ad hoc committee?
AKL:   Yes. Frankly – I pulled out a file that was given to me during this process – it's entitled Elks Club Background File – it has information that dates back to 1970; Long Range Planning. There had been committees or people working together on the Elks project for a long time.
MMT:   Since the '60s I believe.
AKL:   Right.
MMT:   Did you read some of the oral histories or minutes from that time? I'm sure you must have done a lot of preparation.
AKL:  I did. It was a lot of work but it was fascinating to read about the '50s and what people went through – members quitting because they didn't want to move – you could really feel the emotion just reading the minutes.  Just fascinating. There must have been committees from the '60s, '70s, on, and all kinds of people going through those committees, and there were probably as many different ideas on how to solve the problem.
MMT:   So it wasn't a committee that stayed static.
AKL:   No.
MMT:   Didn't that cause a loss of continuity?
AKL:   Yes. That was a big problem. People would get frustrated and either quit or become disinterested, and there were disagreements on how things should be done. I actually had to remove someone who was in charge because there were different ideas on how things should be done and I think I was viewed by the individual as just a young kid who didn't know what he was doing, so I removed him. There was so much at stake, people got emotional. At  the  same time because there was so much at stake I felt there were a lot of people who ran away from involvement on the committee; they didn't want their name to be associated with an adverse result. We could either do well or we could crash and burn; the range of possibilities was large – I honestly got the feeling at times that there were people who did not want their fingerprints on this if it went bad.
MMT:   Was there a core membership that stayed all the way with you?
AKL:   No.  No; we had a committee that seemed to change every year.  Then the  critical time came and we had a committee that I felt very comfortable with that I had put together. And that included Wendell Brooks, Jason Oliver, Serge Krivatsy who is now head of Admissions, J.D. Watumull who is involved in land issues with his family holdings, Kenton Eldridge who is a well-regarded business man in Hawaii, David Callies who is a law professor at the University, and Bob Dewitz who  was a former board member. Barbara Stehouwer, as President, was involved and was very important and critical to our success. Barbara and I put in a lot of hours together on this and I know that she felt the stress of the proceedings. Through it all, she became a very good and treasured friend.
I have to say Jason Oliver and Wendell Brooks were involved in the Lease issues way back, so it was good to have them involved. Serge Krivatsy is an appraiser and he was very helpful. So that committee was very helpful and provided good guidance during the whole process. Once we got to arbitration it was very technical in terms of the appraisal process so I would report back generally on what was going on.
MMT:  This committee existed from 2006 until?
AKL:   I should say that committee in its form was probably 2006 through 2007 – it's probably when they were last needed because the results, the award, came in July 2007.
[PAUSE]
MMT:   To continue the background…
AKL:   The gist of the matter was, in November 1956 the Outrigger and the Elks entered into a 99-year Lease for our location. At the time the Club was still located next to the Royal Hawaiian in Waikiki [and] our predecessors felt that because that lease in Waikiki was expiring in 1963, they had to make plans for alternative sites. There were all kinds of discussions over what the Club should do; should they re-new at that site in Waikiki, should they move to Diamond Head where we are now?
MMT:   There were offers that came in at that time?
AKL:   Right.  What it essentially came down to was that the Elks really wanted the club to be its neighbor. It's hard to believe that now because I don't think they care for us too much right now, but what is fascinating was reading –I guess this was big news back then – the major Honolulu daily papers would report on this stuff; they talked about the negotiations, they talked about the fact that the Outrigger didn't have any agreement on the Lease; it's fascinating to read these things. What happened was, in a nutshell, the Elks basically bent over backwards with concessions to woo the club to Diamond Head. The Outrigger membership didn't care – a lot of them didn't care for the site because, at the time, that location was fronted by coral.
MMT:   Yes. One had to be able to visualize what could be done with the property.
AKL:   Right.  There was basically coral all in front of the club and if you're a canoe club you couldn't always get a canoe to shore. There was no beach at that point. The beach in front of Colony Surf wasn't there so it didn't make any sense to members. Nevertheless, the club voted – there were various alternatives – the club voted to enter into the 99-year Lease. What's important in the Lease was that throughout the Lease the Elks and the Outrigger made sure that these two sites would remain as private club sites.
MMT:   That's a crucial point isn't it; that it is not to be for commercial use.
AKL:    Yes. And that's where I think our forefathers were brilliant in the way they negotiated and drafted the Lease. I think Sam Fuller was the president at the time. Judge Wilford Godbold was involved in drafting the Lease. There was a President Danford involved. What they did was, they entered into a Lease; the lease rent was a discount off of what fair market value would be. There's all this historical data on what the Elks was being offered at the time for the property, both to sell and to lease the property. The records clearly reflect that they gave the Outrigger a discount based upon using it only as a club site. I can read for you some of the quotes from the papers. These are some of the quotes we cited back at them at the arbitration to prove that the site was meant for a private social club.
MMT:   Had they done their homework?
AKL:   Put it this way: In arbitration, you're allowed to see all of the documents that the other side has, and they kept withholding them, they didn't want to show them to us.
MMT:    Why?
AKL:    Because I think their own documents supported our position. I'll give you some more quotes later; I don't think I have them all here. There were either articles, or minutes, some communication from the Elks Club that says, essentially, that we want OCC to be our neighbor: "The property is more than we need. We do not want tall buildings. We like the way OCC operates and what it stands for. We think having OCC's athletes surfing and paddling next door will enhance our club.  We want you the way you are."
And then September 1955 Elks Club approved the Lease with  the Outrigger Canoe Club with Elks Club Chairman, the Exhalted Ruler, being quoted in the paper: "We've had much Aloha for the Outrigger Club and would like to have it as our neighbor."
Another article quoted the Chairman regarding the vote on the Lease by the Elks. "It was one of the rare unanimous votes in Elks history; to have us as their neighbor."
"According to the Elks Club's Exhalted Ruler on behalf of the trustees and officers, with Outrigger Canoe Club as our neighbors we can make this area the showplace of the island of Oahu."
It would be interesting to see what they'd do now.
MMT:   So they didn't want to release this material 50 years later?
AKL:   These are newspapers articles; they had them in their files. Most importantly, on the lease rent issue they stated that they probably could have had higher rental income from someone who had in mind putting up a hotel but they'd rather get less money and have the Outrigger Club for a neighbor.
The renegotiated lease rent was stipulated to be five percent of the market value of the property used as a club site. That was the formula that the drafters agreed upon in 1956 to determine what the rent would be in 2006. So what it came down to was that use of the property as a club site is not the highest and best use of the property if you look at it from a straight economic standpoint. Like if they put a hotel there – you could certainly make more money.
MMT:   Were there members of the Elks Club who wanted to do that?
AKL:   No. They wanted the Club. They wanted just a club.
MMT:   Then; what about in 2006?
AKL:    It's interesting how in 2006 – I would say memories fade and positions change – I think that we used a very novel approach to the arbitration.
MMT:   And that was a big sticking point.
AKL:    Sure. The other main point in the Lease back then was that the Lease said that the site would only be used for club use and any purposes incidental thereto. So you could have a snack bar, you could have a beach shop but those aren't the primary activities of the Club. That's the commercial part but that's just incidental. The Lease said that if by mutual agreement the site was used for any other purpose – like for commercial purpose (not incidental to club use) – the rent would be re- done. Probably it would be more in line with commercial highest and best use. That was another big factor in the arbitration supporting the position that the parties only intended a private social club on the property.
MMT:   Social club?
AKL:   A private club.  Again, that's going to be a big point in the arbitration.
MMT:   I would think so because we're a water club.
AKL:   Yes, that bore a little bit on it but I think in general they thought of it as a social club. One of the people I want to mention that was important in the arbitration hearing was Martin Anderson. Marty was a prominent attorney in Honolulu, one of the principals of Goodsill, Anderson, Quinn & Stifel. He now lives on the mainland but he flew back to testify at the arbitration and provided us with an affidavit that we submitted.  His affidavit was fascinating.  He was the secretary at the time the Lease was executed, probably the only living person around that can talk about what happened. He talked about the intent of the parties, why "club use" was so prominent in the Lease. He also was opposed to the move to Diamond Head at the time. In fact, he quit the Club for that reason. I don't know if he ever re-joined, but he came back and testified on behalf of the Club. He was extremely helpful.  He was another big part of the arbitration. [BREAK]
It seems that on the committee – not the final committee but throughout the  years – there have been all kinds of wild thoughts of how to get the Elks to sell this land to us. There was talk about our members joining the Elks so that they could vote to sell the property to us – [laughter] – infiltrate their ranks. Some people said let's send a whole bunch of flyers over there; there were all these wild ideas and when it came down to it, the Elks just weren't interested in selling to us. There had been rumors that the national was controlling the local; in our investigation all the decision-making was done here. In fact there were talks about some of us flying up to Chicago, or wherever their headquarters were, to meet with them but we were told that everything would be done locally.
MMT:   So that was a myth?
AKL:   That was a myth.  The other question was where the money went.  We understood that money stays here. I haven't been to the Elks Club lately but I know they did some renovations – a few renovations, I don't know how much.
In the critical year leading up to the arbitration there were thoughts of making offers on the rental and on the purchase of the property, but at the same time there were several who were leary because no one knew what the other side was thinking as far as value went. There was tax assessed value but no one really knew what the other side was thinking, and the fear of throwing out some numbers was that you would either set a point too high, or a set a point too low in future negotiations. So everyone was gun shy about sending offers over and in fact, I don't think – I'll check the records – I don't think any offers were exchanged.
MMT:    Once the negotiation began . . .
AKL:    The way the Lease reads is that the parties shall by written agreement decide on the rent. And if they can't decide on the rent 60 days prior to the end of the Lease, then the matter will be arbitrated; determined by three appraisers. That would be one appraiser appointed by the Outrigger, one appraiser appointed by the Elks, and the two would then select the third appraiser/arbitrator. Those terms were used interchangeably.
In the months leading up to the arbitration at the end of lease the whole issue was that we were trying to get the Elks to agree upon, to make it easier for the arbitrators was: What's the definition of a club? I think all the information supported our view of the definition of a club, private, social club; they did not want to give us anything. And so they didn't give us their documents and they would not agree to any definition of Club.
MMT:   What was their reasoning?
AKL:    It's lawyers. They just did not want to concede anything because once they concede something then they are in that much worse of a position. We thought that before any meaningful discussions or negotiations could take place, we had to be on the same page about what we're trying to agree upon; they would not commit to any position on "club". At that point – I think it was August 2006; it may have been earlier – what we did was we filed a lawsuit. I call it a lawsuit but it was an action in the Circuit Court of Hawaii asking a judge to define "club use".
MMT:   Who was the judge?
AKL:    Judge Randall Lee who was a long-time prosecutor and actually did a lot of criminal law on the bench. He was very new to this what we call the civil (versus criminal) side of the law. The scuttlebutt, the rumor, was that the Outrigger sued the Elks Club. Really, all we were trying to do was get the court to determine what "club use" meant because we were being stone-walled on the club definition by the attorneys for the Elks. And like I said, how can you agree upon something if you can't agree upon the basic terms that you're dealing with?
So we filed this action seeking what we call a "declaratory judgment" wherein the Court would say, "club use" means this; and then we could take that to the arbitrators and the arbitrators would be bound by that. The judge dismissed our action and said, I'm not going to make a ruling on this; and the reason was: In the law, if the parties have agreed to arbitration then they cannot go to another forum – meaning the court. So there are different ways to resolve a dispute, one is arbitration which would be private and faster; [or] you can go to court which is open to the public. The court ruled that if there's an arbitration provision in an agreement –the Lease – then it could not rule on this issue. The issue  of definitions of "club use" was left to the arbitrators. That cost the club some money to proceed with that declaring judgment action but the Board had decided that there was really a no-lose situation. We could very well lose but if we won, we'd be that much further ahead because then we'd have our definition in front of the arbitrators.
The Elks at that point said, well, we were willing to sell to you but your filed that action but we didn't really believe that. "You sued us." So that created some bad blood I think and a lot of it was their attorney I think whipping them into a frenzy. Their attorney, named Rosemary Fazio is with the law firm of Ashford  & Wriston, and she does, on behalf of a lot of major landowners, this type of work which is setting rents for long-term ground leases.   Our attorney, who was hired before I was involved, was a man named Ken Kupchak of the firm Damon, Key, Leong, Kupchak, Hastert. Mr. Kupchak is a well-regarded commercial, construction, general litigation attorney and he did an excellent job. I know he's a formidable opponent; it was a very good experience working with him on this case. He was tough as nails and I thought the Elks attorney was at times bordering on unethical because she was withholding documents. She had a tough case and I think she was doing everything she could to try to derail the whole process.
MMT:   And that caused delay and delay?
AKL:    That's right. You know, the best defense is a good offense so she accused us of wrong-doing; it got a little nasty; you can read the e-mails going back and forth.
MMT:   A lot of vitriol?
AKL:    Yes. So I think that she had a large part in reinforcing what I think – and I use it somewhat loosely — of the dislike that the Elks have for us.
MMT:    That didn't exist before.
AKL:    Yes, in 1956 they wanted us; and over the years — and I attribute it to some Outrigger members, I think some of our members portray some arrogance – kind of the "haves versus the have-nots" the way I see it. The Elks members believe that we "screwed" them back in 1956. So this was their time to get us back. I heard all of that. So I believe that their attorney also reinforced that negative side. She really played up the fact that we were this elite, private social club and they were the blue-collar workers; that's a point she emphasized over and over again. And you do everything you can, within reason, to influence the arbitrators; we understood that she had a very difficult case if you look at all the  "club" references in the Lease, so I guess it's not surprising in that sense that she was so aggressive. Anyway, she didn't help matters as far as negotiation [was concerned] and that's what caused us to file the declaratory judgment action. They ultimately prevailed on that issue and because of that we had to head for arbitration.
MMT:   That central committee you've just told us about – were there subcommittees within it?
AKL:   No.
MMT:   You all worked as a unit?
AKL:    Right. Once the attorneys were in the attorney tent, there was not a whole lot of need. There would be meetings to consider big items such as: Should we propose an offer?  Or should we file this declaratory judgment action? But for the  day-to-day stuff it was really primarily me, Barbara Stehouwer, and the attorneys. I'd report back to the committee.
MMT:    Once you finally got over this long hurdle/delay, how  did you arrive  at the amount that we now are committed to?
AKL:    Once that action was dismissed from court we then headed to the arbitration as set forth in the lease. We appointed a man named Jim Hallstrom who is a prominent appraiser in town. The Elks accused us of what we call "tying up" all the appraisers in Honolulu. We had hired a fair amount of them as consultants to help us and the Elks accused us of hiring all of the appraisers in Hawaii so they had no one to hire. So they went to the mainland and appointed a lady named Suzanne Mellon as their panel member to the arbitration panel. The two there would then select the third [appraiser]. The two of them selected a man named Jon Yamaguchi as the third and he would share the arbitration panel. So they up set the arbitration – there was still back and forth bickering between the attorneys over documents and it was delay. In May of 2007, the arbitration went forward and we put on our case; we put on the fact that the club references in the Lease mandated that whatever value the appraisers reached they had to discount it for use as a club.
MMT:   Non-commercial.
AKL:   Yes.  The Elks position was twofold; one was that you don't discount it.  Because all the Lease says is that they have to determine the market value. They ignored the numerous club use references. The second point, alternatively, is that you have to consider the club references, you can use comparable clubs, and this is a newer concept that time-shares have been starting to be called "private residence clubs". Time shares have really come on in the last ten years or so; it used to be that time shares probably were not the most glamorous reference to a vacation but since all the big development companies have been involved, what's called time sharing involves everyone. One of the sites that the Elks used to support its position was at Kapalua where they are called "private residence clubs" – where people buy a fractional interest for a certain period of time. They said, well, you want to use club, that's a club. And so they were using those comparables. The thing here is we're all pretty incomparable sites to put out values on to say, well okay, this site was X-dollars per square foot and a private social club so we should apply that here. They were arguing that the Kapalua private residence club is their value that they want the arbitrator to use.
MMT:   They were skirting around the Diamond Head Special District.
AKL:   Right. Because they couldn't put a high rise on the site and there are other building restrictions; there are restrictions on the amount of time you can rent units out in that area. So their model didn't fit.  And it's funny because if you go to the Kapalua private residence club – when you buy from them you have to  get a disclosure and the disclosure that you get from Kapalua is, in big letters: "this is a time share". It doesn't say "club". But they had some hired gun from San Francisco by the name of Tom Callahan, very verbose, loud, obnoxious guy who came in and said, this is what it is, it's a club, that's why you should value the Outrigger property this way.
Our expert was named Karen Char who testified for us. She's a local appraiser at the company John Child & Associates; she comes off as very sweet and almost meek, but she held her own against this guy from the mainland and basically, went through all her data; it shows that clubs, schools, hospitals – she showed the types of discounts that these types of entities would get on a lease. She had it very organized and I think she won the case for us. We also had a private club expert, a man named Art Gimmy who came in and basically said the same thing. I think he's from California. His job was going around valuing private clubs; he did a good job for us. There are all these experts testifying on what you could do in the district, what you couldn't do, height restrictions, there were restrictions on the number of days you could rent the units out for, and so that all supported our case. It was one of those where I said, if I look at it objectively, we should win, but you never know what arbitrators will do.
The interesting thing is that all of the experts who put values out were in the same range, about 33 to 34 million dollars –
MMT:   With the discount?
AKL:   Without the discount.  So the question really came down to – how much  discount do you put on this? It's a percentage. That was the hard part because there's no standard measure of what discount is given for a site used as a private social club. Even on the discount then you add in other factors that would discount it more.
MMT:   So it's always shaped to the individual situation.
AKL:   Right. And each property is unique. Then you have to look at the historic background. The one thing the Elks was arguing was that the Outrigger actually had plans to put in what they call a private residence club. Because in the Lease, Judge Godbold had drafted a provision that said that the Outrigger could rent out rooms. Because they didn't know what they were going to do. They thought they might even have apartments that club members could live in. And at a certain point they were planning to build a 20-story high rise at the Club. There were plans to build a high rise on our club site where members could live. It's interesting that Elks objected to that; there some discussions and finally they decided not to go that route. Fast-forward 50 years the Elks were pointing to those [old] plans and saying "Look, you guys were going to have a private residence club there." This is the same thing. It's interesting – that was another wrinkle in the whole determination of what the parties were thinking back in 56. [BREAK]
MMT:   All these machinations took place in 2006; where are we now, 2007?
AKL:   The arbitration took place in May 2007.  I think it lasted three-and-a-half days and I sat in on the proceedings – pretty fascinating stuff. The decision was supposed to come a certain number of days after the parties filed the brief. I think it was 30 days after we filed our brief. I can give you that exact info. We also had a decision that came out somewhere end of July 2007. But, in arbitration, if you wanted to appeal or challenge the decision, there's a 90-day period and that was the period in which I think everyone in the club knew what the result was, but we couldn't officially announce it.  That is what was driving people nuts.
MMT:   After the 90 days was when you called the general membership meeting?
AKL:   I believe so. The result – the Elks wanted something like $1.7 million annually; the Outrigger number was, I think, in the $600,000 range. And the ultimate number that was determined was $830,000 annually, which was about $800,000 increase from the rent paid in the first 50 years. In our view it was a huge victory. If we were to settle it, it's my view that before we did all the arbitration we would have been having to write a check for $1 million every year. We didn't want to have the arbitrators decide but they left us with no choice. I remember Mr. Kupchak's office calling me and I was on the road one day and they told me what the number was and I called Barbara Stehouwer and we just screamed because it was such a huge, huge victory. It was quite a relief on our part because they wanted a million-seven – a million-seven! I think the legal fees probably ran close to a million dollars on our side; the way we saw it we had no choice but to go ahead. [BREAK]
MMT:   We'll pick up to continue the percentages and final agreement on the Lease rent of $830,000 annually.
AKL:   The arbitration, the market value unrestricted – meaning no discount for club  use – I think as I indicated the appraisers for each side were pretty close on where they came out, and that was all within the range of 33 to 34 million dollars if you were to sell the property. The only real issue was: how much do you discount it, if at all? It looks like they discounted it – the actual number that they came out with was $16 million six-hundred thousand in rough numbers. That would be maybe a little bit greater than 50 percent discount for club use. I think we had put up something like 55 to 60 [percent] as the number to discount it. So clearly we were persuasive in the case we put on, and that $16 million six-hundred thousand value, in order to get to the rent figure, you take five percent of that per the terms of the lease. And that came out to $830,000. It was the formula. It was a great result and made us sleep a lot easier.
MMT:   You just explained why we had to wait 90 days before the full membership meeting; weren't there some reports in the [Outrigger] Magazine from time to time?
AKL:   I think the main communication to the members, I would say, would be at the annual meeting where basically it was said "we're working on it." There may have been here and there little bits and pieces in the magazine about what was happening; for the most part the negotiations and the strategy was confidential. It had to stay quiet and, in fact, when I finished as President I wrote an article –- you can look it up in the March 2006 Outrigger Magazine – in which I explained where we were at, and in that article I didn't do much more than state the facts: here's what the Lease says, here's what we're dealing with; I just wanted the membership to be aware that we're working on it and try to educate them on what was really at issue.  I think it pretty much sets out what I describe so far.
The 90 days was mandated by Hawaii law that the other side could seek to overturn the award. We didn't want to jeopardize it in any way. The number was supposed to be confidential although it came out in the [news]paper. I think the Elks people put it out.  They weren't happy.  And they're still not happy.
MMT:    Has their leadership changed? Are there the same persons in place as during your time?
AKL:    I haven't kept up with that.  There were two people, one was Rodney Chang and one was Carl Reber, who were the representatives at the arbitration. Since then I don't know what's gone on between the two clubs. I'm hoping that there's an opportunity to purchase.
MMT:   How is the $830,000 paid, quarterly?
AKL:    Monthly.  I think that comes out to about $70,000 a month, as opposed to $2,500 a month for the first 50 years or so.
MMT:   I'd like to move on to one more subject; it concerns membership expansion. Ward Russell predicted that the Club would grow at our new site and technological studies should be done concerning membership expansion, and to tread carefully. He said one doesn't just increase members without having some real basis on which to calculate what the actual capacity of the Club is under certain economic conditions.  Do you still hold that view?
AKL:   I think that in an ideal world you'd like to keep the membership at a point where it fits the club so we're not overcrowding the Club. I know it's a problem the board struggled with for years. There were quotas in the 70s or 80s, probably the 80s. The quotas that were set were basically the amount of the membership at that time. They're saying, this is optimum, but it's hard to determine what is optimum because, for instance, on a Thursday or Friday night you go down to the Hau Terrace to eat at six o'clock, it's packed, you can't get a table.  You go down at 7:30 it's starting to empty out and by 8 it's pretty much empty. So even though there's capacity there, the way the Club works there are these critical times.
MMT:   That could be anywhere. You go to a restaurant at rush hour it's the same thing.
AKL:   I think what's happened – especially in the last few years – is that economics have driven the membership. A couple of years ago there was a long waiting list for regular members. For years. I think they have pretty much resolved all of that and I'm not sure that's a result of thinking we have the capacity to handle that, or we need the money.
MMT:   Were there any studies done?
AKL:   I think people have tried to do studies but it's just not an exact science.
MMT:   We seem to hover just under 5,000 membership and I believe that includes Nonresidents.
AKL:   Right.  The Nonresidents count for a huge percentage of the membership.  It's  a tough one to try to balance the needs economically to keep it somewhat affordable versus having too few members and making it expensive to be a member. Whatever the Board decides, I respect. Even though I disagreed with the purchase of the Kalanianaole property, I respect the process and that the decision had been studied by capable people.
MMT:   Despite all of the disruptive hurdles you must by now feel you've accomplished a good thing.
AKL:   Actually I've got to say it was a pretty proud moment and I felt that because the Club has given me so much, it was nice to do something for the Club. It's not a matter of under-appreciation but I don't think most members understood what was involved or was at stake. The down side of not doing well was pretty large. I don't think members realize that if there was a bad result, many members would have to quit because monthly dues could become too large. There really was not much fanfare about the result but those who understand the magnitude of the issue appreciate what was accomplished.
MMT:    There's always going to be some faction who concentrates on just one facet of the whole picture.
AKL:    Throughout the whole thing I felt nothing but support from the membership and even though the number was large, I didn't hear any complaints. Hopefully this sets us up for purchase at some point because $830,000 now which may seem a lot, as years go on it becomes much more advantageous to us and less advantageous to the Elks Club.
MMT:    Are there any other subjects you'd like to cite in this oral history?
AKL:   The only other significant event — I'd just like to mention John Rader's passing  — he was a good man and a real good friend.  It was sad.
As for the future of the Club, that's one that is tough to predict because unless we negotiate an extension or another lease or we buy the property, we're out! It's 48 years from now; maybe that's why we bought the Kalanianaole property.
MMT:   I thought that was why the Kalanianaole property was purchased, as a back up?
AKL:  I think the Board was not clear on why they bought it. It has to be re-zoned in order to allow a Club on site; there's going to be opposition to building a club right there. It was also promoted as an investment, although its only run a negative since it was purchased, it may prove to be a great investment, and I hope it does. One just does not know what is going to happen and that's for my son to figure out.
MMT:  Did your group form something comparable to Elegancia – the informal building group that had met for an annual dinner and camaraderie for as long as they lived? They were the original six appointed members headed up by Cline Mann of the New Site Building Committee and had worked for years back in the late 50s and early 60s meeting weekly and sometimes more frequently?
AKL:   I have to say our group was not that close knit. I can see how back in Ward Russell's and Cline Mann's time they probably were a lot closer in terms of friendship and the work that they did because there was a lot of planning. Mine was a pretty much isolated issue and so we'd meet occasionally. It looks like they were spending time every day. It wasn't like that; I think the Club members were a lot closer in the old days. There's one thing I noticed about the club, it's a very different membership than when I joined. It's different in that there's – I don't know how to say – I think more transplanted mainlanders and new money now. You have to look out for the local families here; I think that in the last ten to 20 years we've got more transplants. Maybe there's a little Peter Balding in me that yearns for the old club. I don't mean anything negative towards anyone, I'm happy to have people coming in, I like meeting people; it was just a different time.
MMT:   Mahalo Alan. Thank you, thank you very much. I know always we must  learn from history and am certain your words will be considered carefully in future years. You have given us an excellent account of a period in the club's history that is vitally important – a period when wise decisions were made. Mahalo.
AKL:    You're welcome.  Thank you very much.