This oral history interview is a project of the Historical Committee of the Outrigger Canoe Club. The legal rights of this material remain with the Outrigger Canoe Club. Anyone wishing to reproduce it or quote at length from it should contact the Historical Committee of the Outrigger Canoe Club. The reader should be aware that an oral history document portrays information as recalled by the interviewee. Because of the spontaneous nature of this kind of document, it may contain statements and impressions that are not factual.
---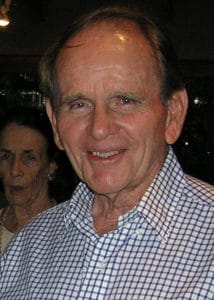 ---
Interview by Barbara del Piano
April 21, 2014
BDP: Hi Bob (RAA). This is April 21, 2014, and we are in the Duke Kahanamoku Room of the Outrigger Canoe Club. I'm Barbara del Piano (BDP) a member of the Historical Committee. One of our missions is to do oral histories of old-time members. I know that there's already been an oral history on you. I believe it was done in 1993.
RAA: I remember.
BDP: But this one is a special interview, you have some very special information for us.
RAA: Yes, special information previously not known to the membership regardless of how deep they may go in age and seniority at the Club. I have a birthday coming up tomorrow; I'll be 93 years of age. But the total time that I've been a member . . . I was given a membership at the age of 15 by my uncle Dad Center. It was a Junior membership, and I will of been a member 78 years as of tomorrow April 22. So that bridges the gap of anybody in the Club, and nobody has been involved in these five areas that we'll talk about today. I think you will find these items interesting and that you will be able to draw from them to produce your very capable feature articles in the Outrigger (Magazine) over a period of time. And that's what I would suggest rather than lump it all together. There's a great deal of material which we will talk about here.
RAA: I thought I'd outline generally what we are going to talk about today:
First, I'd like to set the record straight as it relates to my uncle, my mother's brother, Dad Center. The Club properly and belovedly has enumerated him as the most beloved member of the Club. His picture is in the bar "Dad", and so forth. It was as though the use of "Dad" originated with the Club and in a sense it did. But it was actually family oriented. His father, David, was from Edinburgh, Scotland. And he graduated with an engineering degree in agriculture. Being a very enterprising young man he was casting about as to where in the world his services might be used. He heard that sugar plantations were everywhere in the Territory of Hawaii. He contacted Klaus Spreckels, who was in partnership with one of the Baldwins on Maui and to form the beginning of Spreckels – Spreckelsville Plantation. They were having difficulty as to where they were going and how they were getting there in the sense of proper engineering of the plantation. They entered into an agreement (with Dad) and shipped him from Edinburgh to the Territory of Hawaii, to Maui. He met a young lady named Flora Allen. They fell in love and were married so they were husband and wife, and they lived on Maui through all this.
And when it comes to Dad Center, I found the most succinct account of his contributions written when he was awarded the Hall of Fame award in Florida which mother and dad and my sister Pam attended. So what stated here, I think would be valuable to put into the record. You can use it anyway you want. It says George "Dad" Center, USA 1991 Honor Pioneer Coach. (see Appendix on last page for more information about the award).
For the record: Olympic coach 1920, USA American team coach 1927, Outrigger Canoe Club coach 1914 to 1932, coach of seven Olympians. The islands of Hawaii turned out the top swimmers in the world from the period 1910s through 1950s. Forty years! At the time that L. Handley was building the USA swim program in New York, George David "Dad" Center was building the Outrigger Canoe Club swim program in Honolulu. Center developed swimming greats Duke Kahanamoku, James Lovett, Olga Clar, and the Crabbe brothers: Buddy and Buster.  Kahanamoku and Buster Crabbe, without a doubt, were his most successful swimmers and went on to win Olympic medals and set world records. Known affectionately to his athletes as "Dad", Center was born in 1886 in Kipahulu Maui. He was the eldest of three boys: Edwin and Ted, and three sisters: my mother Peggy, Nadine (later Bodge), and Helen (later Dean Jones). They were all members of the Club, the old Club. And they all were growing to the point where they were becoming adolescents and they needed a good education which happened to tie in with the success that their father David was having with Klaus Spreckels and the Baldwins. They had brought the Spreckelsville Plantation into a very prominent position, which attracted a money group that asked him to come to Waianae to evaluate the feasibility of a plantation in the vast lands at that time of Waianae.
David Center (Dad's father) went there and declared it a go and built a sugar mill that still stands today. About that time when he finished up, (he was on loan from the Baldwins), the Cooke's had property on Molokai at the West End that they owned, where they were running cattle. They thought . . . they saw all the sugar cane being grown in the islands and thought that they might be able to grow sugarcane there as well, and that it would be profitable. At their request, David went over to Molokai. He evaluated that property and it didn't have any water. It was too expensive to bring it in from the east Maui Mountains. So he went back to Spreckelsville. Unfortunately when he returned he contracted pneumonia and passed away.
Now when David originally had come to Honolulu to do the Waianae project he needed a place for his family. There was a lot available at 2987 Kalakaua, right at the bend towards Diamond Head. Today, it is the Dad Center Apartments. He built a large two-story house, four bedrooms and so forth for his family: a wife, two daughters, and three sons who were all going to Punahou. When he passed away on Maui, there was absolute trauma in the family because he was the breadwinner. There was no Social Security in those days, what you had in the bank was quickly spent and so eldest son, George "Dad", being the kind of person that he was, decided that he needed to get a job to support the family.
In those days the population of Honolulu, particularly in the downtown area, was primarily Caucasian. Dad heard that Theo H. Davies, (the Davies and Center families all knew each other), that Davies was considering opening an athletic department because there were four high schools that were growing and going all into sports: Punahou, Kamehameha, St. Louis and McKinley high schools. And so he went down and talked to Theo H. Davies. "You're the perfect person, you're an athletic person, you doing wonderful things with the Outrigger" was the response. They put him in charge of the athletic department. I remember as a freshman at
Punahou going down there and buying my track shoes. I didn't wait for them to issue them. Uncle Dad would get them for me and give me a discount. Now there's a name – "Uncle Dad". In the family, to all of us kids, to my brother Leith, to my brother Alan, and sister Pam, he was "Uncle Dad".
Now you may note that he was born on December 25 in Kipahulu, Maui. Dad coached the Outrigger swimming team when Duke went to the Olympics and returned a champion. Dad's other love was canoeing and he was the first coach to use canoeing as a conditioning sport for swimming. The same muscles are used for both sports. As Club Captain Dad was in charge of all sports and was the guiding spirit that encouraged all young people to participate. His leadership role led him to the 1920 Olympics in Antwerp, serving as coach of the entire U.S. team. Along with Kahanamoku and Mariechen Wehselau, Hawaiian swimmers included Pua and Warren Kealoha, Stubby Kruger, Helen Moses and Joseph Gillman. The USA team won all of the men's and women's events except one. It was incredible! This was a record that I have never seen before. I thought it was important to document it. You can use it in any way you want.
BDP: Sure!
RAA: Dad then coached the U.S. national team which competed against Japan. He retired in 1932 but continued to inspire young athletes to compete to the best of their ability. Dad died in 1962 at the age of 75. His father had passed away at the age of 62. He was loved by all who knew him as an exceedingly thoughtful, kind, and gentle person who lived with a heart of gold. A very good statement, I thought.
BDP: Oh, beautiful. Now, the reason he got the name "Dad" was because his father died?
RAA: No, after he went to work for Davies, it was a warm joke in the family that he had taken the position of his father. And they started calling him "Dad". One of his great friends was Dooney Miller. The two of them rescued a ship which had run aground about where the winch is off of here. It is still out there from the wrecked freighter. The waves were huge, the ship had run aground, and the crew was all screaming to be rescued. Dooney and Dad went out and got a canoe and rescued those people. So Dooney Miller started calling him Dad. And that started to spread to the Club, and the first thing you know the Club's all calling him Dad. And that's how that developed. It was very dear of Club members to find that comfort level, and that's how that came about.
RAA: Now I mentioned that I have a birthday tomorrow. Tomorrow I will be 93. And I had a physical exam a week ago and my doctor said "Your blood pressure is 115/77 with a pulse of 69. Keep it up. You're doing great. I'm the only person who's gone through these things that we're to talk about today as a result of the fact that I've been a member since I was 15 years old. When I was 15 years old my mother called me into her bedroom, April 22, 1936. She said: "just had a call from Uncle Dad, he wished Bobby Happy Birthday and said to tell him that as of today he's a Junior member of the Outrigger Canoe Club". Now he did that with each one of my siblings: Leith three years later, brother Alan two years, and then Pam ten years from me. So each one of us received a Junior membership from Dad Center way back then. He was very very dear to all of us. We had the unique experience of celebrating his birthday and Christmas on the same day. Having been born on the 25th. So that qualifies me within the Club to talk about the next couple of subjects.
The first of which took place at the time that Tommy Arnott became president in 1968. He came to me and said that he wanted me to be Club Captain. I said: "that's wonderful because I've got some ideas and one particular one I want to tell you about at the outset and get your blessing on it. I don't like what were doing with the Walter Macfarlane course at Waikiki". He said: "I agree with you completely, go for it". So on a Thursday, prior to the 4th of July races on a Saturday at Waikiki, I went looking for Cline Mann. Now I must tell you that from the time Walter Mac (Macfarlane), who was a dear man, and Toots Minvielle, who was the guy in the water and so forth, created the course, the race was actually a nightmare. It started with — first of all there were three clubs: the Outrigger, Hui Nalu, and Healani. Each one of them had a representative in each of the categories of racing. So there were always three clubs in each race from Junior to Women's to Senior Six and so forth. But the races started with the canoes up on the sand in what was called a Lemans start. The bow of the canoe, a 42 foot canoe, was about ten feet from the water. The crew members naturally stood on both sides of the canoe. As the gun went off they grabbed the canoe and rushed down to the water and tried to jump into it — into small spaces, particularly the steersman who had a small box between the 'iako and his seat. The year before, during one of the featured races of the day, the senior six lost its steersman. By the time he caught up with the boat and got in it they had lost about five lengths. And that was it.
Now in those days, on the course when you went out the first quarter-mile the flags were not straight. In lanes one and three, they were staggered. And then you went out another quarter-mile to the half-mile mark and they were staggered further. The men's senior was three miles, three of these big loops. Half-mile out half-mile back three times. And then they came over, and this was the convoluted part of this, to the Moana about 30 feet offshore, and number one turned along the surfline in front of the Club and ended up in front of the Royal Hawaiian. Cline's job was to survey to ensure that the placement of the flags accounted for each one of the lanes being the same distance. It was very very difficult to do. And when the surf came up, the flags would get moved.
So, I told Tommy (Arnott), I would look into changing the course. And he said: "Go for it!" I talked to Cline and he said: "Toots will never, never, (he was one of the authors of the course), never agree." I said: "Well I'm going to go down and talk to George and Wally (George Downing and Wally Forsythe), who we had just brought in the year before with their surf club. It was a brand-new surf club, the Waikiki Surf Club. So, there were now four contestants in each race. And both of them said it would be the best thing we could possibly do if we just started in the water and went out a quarter of a mile and then a half a mile, and went back through the same thing and finished in front of our own Club. So they agreed to it, and I went back to Cline and we talked to Toots Minville who's reaction was: "Oh, my goodness! You know, this is a sacrilege!
The course had been designed with Walter Mac, and that sort of thing. Cline said "Toots, let's try it for one year." He was very silent. "Okay, all right." Well, we never looked back. And that's what we do today. So that was a tremendous blessing. And Club members don't know that.
What we have here today (with the Club) is a changed animal. We see the announcement of the admission numbers at the board meeting of 4,800+ members. It causes me some concern as to where we're going because it doesn't seem to have any top on it and I think we are much too large. It certainly makes what you do, dear girl, that much more important when you select and feature in your articles in the Outrigger information about our history, not only for the older members who may not remember it all, but for the beach boys and younger members who were not here when it occurred. The new group who have been members for ten years or so, they are brand-new, and we're admitting athletic memberships with each one of the lists (of new members) that we get. Fine, great, Punahou, Iolani, etc. athletic memberships. It's growing to enormous numbers, and they'll never get this background unless somebody tells them. And they need to know what happened in their Club.
We come now to the question of how we got to where we built this beautiful Club. I was working with American Factors, a total of eleven years. Right about the middle of my term, their management got the idea that they needed an efficiency study. A company was recommended from Chicago named Daniel, Mann, Johnson, Mendenhall. They were affectionately known sarcastically as Dim Jim. They came into AMFAC and almost wrecked it. They recommended consolidating the grocery department and the tobacco department. Can you imagine having a tobacco department? And they recommended consolidating the hardware department in the Ala Moana area with the lumber department in the airport area.  This created havoc!
The old guard at the Club heard about Daniel, Mann, Johnson, Mendenhall and said: "We don't know what we're going to build out there (on the current Elks site), let's see what they have to say." So they came in and created a model that was in the lobby at the old Club. And it showed a box, a rectangular box, it came in at street-level right straight through here. In that box there was a men's library and smoking lounge. There was a bowling alley, and where the volleyball courts are there was an elevator that went up six floors with two apartments on each floor, a hotel type thing, for reciprocals and special guests. So they had twelve apartments where the volleyball courts are now. It created havoc down there at the old Club.  And the longer it went the members insisted we had to have a meeting, which was held over in the Princess Kaiulani meeting room – 1,200 people came. It almost came to fistfights. It was terrible. As we went back after the meeting, I was with Cline Mann and Fred Steere (Freddie Steere was on the board), and Vince Danford (Vice President of First Hawaiian Bank, Waikiki branch), all very good heads. I said: "What in the world are we doing with these crazy people when we have in-house architects? I'm working with Val Ossipoff (I was the Executive Vice President of the Alexander Young Hotel office building downtown which is Bishop Square today.)" We met regularly with Val for business meetings etc., and he was a very dear friend. Cline popped up and said: "and Hal Whitaker, and Pete Wimberley. We've got three architects in the Club. What are we doing with these people?" So Fred Steere, a very dynamic guy, said: "I'm going to bring this up to the Board", which he did. And he got their approval to talk to Val Ossipoff. Now everybody referred to Val as their "Dutch Uncle" like they knew him well, but nobody knew Val Ossipoff. When Fred Steere talked to Val, Val said:" We were wondering when you were going to talk to us." So they got together with Pete Wimberley (who had just done the Sheraton Hotel on the water in Waikiki, and many other buildings in Honolulu), and Hal Whitaker, and the rest is history.
They were given the green light to go ahead and draw up plans. Now, look at all of the elevations you have here coming off the street. It's one of the great architectural marvels! Particularly so, since it was designed for a club. And so that's how Val Ossipoff, Hal Whitaker, and Pete Wimberley got into the picture here and saved the day.
After that Roy Mongeon put my name up for the Board, and in the next election I topped the balloting and came on as a director. As we got into construction here, Cline was on the job every day. I was here as much as I possibly could be. Because I was working for Amfac, and I was an outside salesperson for all of the biggest industrial counts, I had freedom. And so I would come down here and we would check on what was going on and so forth.
Cline (Mann) was the greatest contributor to what we have today of any member of the Club. He was just incredible. About that time we had people coming down to look at what was going on with their new Club. And they'd come down and all they saw was coral out here. Where's the swimming? No swimming! We lost over 500 members, as you know. We brought about 300 back after we moved in here, when we extended the offer for them to rejoin after the payment of $100.
So, all of a sudden, I got a call at home from Cline. He said: "Bobby, meet me at the Club I've got an idea". So I came down. We stood on the wall at what was coming on to the lowest tide of the year – – a 3 ½ foot tide which means that at low tide about 2 to 3 feet of coral would sit out of the water.  He said: "Remember in World War II, whenever they took an island the Seabees would be called in to create a causeway to the island. The islands were not accessible since they were surrounded by coral." The causeway would be used to bring vehicles. munitions and other supplies onto the island. He said: "I've got an idea that we should be able at low tide to break up this coral and take it out of here." And I said: "We need to talk to Walter Collins." And he agreed. Walter Collins was a member of the Club, and the president of Belt-Collins, a fine engineering firm. He was a very. very good head. So we got to Walter, and Walter said: "This is a dredging company issue, we need to talk to Chuck Watson". I said: "I know Chuck and he's a very difficult man". Walter said he would contact him. So he calls and gets an appointment through the secretary (Chuck Watson didn't want to see anything of us). We went down, and he didn't even welcome us in. He just sat there with his arms crossed, looked down and listened to Walter Collins who made an excellent presentation about what we had in mind. We had a week coming up of very low tides, and if they came down with a bulldozer, a D8 Caterpillar, and a backhoe, and break this stuff up and take it out, we could get swimming in here. He just sat there. And when Walter said: "What do you think Chuck?" Chuck said: "No, can't do it." Thank God for Walter. You can lay it all on Walter Collins at that time, not wanting to quit. He said: "We're a very fine Club doing very good things. Please do us the honor of sending one of your lieutenants down to at least take a look at it and report back to you. If he agrees with you, fine, that's it". Chuck said: "all right" and he left the room. This was dramatic. This was the end of the Outrigger Canoe Club in practical terms unless something happened.
So shortly in that day a young fellow, a young engineer, called Cline and scheduled the next day in the morning on low tides to meet with us down at the new Club. Walter was here. We took them in where the surfboard lockers are, and the canoes, that alley was all open at that point. "Here's where you can come in from the street and bring the two pieces of equipment that you need to do the job on the coral. You have seven days of low tide". And this fellow is looking at it, and said: "Yeah, we can do this!" I want to cry when I think about it. Because it was so dramatic that we were either going to go forward or we were through. Because when you lose 500 members you can lose 500 more when they see the Club completed and they can't swim.
Now right at this point I might mention that we were in construction and things were going very favorably. And one of my dear friends (I was an usher at their wedding) tells me "Bobby, we're not going to go. It's not the Outrigger Canoe Club at Waikiki." I said: "Come on down, I want to show you around. So I brought them down and showed them into the locker room, the men's locker room. I said: "This is my locker 295, right opposite the showers. It's wide open– you can have any locker you want." He said: "it's nice, Bobby". I took him out and showed him the surfboard lockers which we had completed. I said: "My number is 77, you can have any place you want, and you can have two if you want." And he said: "this is nice, this is very nice." Well that fellow turned out to come to the Club, and turned out to be President for two terms, and his name is Rab Guild. So that was the evolution there that got us into…
The very next day Walter said: "when can we figure to start because we're getting into low tide?" He said: "we'll have the equipment down here tomorrow". Not only did they bring the bulldozer down and run it in there, but all of a sudden a tug towing a barge shows up. And it pulled it to the area where the groin is with the torches. That is the edge of the San Souci channel. They anchored the barge right against the coral, and all day long they break up the coral and the backhoe would load it up onto the barge until it was stacked up. Then in the afternoon the tug appeared and hooked up to the barge with a steel cable and hauled it a mile offshore… so they didn't disturb the surfing and that sort of thing. Can you see that happening today? Over a period of a week's time we created what you see today, a swimming area where there are boats and canoes and that sort of thing. It was tender hooks . . . we were not going anyplace until we got this problem resolved. And this was all thanks to Cline Mann. Cline was just an incredible guy.
There were those of us that pitched in and had some ideas and so forth but he was the glue that held the project together. It was a very very critical time. On another issue, we had just gotten around to building the surfboard lockers. I took one look and was horrified because they were duplicating the dimensions of the old lockers at Waikiki, which were far too small. Now we have standup boards, etc. So I got Hal Whitaker who was a surfer to look at it. He said absolutely it needs to be redesigned. He said stop work, and he drew up a new specification. And so we got the lockers that we have today, which are much expanded over what we had at Waikiki. That was very important because surfing is such a big part of the Club. There's now a waiting list of 50 or 60 people who want to store a surfboard.
BDP: Now I didn't know that Hal Whitaker was involved. I thought it was Val Ossipoff.
RAA: The three architects worked in a contributory way together to create the Club that we know today. They met and talked about many issues. I do not know specifically what Hal contributed that may have resulted in changes to what Val and Pete may have had in mind. Val was a very strong influence on the overall design and everything, but they all made contributions. Just as an example Hal Whitaker's work on the surfboard lockers. It was a very homogeneous group of famous men who backed off their own individual "songs to sing", and became one in a group for the benefit of the Club. That sometimes is difficult to do. So they all made a contribution, and you have to just wonder every time you come into this Club, from the time you walk in….
There was a time when we had a difficult situation with the parking garage. The contract was for a specific size which was not meeting our requirements. And so we put it out to bid to add another two layers. And that came back at $300,000. We passed on it. And then somebody started talking to our landlord, the Elks, about having a driveway access into their parking lot because they didn't use all of that. And wouldn't it be nice if we could use some of theirs. Those of us who thought a little differently didn't want any part of it. So they went back to the architect and came up with a plan which went out to bid again and I think it came up to around $500,000. We lost $200,000 in the waiting to get it built. The garage today is just about the maximum to what we need but there are times when we have cars floating around with keys on the floor (laughter).
When we excavated the foundation we took sand and put it out on the beach, but we did not have any means of entrapping it. At the time the Ewa groin (with the torches) had not been built, and Walter Collins suggested that we build a groin on the Elks side of the property. And as you recall we had a very effective groin, trapping the sand. Sometimes it would be as high as three or four or five feet up against the groin. And as a result we had a sandy beach. All of a sudden, the Harbor Commission comes in with a vehement letter which stated that the Club had no clearance, no permit to build the Ewa groin and must take it down. Well, the Board, instead of getting on the same wave length and trying to ameliorate this thing in a quiet manner, got its back up. And they said: "They are telling us that we've got to take this down!" So somebody went down and contacted some member of the Harbor Commission and it came back that if you pay $40,000, you can keep the groin. And we made the decision to void keeping the groin for a lousy $40,000. It has dramatically affected the beauty of this beach that we have today which is nowhere near as good as it would've been with the groin. I can't believe it! I don't remember who was on the Board. I don't want to know. But that was the decision that the Board made. "They're not going to tell us! No, we won't even consider paying for the right to keep the groin". Not a wise move. I could get into it all day on the Kalanianiole property, but hopefully we're working in the right direction on that.
BDP: Before we end this, tell us something about your own father.
RAA: Let me tell you about tomorrow. Tomorrow I will be 93 years old. And when I told you that mother called me in and told me that your uncle Dad Center just gave you a Junior membership, that was a very exciting moment. We were living there at the Center home, and we were going to Punahou, of course. At one point we had 16 surfboards stuck in an alcove – – from our buddies from Punahou. And mother says: "You're all surfing down here and your uncle is paying $25 a year for your Junior membership in the Club." So we got a flotilla and went down there. We were mesmerized by the fact that there was a little screened-in room which mothers could use, with a sink, and a hot plate, and so forth – – sitting out near the beach. Inside there was always somebody working on the speed bag. You know, boxing. We were kind of horrified by this. We figured we had a pretty good thing at home so until after the war, we only went down there a couple times. It was so early in the Club's history that there wasn't much going on. But being a member of the Club was a great thing and we did not know how great it was going to be until after the war.
Now I came back after the war, and met the girl I was going to marry on the 5th of December in 1945, and we were married May 3 in 1946. We moved into an apartment on the Ala Wai, and on a Saturday I walked down to the Club (parking down here was terrible). I walked into the Club, went to the Front Desk, and three of the girls welcomed me back and thanked me for my service. I said: "I just want to get a locker." One of them went to the file and started looking for my record. "We don't have your record, Mr. Anderson." I said: "Don't have my record? My uncle, Dad Center…" Well Mr. Center is out working on his motorized canoe on the beach." Dad was the first person to put an outboard motor on a canoe. He had an Evinrude outboard motor mounted on his canoe. He was famous for that. He would go catch mahimahi, and all kinds of fish. So I went out to see Dad and he greets me (everybody was Chief). "Hi Chief, how're you doing?" I said: "Not so good. I just tried to check in and get a locker and they said they don't have my record." He said: "don't have your record? Well, we've got to talk to Doc Blum." Doc Blum was Mr. Admissions for the Club. He was a very positive individual and if he liked you and thought you'd be a good member you were in right then. So, we find him over by the surfboard lockers. He says: "Welcome back, Bobby! Let's go in and talk to the office about your record." He goes in and dictates: "create a file, give him a locker, and send him a bill."
But, here's the thing: I told you that tomorrow I will be 78 years as a member. There was a gap when I came back from the war. They had lost everything from the time that I checked in there at 15 years old up to 1946 when I returned from the war. So that's a 10 year period there that is lost to my membership record. So be it. So when you see a record of my membership – so many years and so forth, it will not show 78 years but rather 68. My brother Leith, who is three years younger, has been a member 74 years, as a result of the fact that they did not lose his record. So Leith outranks me in the record department. In point of membership in the Club I'm bona fide at 78.
My brother Leith tried to join (he's three years younger), tried to join the Army Air Corps, which I was in. They shut that down so he went into the Navy. It's always been a point of humor from my standpoint that anybody who would be crazy enough to fly off of aircraft carriers must have something wrong up here (pointing to forehead), you know. He was a great pilot. He did not get to combat. I got to combat and flew 79 combat missions and was almost shot down on Christmas day – – crazy!
BDP: Tell us about your father.
RAA: Yes, about Dad (R. Alexander Anderson, composer and song writer). He was a remarkable person. He went to Punahou, and he was the number one student at Punahou. He started writing songs when he was in his senior year. He wrote a song for Punahou. Then he went to Cornell.
The war came on. He became a fighter pilot. And went overseas and flew with an American detachment to the RAF – – flying out of France. He was shot down, and taken prisoner. He and three others in this prison camp that they were in, on the second floor, managed to wiggle the tiles apart and with tying sheets together made an escape. Five escaped but two were recaptured while they were visiting friends. Dad came back, and wrote the story in McClure's magazine "Shot with luck!"  Then he came home and started to… First he went to Chicago. His flying buddy Paul Winslow had a family living in Chicago. For three years during the war mother had gone to Dame Nellie Melba in Australia for a singing career. And she was in New York on her way to meet Dame Nellie Melba in England, and ran into Dean Ault, the Dean of St. Andrew's Cathedral. And she said: "Dean I'm in a quandary. I don't know what to do. A very wonderful young man has asked me to marry him (that was dad), and then I'm beholden to my dear friend Dame Melba." He said: "You must do what your heart tells you." And so she immediately called dad.
They were married in Chicago, which is where I was born. We lived there one year. I was the only one of my siblings, because Hawaii was a Territory of the U.S., who was eligible to become President. I lorded that over my brothers and my sister. So it was a wonderful early life that we came back to, living on Pacific Heights. Both my brothers Leith and Allen were delivered in the house – – it's crazy. The beauty of it was when David Center (my Grandfather) passed away, the family was living in the house at 2987 Kalakaua. The girls and the two boys had been going to Punahou. "Dad" Center, George D. Center, immediately got out of that and got a job as we discussed. At a point, Uncle Dad called mother and said: "I'm rattling around in this great big house, and you're up there (I had had pneumonia) and it's raining all the time at the top of Pacific Heights. You come down and take this house here and I'll go out to my house on the water at Niu." So that's what happened We moved into the big house, and it was great. We had constant visitation from our classmates because they could store their surfboards there. It was a wonderful time . . . 'till the war came.
Dad wrote over 200 songs. The most prominent you would know are "Lovely Hula Hands" and "Mele Kalikimaka", also "Blue Lei", and on and on and on. It was an avocation. He was a member of ASCAP (American Society of Composers Authors and Publishers), and the Songwriters Guild. It's interesting, he passed away in 1995 and his royalties have more than tripled since he's been gone, which is unheard of.
When I was running Alexander Young Company, and he was President in the office next door, the phone rang. He said: "Bobby, come over for a moment. I just had a call from Bing." As I went to the door I realized he was talking about Bing Crosby. And I said: "What's Bing up to?" He laughed and he said: "Bing just called and said he's doing a record with the Andrews sisters, and he wants to use one of my songs." They were golfing buddies and everything. He said: "That's great Bing, what did you have in mind." Being said: "Mele Kalikimaka". Well, that shot Mele Kalikimaka all over the world and everything. Bette Midler also did a feature Christmas album which featured Mele Kalikimaka. So these things account for the fact that the royalties have done so well. It's amazing. Usually after the principal passes on they steadily drift off. In this case, it's still there, and it's a great tribute. It's a wonderful tribute. He was a great man.
I have to tell you about dad's 100th birthday. My two brothers put on a party at the Oahu Country Club and we invited . . . there must've been 150 of the musicians and the people that played his songs as well as dear friends. There were a total of 300 invited and 500 came. 500 people, the place was just packed, and they all got to the microphone and over a period of hours they paid tribute to dad. And then I turned the mic over to him and asked if he'd like to say a few words.
He said: "Yes I'd like very much to." He stood there for a moment silent and then he said: "You know, (and everybody listening is so quiet you could hear a pin drop), it's a terrible thing to live long enough to see your sons grow up to be old men." That blew the place up. He was a master of one-liners. He was just incredible guy. He lived one week short of 101, as you know. It was a great blessing to have him as my father.
BDP: Well, this certainly has been interesting, Bob. Do you have anything else you want to tell us?
RAA: No, I think that pretty well tells it.

BDP: Well thank you so much for sharing with us today.
RAA: I hope it's been useful and beneficial and I think the way that you put it … I've got to complement your writings. They're wonderful, you know. And everybody knows that. You're a blessing in that sense. Because to visualize the Outrigger magazine without a Barbara del Piano article in it is unthinkable. You cover such vital subjects of importance that we all need, and you search these out, and then you do the job on them better than anybody else could do it. So I'm very comfortable spreading a little bit of lore which I've lived through and so forth. I'm sure you will find something in value of what I've shared. Thanks so very much for asking me.
BDP: This is been a real pleasure.
APPENDIX
GEORGE "DAD" CENTER (USA)
1991 Honor Pioneer Coach
Center developed swimming greats Duke Kahanamoku, James Lovett, Olga Clar, and the Crabbe brothers, Buddy and Buster. Kahanamoku and Buster Crabbe without a doubt were his most successful swimmers and went on to win Olympic gold medals and set World Records.
Known affectionately to his athletes as "Dad", Center was born in 1886 in Kipahulu, Maui to the son of a sugar plantation manager. He participated in all sports, but was most active in swimming, surfing and canoeing.
Dad coached the Outrigger swimming teams when the Duke went to the Olympics and returned a champion. Dad's other love was canoeing and he was the first coach to use canoeing as a conditioning sport for swimming, since the same muscles are used for both sports.
As Club Captain, Dad was in complete charge of all athletic programs and served as the "guiding spirit" who encouraged all young members to participate. His leadership roles lead him to the 1920 Olympics in Antwerp, serving as coach of the U.S. team. Along with Kahanamoku and Mariechen Wehselau, Hawaiian swimmers included Pua and Warren Kealoha, Stubby Kruger, Helen Moses, and Joseph Gilman. His USA team won all the men's and women's events except one. Dad later coached the U.S. National team which competed against Japan.
He retired in 1932, but continued to inspire young athletes to compete to the best of their ability. Dad died in 1962 at the age of 75. He was loved by all who knew him as an exceedingly thoughtful, kind, and gentle person who lived with a heart of gold.