This oral history interview is a project of the Historical Committee of the Outrigger Canoe Club. The legal rights of this material remain with the Outrigger Canoe Club. Anyone wishing to reproduce it or quote at length from it should contact the Historical Committee of the Outrigger Canoe Club. The reader should be aware that an oral history document portrays information as recalled by the interviewee. Because of the spontaneous nature of this kind of document, it may contain statements and impressions that are not factual.
---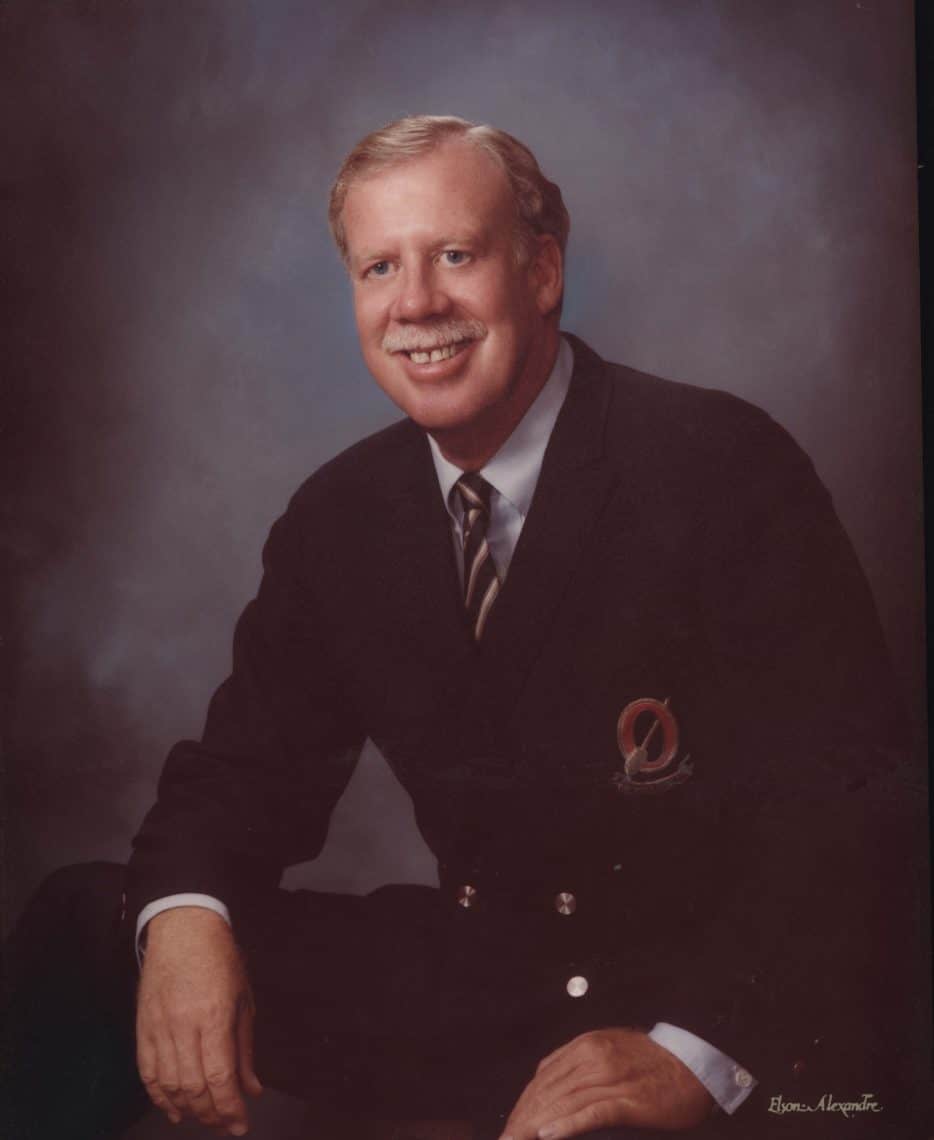 ---
An interview by J. Ward Russell
April 28, 1998
I am Ward Russell (JWR), a member of the Outrigger Canoe Club's Historical Committee. For some time our Committee has been conducting oral interviews of prominent members of our Club. Today, it is my distinct pleasure and privilege to interview "Rabbit" Robert Guild (RWG), also known as Rab Guild, a member of a kamaaina family and longtime member of the Outrigger Canoe Club. Rab has the distinction of having been a president of the Club on two occasions and the additional distinction of having a son who has also been president of the Club. We are in the Boardroom of the Club on a beautiful afternoon.
JWR:   Good afternoon Rab.
RWG: Good afternoon Ward. How are you?
JWR:   Very well, thank you.
RWG: I feel a lot better after lunch.
JWR:   Ah, yeah and you paid for my lunch too. Thank you very much.
RWG: I was happy to do that.
JWR:   OK. Before we go into the Club, let's hear a little bit about you. Where were you born?
RWG: I was born in Honolulu, Hawaii at Kapiolani Hospital.
JWR:   Ah. What year?
RWG: May 13, 1929.
JWR:   Hey, it's very close to your birthday?
RWG: Yes, fifteen days away.
JWR:   Where did you go to school?
RWG: I went to Kinau Kindergarten to start with and then I went to Hanahauoli School, then to Punahou. During the war I went away to Portland, Oregon for three years, then I came back and graduated from Punahou. Then I went to University of Hawaii.
JWR:   Then after the University of Hawaii you went to work.
RWG: Yep, well in fact, I went to Wake Island during the Korean War working for Standard Oil Co., because all the planes that went to the Far East all came through Wake Island. I came back and got into the Air Force Reserve, was involuntarily recalled in the Air Force on active duty. I was on active duty for a couple of years and then got out when the war was pau (finished).
JWR:   And how about your business career?
RWG: Well probably the most distinctive part of my business career was that I was a night watchman at the Outrigger Canoe Club down at the old site. One night a week.
JWR:   Oh really? You probably have some vivid stories to tell.

RWG: I do have a couple of stories, but I probably won't tell them.
I went to work in the automobile business at the Hono­lulu Ford dealership for nineteen years. I then had two automobile leasing companies and then I started my own dealership in Kaneohe and had the Volkswagen, Chevrolet and Mazda dealerships. I closed those in 1983. Built a couple of buildings and went to work for a friend of mine, a classmate of mine at Punahou by the name of Armand Smith, whose brother Hunter Parker, another member of the Club, started a company headquartered in Portland, Oregon, and I represented them in Hawaii until 1992. That was the last year that I have done anything meaningful.
JWR:   Well, you had a meaningful career. Let's go back to Punahou days. What were your athletic activi­ties in school and college?
RWG: Actually, I played a little football, but I was kind of tall and slender at the time and I know we played "midget" football, which is barefoot with all the pads. I know that Jack Sheehan was on the six-man team. Jack Sheehan was the left end and I was the right end. We still talk about that. Basically, I wasn't too active in sports in high school, but I did play basketball at the University of Hawaii.
JWR:   Before we get into the Club, what about your fami­ly? You have some great kids and an outstanding wife.
RWG: Kind of interesting to me was that my father came directly from Scotland to Honolulu on May 13, 1899, thirty years to the day that I was born in Honolulu.
I am married now to Alice who comes from an old time family in Hawaii. As she said her family came over in the first canoe, so that gives you an idea how long they have been here.
JWR:   A very distinguished family.
RWG: Well, it's an old time family. We are fortunate to have four children. All four of them are members of the Outrigger. Particularly our son Walter who is athletically still very much, connected to the Outrigger.
Then our middle daughter Diane or "Di" is still coaching the masters senior women's crew.  I have been fortunate to have my children in the Outrigger since they were very young. They have grown up with one of the most outstanding organizations that they could possibly grow up in and that's the Outrigger Canoe Club. The water sports, being out of doors, it's such a healthy environment not only physically, but mentally. So we have been very fortunate in that sense.
JWR:   Well, that brings us to the Outrigger Canoe Club and your participation. When did you join the Club?
RWG: I joined the Club in 1947 and I think it was July. As a matter of fact, I have the first of the Forecasts that announces my membership approval and I think is was July, 1947. So I've been a member over fifty years.
JWR:   How old were you when you joined the Club?

RWG: I would have been eighteen years of age.
JWR:   How did you come to join the Club?
RWG: My father was very nice to give me that as a be­lated birthday present.
JWR:   Had you done any swimming in high school?
RWG: No, actually I had not done any swimming in high school. I had swum at the beach and I use to surf, but not as much as I did after I joined the Club.
JWR:   When did you first start surfing?
RWG: Well, when I first started surfing, interestingly enough, was when we were living at the Niumalu Hotel while my dad was having the family house built up in Makiki. That was in 1934 and that's when I learned to swim.
I'm trying to think of the beach boy's name. I was going to say "Kalakaua" (Simeon Aylett) and I'm not positive whether it was or not, but I think it could have been "Kalakaua" who taught me how to swim when I was five years old.
Then, I used to go surfing with a fellow who came down here every year. His grandmother used to bring him down and they used to live at the Niumalu Hotel by the name of Bob Hensler. He was about six feet six in height and he used to take me tandem on his board and I remember my first board was like a redwood plank that looked a lot like an ironing board. That is the first board I can remember actually surfing on. But, basically, I have been surfing from then on.
JWR:   You surely made up for lost time.
RWG: Yeah, I sure did.
JWR:   What kind of a board did you surf on when you joined the Club? Did they still have planks or by that time had they. . .
RWG: No, they were balsa-redwood planks. Then Charley Martin and I built a board which was a balsa board with a mahogany strip down the middle and a mahogany front end on it. I can't remember the carpenter's name (Jim "Box" Kaya) that used to do the carpentry work at the Club underneath the old Club and he put the front end on it.
JWR:   Incidentally, we can always add names to the final transcription. If you can't remember a name we can fill it in later.
RWG: If I remember it later too.
JWR:   Tell me what were your first recollections of the Club?
RWG: My earliest recollection of the Club really was that it was a beach club. It had dining facil­ities. The Hau Terrace was part of our lives at that time. We used to drink our share of beer, obviously. It was to me very beach oriented, surfing and canoeing. I can remember surfing all day long when the waves were up "first break" waves. Going out at nine o'clock in the morning and coming in when it was dark. Then having to stand in the hot shower for a half-hour, trying to get warm, because you were blue by then.
JWR:   What were your favorite surfing places?
RWG: Canoes (Canoe surf) was always a good surfing place because there were almost always waves.
JWR:   Now where is Canoes?
RWG: Canoes is just outside of the old Club in Waikiki, Really, right in front of the Moana Hotel, Then obviously, Queens (Queens surf).
JWR:   And Queens is where?
RWG: Queens is to the Diamond Head side of Canoes surf.
JWR:   I'm asking these questions because people who hear or read this interview may not know what you are talking about. So I get you to identify these locations.
RWG:  Well, then outside of Queens and more towards the Natatorium was actually Cunahs and. then big Cunahs. Going the other way (going towards Ewa from Canoes) was "First Break". Then Populars was out even further and that was outside the reef area in front of the Royal Hawaiian Hotel.
JWR:   Did you have any particular favorite spot.
RWG: It just depended on where the waves were.
JWR:   Do you recall any particular events that occurred which are indelibly imprinted in your mind?
RWG: I think possibly two things that I remember best of all. When I was at the University of Hawaii I was playing basketball and I was also crewing (rowing), so I was in pretty good shape. I started paddling for the Outrigger and the first race I ever paddled in was a senior race, a senior four held in the regatta in Honolulu Harbor (Maritime Day) and Jimmy Pflueger and I were in the middle seats and Paul Dolan was in the front seat and Charley Martin was in the back seat and we broke the four-man record for the senior four, We were paddling in the KAKINA. I never paddled junior crew. It's the same at the University of Hawaii, I never rowed in anything other than the senior crew.
I think the second most memorable thing that I can remember about water sports and being involved with the Outrigger was during the time I paddled senior crew….. Well, two things. The senior crew I paddled on was the last senior crew that Duke (Kahanamoku) coached. After he was pau (finished) coaching – I don't remember exactly how many years, there was an era when Waikiki Surf Club had a marvelous senior crew, "Dutchie" Kino, "Blue" Makua, "Wally" Froiseth, George Downing. It was one of those crews that comes along now and then, like Lanikai's crew is now, and we were always second. But, sometimes we should have won, but we didn't.
In one instance we were paddling the Walter Macfarlane Races, and in those days, the senior six was a four and a half mile race. We used to have quarter-mile, half-mile and three-quarter mile buoys and it was three times around the three-quarter mile buoy. We were leading, going into the last turn, the last three-quarter mile buoy, by about a hundred yards. It was going to be a fabulous, fabulous win and we went around. I remember I was paddling number five, and we went around the last buoy and Charley Martin was steering and he cut it too close and we hit the buoy (disqualified). I was so….. You know after paddling that far in that kind of condition. I turned around and slung the paddle at Charley. Luckily I didn't hit him, but I was burned up.
JWR:   Automatically disqualified!
RWG: Automatically disqualified. We beat them by about one hundred yards and then were disqualified. The one time that we really, really paddled well and beat them substantially.
JWR:   Did you paddle Outrigger senior crew for a long period?
RWG: I paddled on the senior crew for about nine years, eight or nine years. I would have paddled longer.
I played volleyball for the Outrigger six-man team and I would have played volleyball longer also, but my wife used to drive with me to the volleyball meets and leave our kids at home which she didn't like to do too well. She didn't like driving back from the volleyball games in a car with five sweaty volleyball players. She said that's got to go. So that was the end of my volleyball career.
That coincided with my finished paddling career also, because I started having children and a little more responsibility. Especially, my son who is forty-one years old and is still paddling. Course he's not married and he doesn't have any children and that makes it a little easier for him.
JWR:   I want to go back a little bit because you mentioned the KAKINA. What is significant about the KAKINA?
RWG: The KAKINA was the widest of the two canoes that we had…. We actually had three, we had the HANAKEOKI, which we weren't racing at the time, the LEILANI and the KAKINA. The KAKINA was a little shorter and it was little lighter and it was good for light crews. It was a great racing canoe for four-man. Better a four-man canoe than the LEILANI.
JWR:   The LEILANI, KAKINA and HANAKEOKI were all koa canoes.
RWG: Right, all koa canoes.
JWR:   Do you know the background of the KAKINA and LEILANI?
RWG: I don't know about it. I think they were made like in 1932 or 1934.
JWR:   Dad Center was responsible for acquiring those two plus the canoe that the Waikiki Surf Club had for years,
RWG: The MALIA?
JWR:   The MALIA. They were all made by the same man.
RWG: Who was that? Was it George Perry?
JWR:   No. A Japanese man in Kona. An interesting story is the way Dad (Center) disposed of those three canoes, particularly the one for Waikiki Surf. They couldn't afford it and Dad advanced the money out of his own pocket to help them acquire it.
RWG: I think those three canoes are probably three of the great designs of koa canoes and certainly the MALIA is the original design for lots of the fiberglass canoes.
JWR:   That right. You mentioned something else that caught my ear. Crewing. Did you row?
RWG: I rowed for the University of Hawaii. The University of Hawaii wanted to revive it. In the days of King Kalakaua they used to have regattas and they were rowing regattas. They rowed in six-man barges which were designed so they could make a turn. They used to race out the channel of the harbor entrance (Honolulu) and then make a turn around a buoy outside and race back in. I actually rowed in a race in Honolulu Harbor that went out the channel and came back again. It was kind of an interesting thing. It was a little like a take-off on the Macfarlane races because there were swells out there that one could ride a little and it caused a different condition to row with a sweep oar rather than on completely flat water.
JWR:   I did too, I rowed with the Myrtle Boat Club.
RWG: The old Myrtle Boat Club became the University of Hawaii Boat Club. We used the old Myrtle barges. We used to row in the Ala Wai. In those days it wasn't full as it is now with silt, so that one could get a two thousand meter course out of it, which is an Olympic distance. When they do dredge the Ala Wai again, hopefully get it so that it will not fill up again then an Olympic distance course that we can actually train in and hopefully, Hawaii is so water sports oriented, one of these days we will be able to send some crews to the Olympics for the sprints.
JWR:   You mentioned the Walter Macfarlane Race. For the benefit of the record I'd like you to describe your family connection to the Walter Macfarlane Race.
RWG: Walter Macfarlane or "Walter Mac" was the president of the Outrigger around the beginning of World War II in 1939. He's credited with revitalizing the Outrigger because it was kind of going downhill at the time. Almost single-handedly he raised the funds to build the 1941 Club (new clubhouse). He happens to be my mother–in-law's brother, my wife's uncle. So that connection is very close and the Walter Macfarlane Memorial Canoe Races at Waikiki Beach are supported by the family. My mother-in-law has done a great deal in seeing that monies are spent and trophies are made and things like that. The family has been very involved and it's interesting that our kids have been involved also.
It's really kind of a fun thing. Every July 4th, it doesn't matter where we are, we always come back for the races. That kind of a family tradition.
JWR:   You have been very instrumental in the Duke Kahanamoku Foundation (ODKF).
RWG: Yes, on the board of the Foundation. I was president of the Outrigger when we had a chance along with Ben Cassiday to put the Outrigger Duke Kahanamoku Foundation together, when the Duke Kahanamoku Foundation came to the Outrigger and asked us to administer their funds. So we combined them and ended up with the Outrigger Duke Kahanamoku Foundation. We've had an opportunity to grow. We haven't quite achieved where I had hoped we would be right now because we are under one million dollars (assets). I have to give a lot of credit to my mother-in-law, Muriel Flanders because she has been the largest single contributor to the Foundation. The goals of the Foundation are, I think, incredibly great because it supports the young athletes and scholars in Hawaii and the hope is to be able to send them away to different sports activities and colleges so they can come back and be the leaders in Hawaii when they return. Actually, ODKF is the only foundation of its kind in the State of Hawaii, which I think is kind of unique.
JWR:   I think it's great you have that participation and interest in the Foundation.
RWG: I am on the board now, but I think it's about time that I start passing that crown off to someone else. I've been on it for, I don't know how many years, but it has been a lot of years.
JWR:   Let's go back. I want to get into your participation in the management of the Club. What committees have you served on? Can you give me a brief synopsis of your activity?
RWG: Over a period of time I have been on the Athletic, Admissions and Membership, Long Range Planning for several times and Building & Grounds Committees. As a director, I was a Coordinating Director to most of the committees, including the Entertainment and House committee.
JWR:   Club Captain?
RWG: No, I never was Club Captain

JWR:   When were you first elected to the Board?
RWG: I was probably elected around 1969 or 1970, because I was president the first time in 1973. I was pretty sure that I was on the Board probably in my fourth year when I was president.
JWR:   That brings up another point that I want to talk about. You were also president in 1985.
RWG: Correct.
JWR:   How did the second tour of duty come about?
RWG: The past presidents are quite active in the Club and obviously want the Club to operate well. The past presidents felt because of the election and rolling over of directors there was a lot of new young blood coming on, but there was not any experience. They asked me to run again as a director and I did and was elected fortunately. I was glad I did because I had spent a number of years either on or chairing the Bylaws committee. It's little like constitutional type of thing where one has to understand the reasoning of some of the Bylaws, why they were originally put in, why they have been changed. It gave me an opportunity to sit on the Board and kind of help the Board understand what the Bylaws meant, and that we could do certain things and we couldn't do other things. That was really the reason I got back on the Board. Because I had the experience of being president I was also president again.
JWR:   I raised the question because at the time there was some criticism and you may recall there was an effort to change the Bylaws with reference to terms of office. I think the service you gave to the Club justified the position taken by the past presidents.
RWG: It nice of you to say that. You being a past president. I think you are the only one that has been a four-term president.
JWR:   There are two more than I. One was Walter Macfarlane and the other was Wilfred Godbold.
RWG: Oh, I didn't know…
JWR:   The other was Wilford Godbold, Sr… I am the third in tenure.
RWG: In fact I didn't know that Walter Macfarlane was president that long.
JWR:   Let's see now. Back to the time period you served at the old location and when it was obvious we had to move to the new location. What was your reaction at that time?
RWG: My reaction at that time was that I didn't want to move. It was interesting because my father had been very close to Alex Smith who was the administrator for Queen's Hospital.  It was felt at that time that he could persuade Queen's Hospital to sell the property to the Outrigger. For whatever reason I don't know, but that did not come about and when the Club did decide to move up here, I actually was not happy with moving away from Waikiki because of the surfing area. So I went and took my board over to the Uluniu Club, along with several others, including George Brangier and continued to surf down there.
I can remember all the meetings that we had that you chaired at that time and we used to have Club meetings at the Princess Kaiulani Hotel. I still was not happy about it.
I thought maybe possibly of resigning from the Club and I remember coming up here and Bobby Anderson and I walked around through the original found­ations of where the men's locker was and Bobby explaining to me where the lockers were going to be and I didn't resign and I was very happy that I didn't. I kept my membership and as it turned out we were very much better off here in this area than we would have been down in Waikiki.
I can remember being younger and the beach that a lot of times the gals would get hustled by the servicemen and there was just a lot more action and particularly in today's environment I think there would have been a lot more trouble with members down there being on the beach. In those days we used to be able to spend time on the beach at night and not worry about getting beaten up or anything like that, so I think where we've moved to I am a lot happier, having three daughters, that they were able to grow up here in this new location rather than down in Waikiki, which I think would have been a little rougher.
JWR: It's become a real family Club.
RWG:  Oh definitely, no question about that. We don't have the beach facilities really, I mean the big Waikiki Beach. We're not as close to surfing as we were. We used to have the Outrigger Beach Services. "Sally" Hale and all the beach boys were right there at the Club.
JWR:   Tell me a little about the Beach Services, now that you mention it.
RWG: I can remember some of the beach boys who were there, "Sally" Hale was head of it. I can remember the little office under the bar. They used to take all of the canoes, take the tourists out in canoes. It was fun because I use to go out with "Steamboat" or go out with some of the other guys as second captain, with "Turkey" Love and guys like that. So it was a lot of fun to be on the beach.
JWR:   Duke and David (Kahanamoku)?
RWG: Yeah, Duke in my day was not doing it as a profes­sion. Other beach boys were doing it to make money. Duke had already graduated to the sheriff's job.
JWR:   I remember David? He and I used to paddle the two-man canoe together.
RWG: Well, all the brothers were very active down there. I remember one time on "first break" waves I got a lesson from Sarge. I was not sliding left (riding parallel or sideways along the face of a wave) fast enough and he was sliding left fast and he came right across my board. Of course they didn't have skegs then so it didn't chew my board up, but it caught me right across the ankles.
JWR:   Who's this?
RWG: Sarge Kahanamoku.
JWR:   Oh really?
RWG: Sargeant would tell you to get out of the way and he'd just keep on coming.
JWR:   (Laugh) That's pretty good. Can you remember some of the characters that were prominent in your life at the Club?
RWG: I can remember some of the characters certainly that were on the beach. "Steamboat" (Samuel Mokuahi, Sr), "Big Boat" (Samuel Mokuahi, III), "Turkey" (Alan Love), "Panama" (Charles Baptiste, Jr.), "Chick" (William Daniels), "Curly" (Harry Cornwall), "Kalakaua" (Simeon Aylett) and "Molokai" (Alfred Horner).
JWR:   These were part of the beach boy's service?
RWG: Those were part of the beach boy's service and some beach boys, like "Panama" never worked for the beach service. He was always at the Moana Hotel.
JWR:   What was the objective of the beach boy's service? What was their function?
RWG: It primarily was to take tourists out canoeing and give surfing lessons. "Chick." was at the Royal and "Panama" and "Jimmy" Hakuole were at the Moana, The beach boy's service was designed to take tourists out in canoes and give them surfing lessons.
Then of course, talk about some of the characters, Richard (Ota) and Claire in the snack bar and "Pops" (Haehnlen), the night watchman that Pat Wyman used to drive out of his mind, Eva (Pomroy) and Malia (Lutz) at the front desk and "Charley" Hee, people that worked for the Club.
JWR:   How about any of the managers of the Club?
RWG:  I think one of the great managers of the Club was Fred Mosher. In my opinion, "Freddy" turned the Club around, from the standpoint getting people/members back to the Club. He became interested in the younger members of the Club. We used to go canoeing with him. I think in my opinion, he turned the food service and the quality of the food around, so that members enjoyed coming back to the Club. I think there was some concern from the Board that his ratio of cost to sales in the food was a little off, but I credit him with bringing the members back to use the Club again.
Gay Harris was a Club manager at one time and "Jake" Tudor was the Club manager when I first joined.
JWR:   Your reference to "Jake". I have some vivid recollections. What did you think of him?
RWG: I don't have any vivid recollections of "Jake" as the manager. Maybe I wasn't getting in trouble or I wasn't running around quite as much at the Club as I did later. I never really bounced off of "Jake" too much and I know a lot of people did.
JWR:   I mentioned it because I always remember the "wishing well". Do you remember the "wishing well"?
RWG: No.
JWR:   He put it just adjacent to the volleyball courts for members to throw coins in it and make a wish.
RWG: Was that the little shallow well?
JWR:   Yes.
RWG: Well, I remember that,
JWR:   Song around the office was "Three Coins in a Fountain".
I want to touch on one point that you were very active in and your recollection about it. I know that during your presidency, you worked very hard with the Elks Club, trying to resolve a problem. Can you just give me a briefing on your participation?
RWG: Well, that's been an ongoing thing since I've been president. Yes, we set up a lot of meetings with the Elks Club, in particular with the older members of the Elks Club, who I think you probably were in negotiations with some of the members like Ray Medly and some of those guys.
We instituted cocktail parties where we invited their Board of Trustees here and they would invite us over there. We were trying to put together a. common ground and friendships so that we could work toward being able to acquire this property in fee and that's still going on. It's twenty five years later and I don't think we are any closer than before. They have resisted our overtures. We've tried a lot of different things.
I know one of the things was the parking structure, where we approached them in building a joint parking structure which they could also use, as well as us. We were talking about building it on the back of their parking lot. We would put the money up and they would put the land up. I believe they didn't go for that for the reason they were thinking about building a high rise on the back of their lot, I don't think it's a possibility.
The dialog continued to the extent that in 1986 or 1987, maybe after that I actually, unbeknown to the Board of the Outrigger, I made an offer to the Elks Club of six and a half million dollars for this piece of property with the understanding that I would have to get Board approval. It was interesting because that offer went as far as three of the old timers (Elks), never got to the Board of Trustees, never got to the Exalted Ruler, never got to the membership, because the old timers were just against us even talking about it.
In a discussion where we acknowledged the fact that when we made this lease with the Elks Club, it was actually a good lease for them. They needed the money and they got the money they needed and it was a good lease. Today, it is a very good lease for us. It will continue to be a very good lease for us for an awful lot of years. Acknowledging that was the case, I suggested that maybe the Outrigger should buy the Elks Club out entirely and then we would turn around and lease them back their portion on the same basis that they lease us our portion. Well, they didn't like that idea either. I don't think it's a practical view point on their part. They're not looking at it from an economic stand point, they are looking at it from a jealous old time stand point and I don't think anything is going to happen.
This is my personal opinion. I don't think anything is going to happen until we don't have the old timers around who are bitter about the lease. Personally, they think we "took" them and we definitely have a very favorable lease that you Ward were involved in working out. They don't realize that when our renegotiation comes up that they aren't going to absolutely put us out of business. They think that some Japanese buyers are going to offer them three hundred and fifty million dollars for this piece of property and they are going to base our future rent on that. It's not going to happen.
JWR: You raised an interesting point, I think you identified -"they" as the old timers who have to go by the wayside and await a new element. Assuming that, what is going to be the best way to approach that new element?
RWG: I think the old timers are emotional about our lease and about us being here. I think a younger new element would be more practical, economically practical in looking at it and if they realize they are not going to: (1) Base our five per cent lease rental on three hundred or three hundred and fifty million dollars. (2) I have been told this by several on the Board of Trustees over there that they feel that the lease negotiation with us is the lever to use to get us to support them in getting permission to put a high rise on the back of their parking lot. At that time, I told them they were entirely wrong. I didn't think we had the influence that they are thinking we have, that we are not in a position to make that kind of judgment about a high rise or help them get the necessary permits. They are trying, in the backs of their minds, to use the renegotiation like it's a lever to support them on that. I think when they realize that as we renegotiate that we are going to be better off at buying the property and just continuing on the present lease for the next fifty years, they may get a different outlook on it, particularly the younger, more development oriented members that they may have, the more economically practical member that they may have. I think that may change that philosophy over there. As long as the old time members are still there, I was told by the chairman of the board, who I won't name, he and I had a meeting at a McDonald's restaurant on King's Street where nobody would see us, the next time the Outrigger makes an offer, it has to make it to the Board of Directors, because these guys (old timers), they just swallow it and nobody ever sees it. Several of our offers have never ever gotten to the Board of Directors, so therefore it has never been brought to the membership.
JWR:   Very interesting points. One point that I think that has further complicated the whole procedure or issue is that present zoning does not permit construction of the high rise on the hack of their property which I think emphasizes the need to get the message to their membership. From what you say, I gather that the membership at large has never really had an opportunity to express their opinion.
RWG: I think that is part of it. The old timers really run that Club over there. The younger ones and one of them who was elected that I was hoping would make a good one, said that he really got elected on the basis that he kind of promised that they were going to break the lease. That hasn't happened. I told them. "Well, be our guest, because we don't think you can" and they never pursued it. Let's face it, they couldn't do it anyway.
JWR:   I don't think so. I have pretty much been through that whole procedure too.
RWG: You're right, the membership never really ever gets a clear picture of this thing. I think it's the Board of Directors, in particular the old members who are not on the Board, but are very vocal over there and have been in all of the positions of strength that have really kept it from the membership. I know another thing also that's kind of interesting is that they have always been concerned that Outrigger members would join the Elks Club and then be able to swing a vote over there. I know we do have some members that are members over there, but I think very few. It's an interesting thing that has worried them for quite awhile
JWR:   Well, they're at a very critical situation right now and maybe the time is ripe for something drastic to happen either on our part or their part, but you've certainly covered the "waterfront" pretty well there.
RWG: You know in one instance when we offered them an amount of money, and it wasn't the time that I just off hand offered the six and a half million, but it was the time when we did offer them money somewhere in that neighborhood. We also pointed out that if they invested that money to the end of our lease they would have almost a billion dollars. You know, they could buy the island with that, If we gave then four, five or six million dollars or whatever, they could do an awful lot with that over there and make a magnificent club or they could go somewhere else and buy a piece of property and build a magnificent club. With that kind of money to get a facility they could get whatever they want and the reply was "Oh no, we have some members that would like to have a drink and look at the water." Well, that an expensive drink. Something one of these days is going to happen, but by then it may be better for us not to purchase it.
JWR:   Right. Well, it's been a good recap of what the situation is. I guess you could go on for a long time discussing it.
RWG: It's been going on for a long time. I guess it could go on about as long as we let it.
JWR:   Let's get back to the Club now. I did want to talk about Walter (Guild). He was president in 1994. He did an outstanding job.
RWG: He was president at the time that there were some major changes in the Club. He also had an interesting thing happen and that was his aunt, Mary Philpotts McGrath, was also on the Board.
JWR:   She's the first woman president (1998).
RWG: Yes, she's the first woman president, It's kind of an interesting thing that Walter "Mac" (Macfarlane), Walter Guild and Mary Philpotts McGrath are all related and all presidents. Walt had Mary's expertise and one of the things that came out of that and I really credit Mary for, that it happened during Walt's term and that was the new dining room facility. That has turned out just magnificently. I think that's one of the most beautiful parts of this Club and has generated a lot more business.
JWR:   How did Walter come to be an outstanding athlete and how he came to be president and what influence he might have had?
RWG: I have always wanted my children to be part of the Club so I have gotten then in as soon as they were able to get in. I taught Walt to surf out at Kahe Point, where we had our place in Ewa. I really surfed with him more right here at the Outrigger. I remember he was eight years old and he and I used to go surfing when it was still dark and sit on our board at "Old Man's" (surf). It was a great time for me because he was my only son and fun just being out there and talking to him as an eight year old. Then I was able to get him into some of the summer programs. So he surfed and canoed and everything here.
He was growing up in the Club, so he's been playing volleyball and surfing and paddling all his life. One of the most gratifying things, I always wanted him to understand koa, particularly koa canoes.
I had grown up with Duke's canoes and I used to paddle those and particularly the Club's racing canoes. It's just a special feeling about those canoes as far as I was concerned. So I encouraged him to be around the canoe and koa and learn how to rig and take care of them, He went far further than I ever thought he would. He became very involved in actually working on the canoes, preparing them for racing, re-rigging them and changing some of the designs, seating, etc…
He not only grew up in the Club, but he grew up working with the canoes, particularly with koa canoes. The fact that he happens to build fiberglass canoes is kind of an extension of that. I was really happy that he was so involved in the Club and took such an interest in the Club, that when they were looking for some younger people to get involved with the Board, because you need the new blood and enthusiasm and the energies, and that even when it was not the easiest time for him from a business stand point, he did get on the Board.
I was obviously very delighted that he was successful on the Board and also being president. If he's a good example then he's a product of a youngster growing up in the Club and having a special feeling for the Club and obviously a desire to see the very best. He's got a great attitude.
One time after a Molokai race which they had won the year before and came in second. I think it was when the Tahitian's won and I talked to him right after the race. You know after four or five hours being out there in the Molokai Channel, it's grueling. I said: "Gee, I'm really sorry about the fact you didn't win." and he said; "Dad, the best thing that happens that somebody else won, because it became truly an international contest. If we had won it every single year it wouldn't ever develop into something very special." That kind of attitude of his is always been one of his "strong suits". He is not only for himself, but he's always been for everybody else. That kind of helped him as a director and as a president.
JWR:   I know you'll look forward to the day when maybe you'll have a grandson.

RWG: Well, that's something that I can look forward to. I know that Alice is looking forward to it, in fact she is getting very, very impatient. We have only one of our four children married and she's married to somebody who already has grown children and grandchildren and she's never going to have any children of her own and Alice is getting very unhappy about that. Walter and Lissa are the two candidates.
JWR:   Well Rab, this has been most, interesting. Have you got anything else that you'd like to add to the record.
RWG: I don't know, not from my stand point other than to say that I think that I have been very blessed and very fortunate to have been a member of the Outrigger Canoe Club. I always told my kids that the greatest thing they had going for them was being able to go to Punahou and have the Outrigger Canoe Club. The two great establishments. "Didi" went to Hawaii School for Girls which I have to put up in the same shelf as Punahou. They have just had an opportunity that most kids don't have.
The Outrigger has been a fabulous Club. It's got a great tradition. It's always been looked up to and it's not because it's a rich haole club or something, but because of the way we participate. I just feel very, very honored I have had an opportunity being a member of the Club. I am very honored that I was on the Board for twelve years. I am very honored that I was president twice.
Those are the things I will always cherish. The only thing that concerns me is that we have lost a lot of members who have been members for fifty years and I have been a member for fifty one. I'm trying to push that envelope as far as I can and maybe a member for seventy five years, I'd like that very much. I look forward to lots more time at the Outrigger and a lot more fun.
JWR:   I think the Club is extremely fortunate to have people like you. You devote so much time and interest in the Club and contribute so much to the Club. Your whole family, particularly your children. I look to much more participation on the part of them. To the Guild family and the future of our Club.
RWG: I appreciate that. I just wanted you to check one thing. I think that the Outrigger Canoe Club not only is an outstanding Club, but it's outstanding because of the participation and the quality of the people that are members of the Club. Ward, you are a perfect example of it. You've been so very instrumental in making the Club what it is today.
I belong to two country clubs and I can tell you the way the Outrigger operates, the quality of the people on committees and the way the Board operates, you don't have any bickering and in­fighting between members and the Board because the Board does their homework. The committees do their homework. They recommend to the Board and the decisions that the Board make, I think for the most part, every member of the Outrigger says: "You know, that's really the best for the Club." One of the country clubs I belong to there is so much individualism in the club that it's "not good for me" it doesn't matter whether it's good for the club. "I don't want that". There is so many unrealistic expectations in some of those clubs that they just don't function well. I would not want to be involved in being a director or president of a couple of the clubs I know. They just don't function like the Outrigger does. They don't have the expertise and the quality of membership that the Outrigger does. That's what really makes the Club. It's made it easy for management.
JWR:   You know this is one of the best interviews I've had. I have been told you shouldn't go over an hour. You know we've been at it for well over a full hour. (laugh)
RWG: Yes, I realize it. It's very easy to talk.
JWR:   Rab, thank you very much.
RWG: Ward, I've got to tell you, I probably ducked this interview for a long time because I really didn't think I had much to talk about. I was concerned I wouldn't remember a lot of names I should have, but you have done your homework and you know more about me than I probably know about me, particularly involving the Club. I just want to tell you that I really appreciate you doing it, taking your time to do it. I'm honored to have you do it and Senator, "just send the check".
JWR:   (Laugh) "In the mail". Thank you very much.
ADDENDUM
I am Ward Russell, a member of the Historical Committee of the Outrigger Canoe Club and chairman of the Oral History Subcommittee. A few months ago I conducted an oral interview with Robert "Rab" Guild, a former president of the Outrigger Canoe Club. A very interesting interview and subsequently in discussion with "Rab" he mentioned that there were a couple of things that he would like to have added to his interview. Specifically, one of those is in respect to some problems that had arisen during his term of office which I think is worthwhile recording.  This is October 2nd, 1998.  "Rab" and I are in the Board Room of the Club on a very beautiful Friday afternoon.
JWR:   How did you enjoy the lunch, Rab?
RWG: I enjoyed my lunch immensely, particularly because you bought it. (JWR laughs) I appreciate that. Thank you very much.
JWR:   You bought lunch at our first interview! OK, referring to your previous interview, what would you like to add?
RWG: I think that the question you asked was: "Were there any specific challenges or anything like that, during my term of office. Actually, the second time that I was president in 1985, there really weren't a lot of challenges. We were in very good financial health. It was just a normal year, but in 1973 it was an interesting thing because we were having problems with the parking deck, and the deterioration from aging and rusting in the "rebar" in it.
We had done a number of studies on it to make sure that it was substantial and safe. In the process we decided that because it wasn't sufficient for parking for all our members all the time that we needed to add additional parking to the top of it (structure).
The first design was an interesting design which I'm very happy we didn't end up doing. It was one and a half decks and it was one-half deck up and then a full deck on the top. There were two reasons for the design for the full deck on the top. One was we were very concerned about the water that was draining down the ramps onto the deck structure itself, on the lower levels and causing rust to the rebars.
The other thing was that there was a group that wanted tennis courts. The design was that we would have one half deck of parking and then a whole deck above that would be use as tennis courts, but also be able to be used for parking.
This was the design that actually was accepted and sent out for bids and we got bids on. We took a very close look at that and there was a lot of feeling that we should go ahead and build the additional parking structure with the tennis courts up there.
I had several reservations about it. One, after discussing the tennis court concept with tennis players, they felt it would be too windy, because of the Colony Surf for one thing. That it would be windy to be playing tennis up there. Two, the structure would have to have a coating on it that was not only be waterproof, but was suitable for playing tennis. The waterproof coating that was suitable for playing tennis was also going to have to be driven on by automobiles, which could drop oil on it. We were assured that it would not be a problem, and the oil could be cleaned up and it would not deteriorate the coating. But, the car tires turning on it would have worn the coating substantially. We could have possibly had leakage from that. That factor I was very concerned about, and I didn't think that it was worthwhile as tennis courts and if we designed it that way and the tennis courts didn't work we had kind of a strange design then, because the design require an unusual kind of ramp. It would not have been an easy ramp for older members or a lot of members to navigate. I felt that was not the kind of design that we really wanted.
The really big factor that I thought was really more of a challenge than anything else was that in the fall of 1973, was when we had the oil crisis. We had a gas shortage and people were standing in lines. As you can remember in California they had shootings in gas station lines because people thought they were being cut off. That really was a recession and it looked like we were sliding into a depression. One of the things that had happened to the Club was that our guest membership usage and our reciprocal club membership usage had just fallen off to practically nothing. The membership usage had dropped substantially also. At that time the Club was going to have to borrow the money, a half a million dollars or so, to build the structure. I was really concerned with, the recession and the fall off of member usage and revenues that we really got to the point we had started to hurt. I was concerned on taking on an obligation like that where we would have a substantial mortgage payment to make in a declining market. So that was the biggest challenge that I faced in that presidency. I took the responsibility for "chilling" that at that time.
Looking back on it, we could have built it for a third of what we paid for having the other parking decks done in the years afterward. The design of the new parking decks we do have are far better than the design we would have had before. Looking back on it using 20-20 hind sight, I think that it was the right decision at that time and I'm not really unhappy that I made that kind of move at that time.
JWR:   I have a couple of questions and an observation. First the question. Was there any problem with respect to obtaining permission under the height limitations for the structure?
RWG: No. The structure would have been exactly the height that we have now. That wasn't a problem. We were able to get the variances and things like that, so that was OK.
JWR:   The second question. Don't you feel that in view of what has happened over the years of substantial increase of usage of the Club due to canoe paddling and associated activities which on occasion demands a great deal of parking space that isn't it better that we have the parking space we have now rather than be encumbered by a tennis court at the top.
RWG: As a matter of fact we, as I remember it now, have now a few more parking spaces than we would have had before, but the tennis court would have been set up so that the nets could have been easily taken down and it would have been able to accommodate a lot of cars. So it was a dual purpose situation and I think the only thing that it was a better design was that all the water off the top deck flowed off the sides and down the sides and shield the structure, the inner part of the structure, from having any water running down the ramps into the parking structure. That would have been a plus, but there was no way of doing it the way it is designed now, with the three levels. What we did was that we had to do a better job of sealing and waterproofing.
JWR:   Question. Did that design include provisions for night tennis?
RWG: No. There were no lights. One of the reasons was that we had enough problems with our neighbors using the lights on the volleyball courts. They were not happy about having lights up there (tennis). I think now that the lights could have been directed down and probably would not have been offensive to them. That was a problem at the time.
JWR:   I am one of those that was very active in having a parking space rather than a tennis court up there. I could see occasions where there could be a real conflict in terms of the demand for parking and somebody wanting to use the tennis courts. You would have had two tennis courts?
RWG: Two tennis courts.
JWR: That's not a lot.
RWG:   No, it wasn't a lot and it was trying to satisfy the tennis players in the Club who had to go off premises to play tennis. If we had enough room it would be great to have tennis courts here, but I don't think sitting on top…on third or fourth floors being            successful. They have them at the Ilikai and they're not successful.
JWR:   I think it turned out very well.
I have a couple of other questions while I have this opportunity for continuing your interview. I am very impressed with the job being done by your sister in-law (Mary Philpotts McGrath) as president of the Club.
RWG: I was concerned initially when Mary was elected president, because I thought that her busy schedule was going to preclude her spending the time that I thought she would have to spend here. It is interesting that just this morning, I was talking to John Rader (General Manager) and he said that he is tremendously impressed with Mary of how she handles it, on how she juggles everything and gets everything done. I think part of that also is a great help to Mary is having someone like John Rader who is a very hands on, very disciplined manager that has control of everything. That makes a big difference.
Mary is a very, very talented person and she was on the board when Walt, my son, was president and was really the one behind designing and putting in the new dining room. She has done a marvelous job on that and that has been a big boom to the Club as far as bringing members back and usage of the Club. Because she is so talented she's very international. She's doing things all over the world and it amazes me that she can do all the things she does, as well as she does it and I'm very impressed. As I was talking to John this morning, with what she is doing as president of the Club. I'm very proud of her. Obviously it's a wonderful thing that her father and mother (Walter and Muriel Macfarlane Flanders) are extremely happy that she is the first woman president and she is Walter Macfarlane's, Walter Mac's niece, so the family tie is very, very strong in the Club.
JWR:   I can't begin to tell you how delighted I was when she was elected. I remember going up and congratulating her and how wonderful I felt it was.
I recalled some memories when she was growing up as a little girl.
I was a little apprehensive when Walter (Guild) was made president of the Club. He was so outstanding in athletics and paddling and what have you, I never imagined a young man stepping in and being president of the Club at that point in time. I always remember we had our annual past president's luncheon and he made a report and I was dumb founded. He did a beautiful job and he was a damn good president. So you have lots to be proud of.
RWG:  I appreciate that. I think that's a very nice thing for you to say. You know, I don't think any parents probably really give their children credit for what they did, because you have kind of an "old parent" stereotype, thinking of what your kids do and the problems. You know Walter was not a "sweet heart" of a little kid when he was growing up. He got into trouble all over the place.
JWR:   Took after his father…
RWG: Yeah, I hope not. I was a little apprehensive about him becoming president. I know that he didn't want to be on the board when I was on the board. He felt that would have been a conflict. I agreed with him and thought it was proper. When he was elected president I had really said the same thing that I thought he was too young and that he should probably wait some years and he was struggling in his business. I knew what kind of time it took to really do an efficient job. I really thought it was a little premature to have him president at the time.
I have to say something that I really appreciate you saying it that I'm constantly amazed at what Walt has accomplished and what he does and his feeling for the water and activities and how he has gotten into the paddling community. It's amazing because I go to different places and people…. He used to be known as Rab Guild's son and now I'm known as Walt Guild's father.
I have mothers of children that are paddling and come up and give me a hug and a kiss and tell me that they absolutely love Walt. He has really turned out very well and I'm very proud of him was proud of him when he was president.
Let's say that he was smart enough to have Mary do the dining room. (Laugh)
JWR:   You have every right to be proud of the accomplishments of all the members of your family.
RWG: I certainly hope that they appreciate and follow in the footsteps of their Uncle Ward Russell. By the way as I asked you at the end of the previous interview – Where's the ckeck?
JWR:   (Laugh) It's in the mail! Is there anything else you'd like to add?
RWG: I think that's about it. The Outrigger experience has been a great experience for me. I've just passed my fifty-first year as a member of the Club, so I'm trying to last as long as you are and maybe hit seventy-five years or something like that.
JWR:   (Laugh) While we're here, I have something we might kick around for just a minute.  All the rest of th  e clubs in town are having problems in view of the current economic situation. Have you any concerns about what the economic situation might do to the future of this Club?
RWG: Not really. The Outrigger is a very unique club. I had dinner at the Pacific Club last Wednesday night and there had to be at least ten people in the dining room, maybe twelve. One of the things the Outrigger is so unique about is the location. There isn't another club in Honolulu that has anything near this kind of location. If you want to go to Oahu Country Club it's like very formal dining, but it's a golf club and Mid-Pac is the same way and so is Waialae. The Outrigger, being a beach club, is so unique.
I had an opportunity last week to run into Ed Hustace up in Waimea and Ed is an old family friend. We were talking and he had been a member, for almost all his life, of the Oahu Country Club. Now he's living next to his son in Waimea. He had resigned from the Oahu Country Club because he felt they didn't treat him right, because they wanted him to still pay the minimum (mini-charge) for food and beverage even though he was a non-resident member. He said: "I won't resign from the Outrigger." So that I think is the difference between the clubs and the attitude toward its members is different.
I'm a member of Oahu and Mid-Pac and I know that everybody is so worried about money that they don't really…. The things that they do for the members is that they charge them more money because they are the only ones they can charge!
The Outrigger really doesn't look at it that way. It's like looking at a non-resident or an island member and being happy that we still have them as a member. Whereas these other clubs, if you're off the island then they really don't care too much about you. I think that it's the attitude of the Outrigger toward its members and what it does for its members, the location of the Outrigger. I think that's one of the reasons the Outrigger has done so much better and the other clubs haven't done as well. As the economy improves, hopefully with the right kind of leadership, then I think that business will get even better.
JWR:   I'm sure it will. Rab – again it has been a most interesting, informative and fun interview. Thank you very, very much.
RWG: Ward, it's a pleasure to be here with you. Thank you.
JWR:   Anytime, Want to do it again, I'm always available.
RWG: I would love to.
---
OUTRIGGER CANOE CLUB HISTORICAL COMMITTEE
ROBERT WYLIE GUILD
Nomination for Life Membership
ROBERT WYLIE GUILD has served the Outrigger Canoe Club in a distinguished manner beginning as a member on July 14, 1947. He has served in many capacities, as a committee member director and officer as follows:
Director – 1969, 1970, 1971, 1974, 1981, 1982 & 1986
Secretary – 1972
Vice President-Activities- 1983 & 1984
President – from February 26, 1973 to February 25, 1974
President – from February 25, 1985 to February 24, 1986
During his tenure as president the Club benefited as follows:
In 1973:
Improvement in food and beverage service in the Hau Terrace.
Increased utilization of parking areas, especially during weekends.
New uniforms for food and beverage serving staff.
Arranged for sale of old OCC china to members at minimal charge.
Improved employees' vacation plan and payroll benefit.
Improvements in content and style of Club's monthly publication.
Activities of Club archivist continued apace.
Program to recycle old, stored and unused trophies began.
Distribution of "The Outrigger Canoe Club" history book.
Membership increased by 56 to 3,269 and member equity increased by $113,642.00 to $1,390,252.00.
In 1985:
Employee locker room expansion and boardroom renovation.
Kitchen renovation master plan completed, (4-phases–5-year plan) Phase if completed.
Lobby renovation & ceiling. Replacement.
Courtyard landscaping.
Replacement of business office air conditioning.
Renovating and rerouting roof drains.
Completion of a parking structure integrity report.
Completion of a questionnaire and survey.
Light dinner menu for the Hau Terrace.
New tables and chairs for the snack shop.
New windproof candles for dining room.
Installation of a large screen TV and improved Monday night football meal service.
Hired Hayes Security Guards for the Club's night time security.
Membership increased by 126 to 3,884 and member equity increased by $819,039.00 to $4,901,456.00
In addition, he served the Outrigger Duke Kahanamoku Foundation as follows:
Director – 1986 Original ODKF Board; 1987-1988-1989-1993 to 1999
Secretary – 1990 to 1992
President – 1987
Birthdate: May 13, 1929
Nominated this 2nd day of October 2003 by unanimous vote of the Historical Committee of the Outrigger Canoe Club.
/S Moana McGlaughlin-Tregaskis, Chairperson