Outrigger members were pioneers when it came to riding big waves. Duke Kahanamoku was one of the early Hawaiians to ride the 18-plus foot waves in Waikiki and Makaha. His famous ride from Castles to the beach in front of the old Club in Waikiki is remembered as legend.
In the 1960s a group of daring young men charged the biggest waves Hawaii had to offer, and then went on to surf the best in Australia and South America. These legends included Fred Hemmings Jr., Joey Cabell, Paul Strauch, Ricky Grigg, Bob Lundy, Felipe Pomar and Keone Downing.
Today's big wave riders are Kai Lenny and Noa Ginella.
Here are some photos that made them legendary.
---
Fred Hemmings Jr.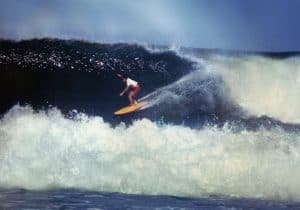 ---
Ricky Grigg
---
Keone Downing
---
Kai Lenny