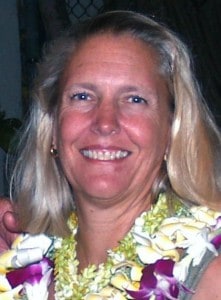 Joined OCC: June 6, 1968
Elected to Winged "O": October 2, 2010
If you've paddled at the Outrigger Canoe Club anytime during the 1980s, 1990s, 2000s, and 2010s you probably know Liz Perry. A member since she was 10, she starting paddling when she was 19 as a novice. But Liz wasn't content just to learn to paddle, she agreed to coach the Boys and Girls 12 crews at the same time. "I'd run from my practice, to the kids practice and teach them what I'd just learned," she says.
She must have done something right, because her Novice crew won State's that year, as did the Boys and Girls 12s. By the end of State's, she says, "I was hooked on paddling."
Except for a three-year break on the Mainland, she has paddled and/or coached every year since.
In 1991 she coached her first novice crew in a Molokai race, as she assisted Distance Coach Steve Scott. Since then, she has been the glue holding the upper division paddling program together as she has assisted Coaches Tom McTigue, Mike Beyer, Ian Masterson, Johnny Puakea and Guy Wilding.
She fondly remembers coaching Craig and Scott Gamble as 12-year-olds and then again as first crew paddlers in the Molokai Race. "It's really satisfying to see these young kids grow up into such fine men and paddlers," she added.
Liz paddled and steered in seven Na Wahine O Ke Kai races from 1982-1999 before becoming a "coach only". Her best finish in the Molokai was a second place.
In addition to paddling, Liz was an OCC tennis coach in the early 1990s. She served as Club Captain in 2001-2002.
She was first elected to the Outrigger Canoe Club Board of Directors from 1996-2002 and returned for a second term in 2006-2012. She has served as Coordinating Director for Athletics, and the Public Relations, Historical, House, Admissions, and Entertainment committees, and has been the Board representative to the Outrigger Duke Kahanamoku Foundation.  She chaired the Surfing, Canoe Racing, Entertainment and Public Relations committees.
Liz' contributions to the Outrigger canoe racing program are legendary, and her long-time commitment to coaching everyone from kids to novices to open division paddlers has earned her this much deserved honor.