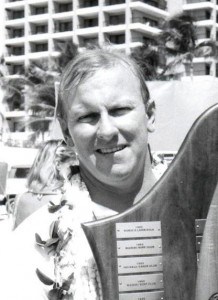 Joined OCC: April 18, 1958
Elected to Winged "O": February 11, 1991
Steve Scott brought a prominence and prestige to the Outrigger Canoe Club's men's long distance canoe paddling program that is hard to equal. He coached six men's crews to victory in the 40.8 mile Molokai to Oahu race and then moved over to coach the OCC women to their own Molokai title.
His crews had unequalled success in open ocean racing, with victories in the Duke Kahanamoku, Skippy Kamakawiwoole, Queen Liliuokalani, Kaena Challenge and the Hamilton Cup in Australia, in addition to the Molokai Hoe.
Since he became head coach of the men's distance program, his crews won the Molokai race six times: 1979, 1984, 1986, 1987, 1988 and 1990. He twice coached the OCC second open crew in the Molokai race, finishing fifth overall in 1978 and eighth overall in 1985.
Steve was born February 14, 1944 in Honolulu and is a 1962 graduate of Punahou School where he was on the league championship volleyball team (setter) for two years, and rowed on the crew, then a league sport.
He joined Outrigger in 1957 when he was 13 and began his paddling career when he was 15 on the Novice Men's crew as the steersmen. He won State's as a 17 and 18. He went off to Rutgers to college and went out for the crew until the river froze over and he decided he wasn't cut out for the cold. In his sophomore year, he and a roommate started a rugby club at Rutgers and competed against Ivy League and East Coast club teams. During the summer he'd come home and paddle for the OCC.
He moved back to Hawaii in 1967 and began playing rugby for the Harlequins rugby team for 13 years. They had a regular league that included BYU Hawaii, club teams and visiting teams from the Pacific. He retired from the sport in 1980.
About 1975 Steve got more serious about paddling. He became part of the team called the Super Sophs that included Nat Norfleet, Jon Sutherland, Don Mailer, Geoff Avery, Tony Crabb and Bill Bright. In 1975 they came in second in the Oahu's and third in the States. In 1976 they won the Oahu's and states. In 1978 the Super Sophs won States again and decided to enter distance races. In their first Molokai race with Steve coaching and paddling they finished fifth overall and third in koa. In 1979, Steve became Outrigger's head men's distance coach and coached and steered the first crew to victory.
After a break, Scott came back and coached and paddled junior and senior men and coached distance. The Club finished third overall. He sat out 1983 and returned in 1984 to coach the winning OCC crew to a records-setting Molokai victory. After another break, Steve came back as head Outrigger coach in 1986 and coached the Club to Molokai championships in 1986, 1987, 1988 and 1990.
After the 1990 season, Steve retired as men's coach and became the women's head coach, leading the women to the Na Wahine O Ke Kai title in 1992.