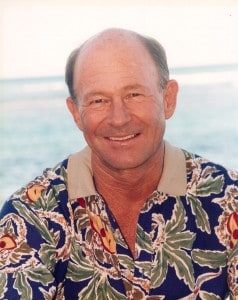 Joined OCC: August 20, 1952
Elected to Winged "O": March 28, 1988
Water sportsman extraordinaire Tim Guard joined the Outrigger Canoe Club in 1952 and participated in surfing, swimming, canoe racing, paddleboard racing and kayaking over the years.  He won his first championship at age 16 when he was the Hawaii Junior Surfing Champion.
Tim was involved with the canoe racing program for more than 25 years and served as the chair of the Canoe Racing Committee. He also served as Head Coach in 1978.
As a paddler he was on 12 State Championship crews, including the Senior Men, Open 4 and Masters. He raced in 17 Molokai to Oahu canoe races, including the first place crews of 1965, 1975, 1977 and 1979. He was on the winning Masters crews in 1984 (third overall) and 1987 (ninth overall). He was on three record breaking crews in the Molokai race.
Tim has also paddled in other distance races which have provided wins and records in both the Open and Masters Division.
In paddleboarding, Tim competed in many races and is a past holder of the Club record in the 10,000 meter event for masters men.
He was Club Captain in 1983.  Tim served as chairman of the Paddleboard Committee in 1986-1988, which put on three paddleboard races each year—the Summer Surf Race, the Cline Mann 5,000-meter race and the Winter Ocean 10,000-meter race.
Tim was a competitor in the Club sponsored Ocean Triathlon, winning the masters division for four straight years (1984-1987) and setting the record of 1:17:31.  An outstanding kayaker, Tim competed regularly in the masters division in races, placed often in the top ten and kayaked in the Molokai to Oahu race.
Guard has been active in a variety of leadership positions with the Club. He was elected to the Board of Directors in 1972 and served as Coordinating Director for Entertainment in 1972 and 1973; was coordinating director for Public Relations in 1974; Building and Grounds, 1975; Athletics, 1976; and House, 1977. He was re-elected to the Board in the 1990s and served as President of the Outrigger Canoe Club in 1996-1997.
Tim passed away suddenly on February 22, 2020 just days after being voted a Life Membership in the Outrigger Canoe Club.
ATHLETIC ACHIEVEMENTS
Molokai Hoe Canoe Races
1965 1st Place
1969 2nd Place
1970 3rd Place
1971 2nd Place
1972 6th Place
1973 4th Place
1975 1st Place
1976 7th Place
1977 1st Place
1978 4th Place
1979 1st Place
1984 3rd Overall, 1st Masters
1985 21st Overall, 2nd Masters
1987 9th Overall, 1st Masters 35
1988 13th Overall, 2nd Masters 35
1990 14th Overall, 1st Masters 35
HCRA Canoe Racing Championships
1956 Boys 15
1958 Boys 17
1960 Senior Men
1976 Senior Men
1977 Senior Men
1981 Men Open 4
1984 Men 35
1985 Men 35
1990 Men 35
1991 Mixed Masters
1992 Men 45
Macfarlane Regatta Championships
1955 Boys 15
1956 Boys 15
1958 Boys 17
1965 Senior Men
1972 Senior Men
1976 Senior Men
1977 Senior Men
1978 Men 35
1995 Makule
Makaha Surfing Championships
1957 1st Place, Junior Surfing Division
1957 1st Place, Junior Paddleboard Division
1957 1st Place, Senior Paddleboard Division
Castle Swim
1983 1st, Men 40-44
1984 1st, Men 40-44
Swim Mileage Award
1987 1,000 Miles
Winter Tri-Ocean Surfski Races
1987 6th, Masters A
1988 6th Masters A
1989 3rd, Masters Men
1990 3rd, Masters Men
1993 5th Masters Men
1994 5th Masters Men
January Surfski Race
1994 2nd, Men's 50+
Bankoh Molokai Challenge
1987 6th, Veterans Division
1988 4th Masters Division
1990 27th Overall
Club Cribbage Championship Tournament
2010 1st place with Ian Guard
CONTRIBUTIONS TO THE OCC
ELECTED TO LIFE MEMBERSHIP: February 17, 2020
Board of Directors
1972 Director
1973 Director
1974 Director
1975 Director
1976 Director
1977 Coordinating Director, House
1991 Coordinating Director, House
1992 Coordinating Director, Long Range Planning
1993 Secretary
1994 Vice President, Activities
1995 Vice President, Operations
1996 President
Building & Grounds Committee
1982 Member
House Committee
1970 Member
1971 Member
1997 Member
Long Range Planning Committee
1978 Member
Nominating Committee
1979 Member
1983 Chair
Canoe Committee
1971 Member
Canoe Racing Committee
1970 Chair
1971 Chair
1972 Member
Canoe Surfing Committee
1971 Member
Club Captain
1976
1983
Kayak Committee
1984 Chair
1989 Member
Paddleboard Committee
1987 Chair
1988 Chair
1989 Member
Running Committee
1978 Member
Outrigger Duke Kahanamoku Foundation Board of Directors
1997 Director
1998 Director
1999 Director
2000 Director
2001 Treasurer
2002 Treasurer
2003 President
2007 Vice President
2008 Vice President
2009 President
2011 Director
2012 Director
2015 Director, Emeritus
2016 Director, Emeritus
2017 Director, Emeritus
2018 Director, Emeritus
2019 Director, Emeritus
2020 Director, Emeritus