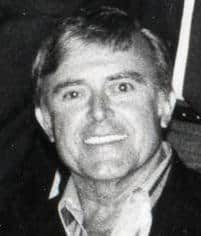 Joined OCC: April 15, 1946
Elected to Winged "O": August 1, 1983
Raised in Lahaina, Maui, Bill Brooks' athletic interests while attending Lahainaluna High School were centered in gymnastics, swimming and track. During his first year of college at the University of Hawaii, he lettered in varsity swimming and later, after matriculating to a mainland college, captained his school's championship swimming and track teams.
This ongoing interest in water spots and running on his part manifested itself in many years of service to the Outrigger Canoe Club's athletic program.
As one of Hawaii's original Roadrunners, he formed, coached and competed for the Outrigger's running team. Running was reactivated by the Club during the 1960s.
His efforts led the Outrigger to three consecutive National Athletic Club running championships. Many Club members were introduced to the sport by Bill's friendly prodding in the mileage-logging program which he set up and personally maintained for many years.
As Chairman of the Athletic Sponsors Committee, he was a major factor in establishing the varied team sport athletic program which the Club participates in today.
Bill passed away August 24, 2013.