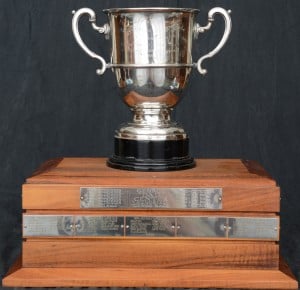 Dad Center Memorial Trophy
This trophy is for the winning crew of the Dad Center Memorial Canoe Race paddling a traditional Hawaiian canoe.
The silver cup was donated by Tiare Richert-Finney in memory of her father, Dr. Thomas Richert in 1985. The trophy was originally won by her mother Loretta Turnbull in 1932 when she was representing the United States in a speed boat race in Italy.
The top layer of silver plates list the winning clubs from 1974-1984. The bottom set of plaques list the winning crew members beginning from 1985.
---
George "Dad" Center Koa Trophy
This trophy is the perpetual trophy for the winner of the Koa Division of the Dad Center Race. It should be noted that names are not listed for some years as koa canoes are not entered every year.
The trophy was hand crafted by Keoni Kino.
The trophy was first awarded on August 24, 1990.  The paddle and base are made from monkeypod.  The trophy stands 84″ high and is 12″ wide and 10″ deep.
---
George "Dad" Center Masters Trophy
A new perpetual trophy was added in 2015 to salute the masters paddlers in the race.
The Outrigger recycled a favorite trophy from the Walter J. Macfarlane Regatta, the Makule Trophy, which was awarded to the oldest paddlers in the Macfarlane, before masters categories were added to the race. The trophy was retired in 1988.
This trophy is created from a log slice. It was designed and created by Domie Gose and Hank Lass. Sitting atop the base is the hand carved koa canoe Leilani.
The names of the winning crews are on plaques.

Click here to see Past Winners
---
George "Dad" Center Junior Trophy
The trophy for the winner of the Dad Center Junior race was donated by Alan Dowsett in 2016. It lists the winners of the race paddling traditional Hawaiian canoes.