Participating in and preserving the ocean sports of Old Hawaii is at the core of the Outrigger Canoe Club since its founding in 1908 by Alexander Hume Ford. One of the first things the Club did was build bath houses so members could change their clothes after work and enjoy a swim, paddle or surfboard ride in the Club's front yard at Waikiki Beach. In its first few years, the Club sponsored water carnivals in which ocean swimming was a key event for both men and women.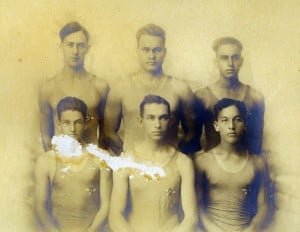 By 1917, George "Dad" Center had convinced the Board of Directors to field an active athletic program that included swimming and various land sports. Center, a swimmer and coach, was named Outrigger's Head Coach and proceeded to teach swimming to the Club's youngsters and recruit swimmers from around town to join his program.
Competition in those days was held in Honolulu Harbor. Only a few tanks existed at that time. The berthing slip alongside the old Alakea Street (Navy) Pier was the site of many big swimming meets during the World War I era. The location was almost ideal with 50 and even 100-yard straightaways possible and plenty of room on the pier for spectator bleachers and the Royal Hawaiian Band.  Nationally known swimmers from the Mainland came to challenge Hawaii's best in AAU competition.
Center coached his swimmers to many victories. In 1917 Olympian Duke Kahanamoku joined the Outrigger Canoe Club and began training with Center and continued to set world records. Dad's women's teams were also champions and in 1920 Dad took a contingent of Hawaii swimmers to the Olympic trials. Seven of his swimmers made the Olympic team and several brought home Gold Medals.  Dad served as Head Coach for the U.S. Swimming Team.
After the 1920 Olympics Hawaii was rightly called the "Swimming Capital of the World". Duke Kahanamoku and Mariechen Wehselau and other local swimming greats won thrilling victories and set new records at the Olympic Games in Europe, in Australia and on the U.S. Mainland. Their names were almost as much "household words" as are the names of modern baseball, football and golf professionals. And our big swimming meets in Hawaii were held in ocean waters where it all began.
Olympic swimmers home-grown at the OCC include Duke Kahanamoku, 3 Golds and 2 Silvers; Mariechen Wehselau 1 Gold, 1 Silver; Bill Harris, 1 Silver; Buster Crabbe, 1 Gold, 1 Silver; Bill Smith, 2 Golds; and Alan Stack, 1 Gold.  Other members have also medaled at the Olympics.
In the late 1920s and 1930s, the picture had changed. Swimming had become at least a minor sport at many high schools, colleges and universities and the then new Olympic-size swimming pools became the favored locations for swimming meets. For a time, the War Memorial Natatorium, now threatened with demolition, was popular with fans and swimmers alike. Only the Outrigger Canoe Club continued ocean swimming as an intra-club sport with the annual Castle Swim still being held today.
Outrigger members continue to participate in recreational and competitive swimming, competing at the college level and in Masters swimming events.  A number of members have set national and world records and some have been elected to membership in the International Swimming Halls of Fame and the Hawaii Swimming Hall of Fame.
---