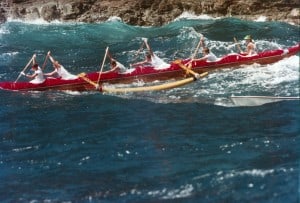 Twenty-eight years after the men began crossing the Ka`iwi Channel in the world-class Molokai to Oahu long-distance outrigger canoe race, and five years after Outrigger Canoe Club sponsored the first women's long distance race, the Na Wahine O Ke Kai women's Molokai to Oahu race was born.
The first Na Wahine was held on October 8, 1979 with 17 crews entered from Hawaii and California.  The winner was Outrigger Canoe Club's women crew which conquered the 40.8 mile Ka`iwi Channel in 6 hours 35 minutes, 14 seconds.  Outrigger went on to win the race again in 1981 (the 1980 race was canceled due to 30-foot surf and strong winds), 1984, 1985 and 1992.
The race is held on the fourth Sunday of September, two weeks before the men's Molokai to Oahu race which is on the same course from Hale O Lono Harbor on Molokai to Duke Kahanamoku Beach at the Hilton Hawaiian Village Hotel in Waikiki.
The race started out with crews of 12 paddlers but that number was reduced to 10 paddlers in 1994, except for the Masters 50 and 60 which still have 12 paddlers.  The early races consisted of Open and Koa Divisions.  Masters and Senior Masters Divisions were added in 1995.  In 1999, they became the Masters 35 and Masters 45 Divisions, respectively.  The ages were increased to Masters 40 and Masters 50 in 2005.  A Masters 60 Division was added in 2014.
Outrigger has competed in every crossing, and now enters crews in as many divisions as it has paddlers.  In addition to its five wins, the Club has been in the top three finishers 22 times, and in the top five finishers 31 times in the 35  Na Wahine races.  OCC has won the Koa Division eight times, the Masters Division twice, and the Masters 40 and Masters 50.
The Na Wahine O Ke Kai features the best women canoe paddlers with entries from around the world.
---