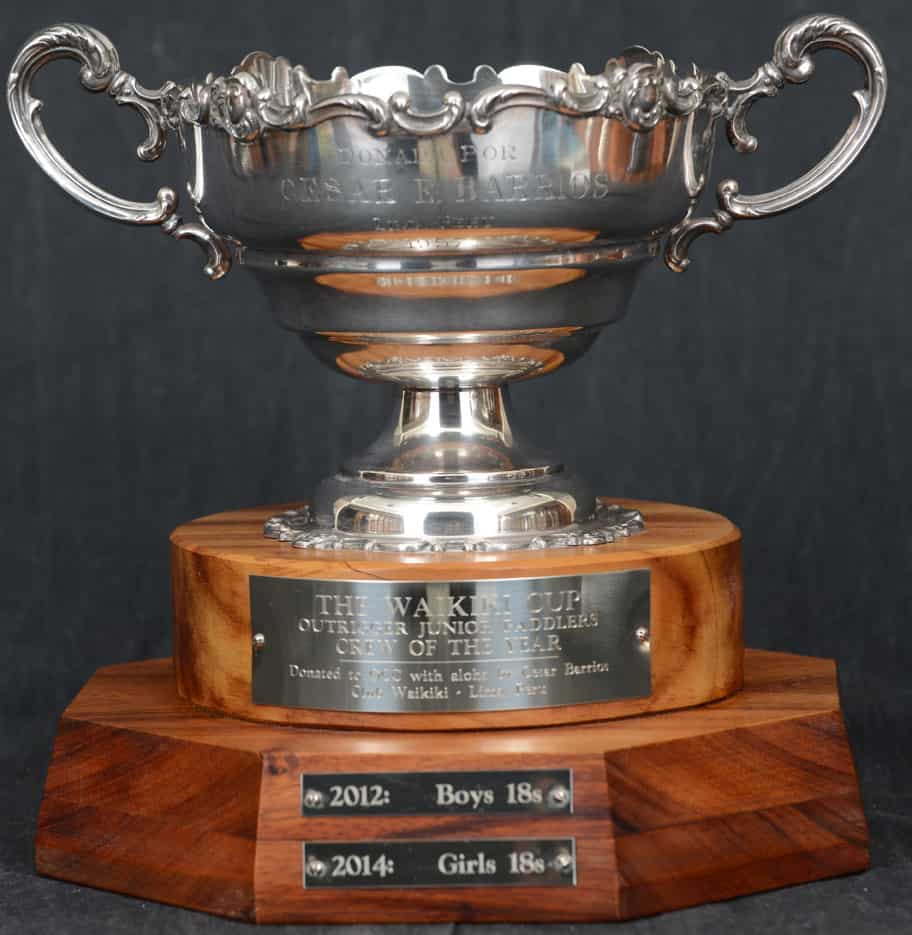 The Waikiki Cup is awarded to the Outrigger Canoe Club junior canoe racing crew that made significant contributions to the Club during the regatta season.
The silver bowl was given to the Outrigger Canoe Club in 1957 by Cesar E. Barrios with aloha to celebrate many years of friendship between Club Waikiki in Lima, Peru and the OCC.
The OCC Canoe Racing Committee decided to recycle the beautiful bowl in 2012. A koa pedestal and base were added.
The coaches of the Club's Junior crews select the crew that has made significant contributions to the Club during the paddling season to honor with this trophy.
---
PAST WINNERS
2012
Boys 18
Austin Ayer, Aaron Beck, Griffin Bolan, John Bustard, Chris Deweese, Chris Fong, Connor Grune, Kaimana Rosso, Kekoa Sato, Easton Watumull
2013
Not awarded.
2014
Girls 18
Alyssa Basdavanos, Amy Bolan, Bianca Batten, Shannon Buckland, Nicole Fong, Kelly Heyer, Sarah Stoker
2015
Boys 14
Scott Nakaoka, Zach Lietzke, Keapo McKenney, Bryce Meichtry, Ryan Martinez, Mike Nakaoka, Carson Miyachi
2016
Girls 14
Hayden Brown, Leana Dickhens, Tasia Gentry-Balding, Maia Knox, Dillyn Lietzke, Mimi Moody, Caroline Oyster, Raiatea Reynolds, Makana Shipman, GG Thomas, Yael Van Delden, Madison Williams, Kiani Yost
2017
Boys 16 and 18
Colt Correa, Zoran Cullinan, Avi Laird, Reuben Lee, Ryan Martinez, Riley Martinez, Carson Miyachi, Mike Nakaoka, Wyatt Yee.
2018
Boys 16
Keahi Agnieray, Keanu Bernadino, Harrison Deisroth, Gabe El Hajji, Ryland Hart, Aukina Hunt, Zachary Ingram, Riley Kawananakoa, James Morris.
2019
Not Awarded
2020
Regattas cancelled due to COVID-19
2021
Regattas cancelled due to COVID-19
2022
Girls 18
Malie Clark, Skye Eversole, Gigi Graves, Ariana Hunt, Taraina Kamakawiwo'ole, Eleanor Lautenbach, Mehana Leafchild, Noelle Lezy, Lockley McElroy, Kaiona Orr, Emma Rolland, Taihere Thompson, Malia Winter.
2023
Girls 18
Hazel Campbell, Cheyna Ekau, Skye Eversole, Gigi Graves, Sabrina Graves, Alex Kelly, Alana Kincaid, Sydney Lezy, Alexis LaVoie, Danilla Monk, Mohailani Peloso, Eva Sandvold, Taihere Thompson.