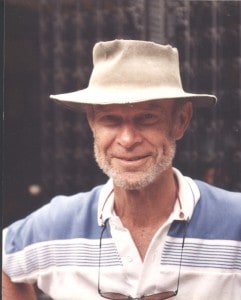 John Goss was voted to Life Membership in the Outrigger Canoe Club at the annual meeting on February 25, 2002.  A member since 1945, Goss served on numerous Club committees and on the Board of Directors, ending his six-year term as President in 1991-1992.
Under his leadership, several major renovations took place at the Club.  Goss is credited with detecting and directing the correction of a serious deterioration problem caused by spalling in the physical structure of the Clubhouse. He was instrumental in instituting beach erosion controls, adopting the mini-charge, upgrading computer equipment, renovating the Business Office and replacing the mooring cable in the Kapua offshore mooring zone.
Goss was an exceptional Club athlete for many years, excelling in surfing, outrigger canoe paddling, running and volleyball.
Board of Directors
1986 Assistant Secretary, Coordinating Director Admissions & Membership Committee
1987 Coordinating Director Building & Grounds Committee
1988 Treasurer
1989 Vice President Activities
1990 Vice President Operations
1991 President
Admissions & Membership Committee
1997 Member
Judges of Election
2000 Member
Long Range Planning Committee
1995 Member
Nominating Committee
2001 Member
Public Relations Committee
1993 Member
Macfarlane Regatta
1950 1st Place, Junior Men 6
1950 1st Place, Junior Men 6