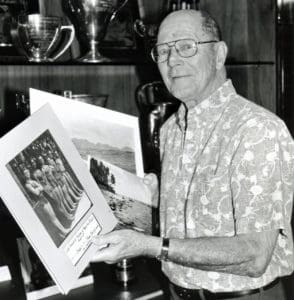 Reynolds Burkland was voted a Life Membership in the Outrigger Canoe Club at the Annual Meeting on February 21, 1994.  Burkland was active since joining the Club in 1924 at the age of 13.  He was one of a group of young boys that Alexander Hume Ford, founder of the Outrigger Canoe Club, took under his wing.  As a result, Reynolds developed a life-long love and interest in water sports.
In 1961 Reynolds was elected to the Board of Directors.  He joined the Historical Committee in 1985 and served as its chair from 1986-1988.  As a volunteer at Bishop Museum beginning in 1976 he acquired a great deal of professional experience and expertise which he brought to the Historical Committee.
He worked tirelessly to bring the committee to a much higher level of operation and performance than had previously existed by instituting new methods of indexing, cataloging and labeling all archival collections and updating and improving the operation of the Oral History program as well.  The systems he put into effect have been appreciated by each succeeding chairman and the committee persons who work with these materials year after year.
Board of Directors
1961 Director
Historical Committee
1985 Member
1986 Chair
1987 Chair
1988 Chair