This oral history interview is a project of the Historical Committee of the Outrigger Canoe Club. The legal rights of this material remain with the Outrigger Canoe Club. Anyone wishing to reproduce it or quote at length from it should contact the Historical Committee of the Outrigger Canoe Club. The reader should be aware that an oral history document portrays information as recalled by the interviewee. Because of the spontaneous nature of this kind of document, it may contain statements and impressions that are not factual.
---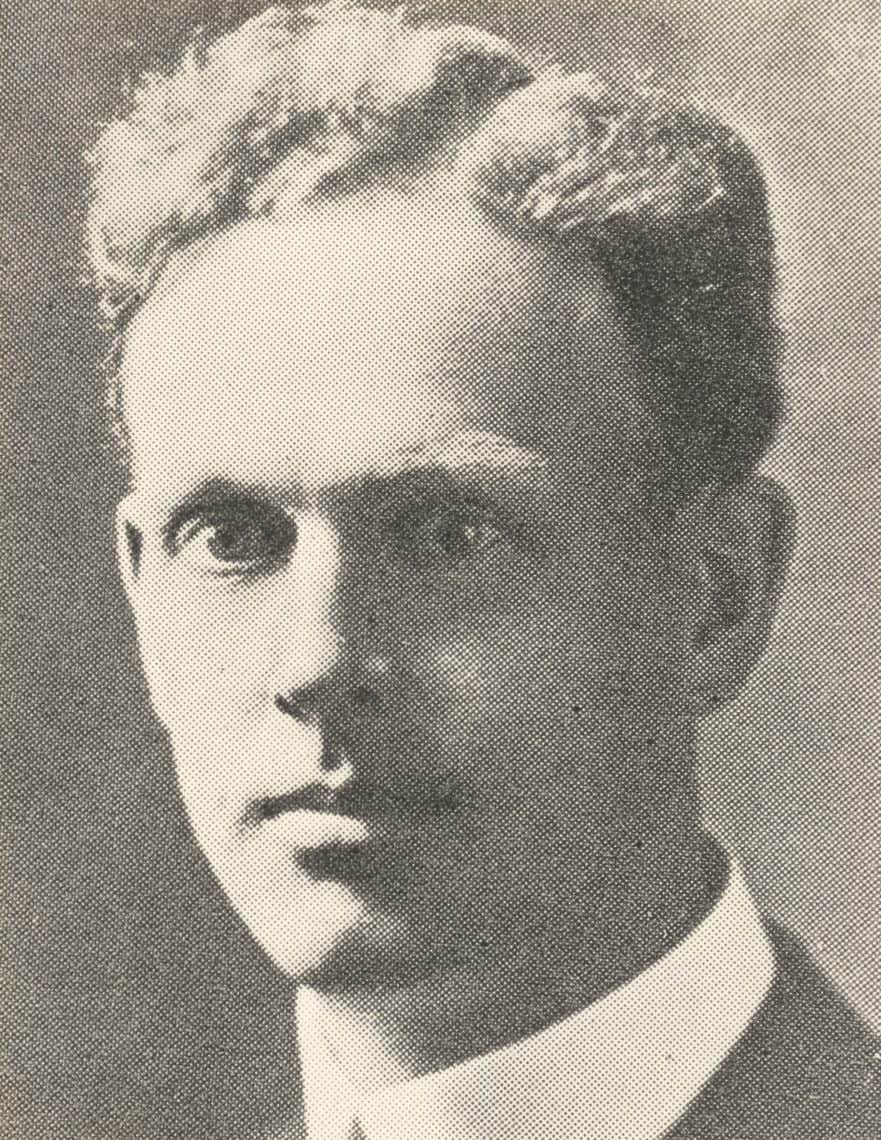 ---
Interviewed by William C. Kea Sr.
July 8, 1968
In order of Interview:
Ernest Tucker Chase
Jack Mackenzie
William A. "Knute" Cottrell
Judge Harry Steiner
Joseph B. Stickney
Ronald Q. Smith
Mariechen Wehselau Jackson
Ward Russell
Background:
This is a recording of a meeting of the Historical Committee, which was just organized recently, of the Outrigger Canoe Club.  This is Monday evening, July 8, 1968, and we have here this evening with us several of the real old timers from the Outrigger Canoe Club, and I'll try to name them for you:  We've got Mr. Ernest Tucker Chase, Judge (Harry) Steiner, "Knute" (William A.) Cottrell, Jack Mackenzie and Mr. (Ronald Q.) Smith.  Chairman of this committee is Mariechen Wehselau Jackson, and in a little while we'll have these gentlemen make a record . . . Oh, yes, Joe Stickney just walked in.  He is also an invited guest here this evening, and the purpose of the occasion is to have these good old folks, who have been members of the Outrigger Canoe Club for many years, identify some of the pictures, documents and records of the Club so we can preserve these records and properly identify the pictures, et cetera, and so we can catalogue them and keep them in our permanent records so those who follow us can enjoy these records and have them on display and available for anyone to see.  Just a moment . . . The first one of speak to us this evening is Mr. Ernest Tucker Chase.
Kea:   Now, Mr. Chase was the President of our Club several years ago.  When were you President, Mr. Chase?
Chase:   1917-1918.
Kea:   Mr. Chase was President in 1917-1918. I am going to ask Mr. Chase if he will just reminisce a little bit and tell us about some of those days when he was President, and even prior to the time he was President.  So Mr. Chase would you like to take a few minutes and tell us about those happy incidences you had.
Chase:  Well, it's all a little bit hazy in my mind now because it was over 50 years ago, but I remember that I joined the Club in 1910 upon my arrival in the Islands and I've been a member ever since.  The Club is mighty different nowadays from the old days.  At that time . . . I can't think of anything to say . . .
Kea:   Can you recall the number of years, Mr. Chase?
Chase:  No. No. I . . .
Kea:  Just a second.  Mr. Chase is trying to recall some of the incidences that occurred in those old days.  Just a moment .  . . Let me help Mr. Chase along here.  Let's see, when you joined the Club it was located down, of course, in the old location.  Can you describe the Club at that time?  What was it like . . . that is, the physical structure of the Club?
Chase:  Well, it was a group of wooden houses, locker rooms, and there was a lanai where it was . . . where we used to have meals occasionally.  We had a . . . what was the name of that building that we had out front?
Kea:  The club next door?
Chase:  No.  Just a minute . . . what was the name of that . . .
Kea:  I'll tell you Mr. Chase . . . Can you tell us, did you participate in canoeing at that time?  Was there canoeing of any note?  Do you recall?
Chase:  Yes.  We had the canoes and we had canoe riding, surfing, yes.
Kea:  How about surfing?  Was Duke surfing in the time you remember, or rather when you were President of the Club?
Chase:  Oh, yes.  Duke was a member of the Club at that time. He was not when I first joined in 1910.  He belonged to the Healani Club but he became later associated with the Outrigger Canoe Club.
Kea:  You say you joined in 1910.  Who was the first President of the Club?
Chase:  Well, I . . .
Kea:  Who was President in 1910?
Chase:  Well, I'd have to look that up.
Kea:  When were you President, Mr. Chase?
Chase:  1917-1918.
Kea:  In 1917-1918.  Well, thank you so much, Mr. Chase, We'll be back to you later.
Kea:  Now, here's another real old timer and a kamaaina and one of the starters of the Outrigger Canoe Club, Jack Mackenzie.  Now, Jack, when were you first associated with the Club?
Mackenzie:  About 1907.
Kea:  1907.  That's actually before the Club was organized . . . I thought the Club was organized in 1908.
Mackenzie:  That's right it was, but we were hanging around the beach and had the Club, but we didn't have a charter.
Kea:  Hanging around the beach!  You were one of those boys who just hung around the beach.  What were you hanging around the beach for?
Mackenzie:  Learning to surf, steer canoes.
Kea:  Did you actually learn to surf or did you learn to steer a canoe OK?
Mackenzie:  Learned to surf first on boards.
Kea:  Jack, the other evening at the 60th Anniversary meeting you were telling me some very interesting stories about your first experience with the Club and you told me how it actually got started.  Would you like to tell me now?
Mackenzie:  Well, my earliest recollection . . . Mr. (Alexander Hume) Ford had a Lewers & Cooke book and he was sorry for a bunch of us kids who were changing at old lady Arnold's bath house.  That was Sam Carter, Fred Carter, Bill Harris, myself, and er, Mrs. Arnold was very kind to us, she'd let us change for nothing.  Then we'd have to pick up kiawe beans to feed her old horses.  She'd give us a sandwich occasionally, and Mr. Ford said, "I have an idea, to perpetuate Hawaiian sports and you young fellers can join".  If I remember right it was $5 a year, and we didn't have $5, so we gave him what little we had – maybe 50-cents, and then occasionally worked for him until he could get the $5, and he dunned the daylights out of us until he got it [Laugh].
Kea:  Of course, in those days $5 really meant $5 . . . at the end of school, I was going to say they didn't have any currency in those days.
Mackenzie:  No, they did not.  No, they did not.
Kea:  And as far as canoeing was concerned you said that you learned to steer.  Now can you tell me some of the other members who used to paddle regularly with you?
Mackenzie:  Well, there's Bill Cottrell here, and of course, there was Harry Steiner, Kenneth Atkinson and Francis Cooper, Ted Cooper, Ted (Edmond) Melaphy . . . a little older . . . Zen Genoves, uh, now wait . . . Kenneth Reidford.  Who else?  Marston Campbell.
Kea:  Did you have any races in those days like we have now, any competition, or was this you just went out and paddled for fun?
Mackenzie:  We were just discussing that, Bill and me were discussing it.  When were the first races started, and I asked Bill, was it 1907, or was it 1908?
Kea:  Did you decide when it was?
Mackenzie:  We didn't decide yet, did we Bill?  It's too recent! [Laugh].
Kea:  Tell us about the surfboards.  You know nowadays they have the real fancy light ones, made out of plastic and so on. What did you use in those days?
Mackenzie:  Redwood . . . and, we had to make our own.  And they were much heavier than the ones are now.
Cottrell:  They were heavier.
Kea:  Well, Jack, thanks so much, we appreciate your comments, and we'll move over here now to Knute Cottrell.  Here's good old Knute Cottrell, and Knute will tell us when he first became a member of the Club and why he became and how he became much like Jack did, and you know Knute wrote a history of the Club.  I was just down at the library the other day and found he had written an interesting article.  Knute can you tell us about some things that happened when you first became a member of the Outrigger?
Cottrell:  Well I used to come out here with my uncle David and Bill back in 1903.  I still remember when Alexander Hume Ford arrived down here and he was a great friend of Jack and Charmian London.  The three of us lying on the beach amongst the pahuihui which grew on the beach.
Kea:  Say that again, Pahuihui?  What is that?  What is that, a tree or something?
Cottrell:  Pahuihui was a . . . is a sort of a shrub which used to grow on the beach and we'd pull it out and make a mound of sand and put the pahuihui on the top of it and pray for the waves to come:  "E ala e ala mai e ka nalu nui".  So all three of them were very, very interested in starting a club for the Hawaiian . . . propagating the Hawaiian sports . . . aquatics mostly, and they thought getting the . . . rolling the rocks and stuff on the grass, you know, the bowling, but the Hawaiian aquatic sports were mostly in his mind and when they finally moved the old shacks over from the Seaside Hotel over here, Curtis Hustace and I wired up the whole thing with electric lights and so forth . . . and that's how I got away from paying my first dues.  [Laugh].
Kea:  Thanks so much Knute, that was great.  Now just a moment here now.  We asked Jack about paddling and surfing, and after all the Club was noted for its paddling and surfing.  Did you get involved in surfing and paddling?
Cottrell:  I was in the winning crews for I don't know how many years.  We won by not less than eight canoe lengths, mostly, and I remember when the Kalihi boys came over to race us at the buoy outside the harbor, they were trying to reach out to tip our outrigger up (the ama), and we'd always yell at them in Hawaiian. Someone would throw a paddle at the fingers on the outrigger and say: "Ho'oku e eha i au".
Kea:  When you say harbor, Knute, this was down at Honolulu Harbor, you didn't have the races out here at the beach like we do today.  These were all held at the Outrigger Canoe Club, I mean, down at the harbor.
Cottrell:  Not all of them, we had some out at the beach here, and to get a seat in a boat we had to go out in a canoe by ourselves, a single canoe, and race from down by Brown's place up through Cornucopia in front of the old Outrigger Canoe Club, and the winner of two out of three would get a seat in the boat.
Kea:  You said the Kalihi boys, were there any clubs?  How about Hui Nalu, were they active then?
Cottrell:  No, Hui Nalu came later.  I heard something said by one of the fellows at the Outrigger Canoe Club at that time which disgusted us quite a bit, so Duke, myself and Kenneth Winter, who was captain of the Club at that time, went over to the Moana Hotel and the three of us started Hui Nalu Club.  We first called ourselves the Very Lazy Surfers, VLS, or Volunteer Life Service and we had learned the semaphore from Governor (Samuel W.) King when he was at Annapolis and we used to send the semaphore signals out in case of any danger outside, back and forth, in that way.  It helped me a whole lot when I was in Officers Training Camp because I managed to get off on Saturday when I was supposed to stay in.
Kea:  Officers Training Camp, then I take it you were very active in the military.  As I recall as a youngster I used to see you in uniform from time to time.
Cottrell:  Well, I also taught some of these Chief Petty Officers how to approach . . . in wild water, how to approach the shoals, the coral reefs, and so forth without getting all smashed up . . . that is, to go in to about four or five yards away, just drift into the coral, hang on to it, and when the water receded, well climb out and run.
Kea:  Wonderful.  Thanks so much Knute, we appreciate your comments.
Here's a very illustrious member of the Outrigger Canoe Club, Judge Steiner, and I'd like to ask the judge now to tell us about how he first became a member of the Outrigger Canoe Club.
Steiner:  Thank you.  Before I became a member, I'd like to say how I first met Alexander Hume Ford.  There was no Outrigger Club, as I said, then and we were out surfing in a canoe and we saw this fellow standing on the beach.  There were four of us in the canoe, the only one I remember now who is left is Atherton Gilman, and we asked him if he wanted a ride.  He was in a bathing suit, one of the older type, a little different from the bikini style, it covered everything (general laughter).  It had, er . . . it reached down to his knees, it had little arms below his shoulders and he said, "Yes," he'd like to go surfing.  Our idea was . . . he was a stranger, there were very few tourists here then.  If one came on the beach he was a spotted man.  The idea was to take a stranger and put him up in the front seat of the canoe, take him right through the surf, and when you go through, when the bowl went through the wave, and it dropped, why, it's a little discouraging for the front passenger.  We thought that would fix this fellow up.  Well, he was kind of game . . . he was dripping water from his whiskers down, his bathing suit as you might expect all wet, and we came in and we said, "Have you had enough?"  He said, "No, this is great sport" he said, "we don't have this stuff down in North Carolina" . . . or wherever he came from.  So he stuck around, and after that he still came to the beach and finally, he got the idea . . . he was living in a grass house, part of the old Seaside Hotel, and he conceived the idea of forming an outrigger club . . . which he did.  He interested all the big sugar magnates of Honolulu and got them to join and he started the first Outrigger Club, which consisted of two grass shacks.  Those grass shacks were a part of a set up which was a zoo in Kaimuki, and that was the start of the Outrigger Club.
Kea:  Thank you, Judge.  Do you recall about how many members were at the Club at that time?
Steiner:  Well, we had two classes of members:  active ones who paid dues, and other members who joined at the instance of Hume Ford and didn't pay dues.  How many there were, I don't know.
Kea:  In those days, you had trouble with your collections.  Did they have a system of posting the delinquent ones like they do now?
Steiner:  They had a system.  I don't know whether you'd call it posting, but the main thing was they didn't pay.  So the Treasurer was Richard H. Trent, and I got the job . . . if I would collect these dues which was then $5 per year, I would get a commission of five percent.  So I worked hard for several months and finally, as the books show here, I collected $13.50 after a full five months [General laughter].
Kea:  Congratulations.  That was really good.  I don't think you said, Judge, just what year you joined the Club.
Steiner:  I joined when it was first formed. Either '07 or'08.  I am not sure.
Kea:  And you have been a member ever since.  Well, it's been real great, Judge, and we appreciate your comments.  Thank you so much.  The next here this evening is our good friend Joe Stickney.  I know Joe has some real interesting comments and some real interesting stories about the origin of our Club, and here's Joe.
Stickney:  You know it's due entirely to the imagination and energy of one Alexander Hume Ford.  He wasn't from North Carolina as Judge Steiner mentioned, but he was from South Carolina which is quite a difference.  He arrived first in the Hawaiian Islands in 1905.  He was a remarkable fellow.  He was a playwright, and a very successful one.  He had collaborated with Mark Twain in the production of Tom Sawyer in New York and he put on several plays here which were very successful.  In other words, what I am trying to bring out is that he was a man of imagination and great energy, and by the way, he was a bachelor.  It gave him more time, of course, being a bachelor to engage in these activities . . . all of which have benefitted this Territory, now our State of Hawaii.
For instance, in 1907 he went to the Trustees of the Queen Emma Estate.  At that time Bruce Cartwright was the Chairman of the Board of Trustees, and told them that he had in mind organizing an outrigger club to revive the sports of surf riding both with boards and canoes.  At that time, I venture to say, there weren't more than a dozen people who knew how to ride a surfboard.  You've heard from a couple of them tonight, Knute Cottrell, for instance, Jack Mackenzie, and another one, Judge Steiner who just talked to you.
He also said he would like to have a place where kids could come after school and have a little supervision and engage in a healthy sport.  The site he had picked out, of approximately 80,000 square feet . . . there was a lagoon running through it, marshes on each side. The nearest building was the Old Moana Hotel, the center part of the Moana Hotel, which is wood.  On the Ewa side was the old Seaside Hotel.  You heard Jack Mackenzie mention Mrs. Arnold.  She ran the old Seaside Hotel there, I remember as a kid.
While Ford was a good salesman, there's no question about that, in convincing the Trustees of the Queen Emma Estate that this club that he had in mind organizing would be a good thing for Honolulu, never though, if those wonderful members of the Board of Trustees of the Queen Emma Estate could visualize what value would eventually be placed on that property would Ford have been able to obtain the lease which they finally granted him . . . a 30-year lease for $10 a year on 80,000 square feet of the choicest part of what later became the Miracle Mile.
Well, the thing that impresses me a great deal is that every one of the arguments that Ford used to secure this lease from the Trustees of the Queen Emma Estate, every one of them, he made good on.  The Outrigger Club, I think, more than any other entity, is responsible for the revival of surfing in the Hawaiian Islands.  Instead of ten or twelve young fellows today who know how to surf today there are probably 10,000 or 12,000 spread all over the world, but it originated right here at Waikiki.  The original Outrigger Canoe Club.  The kids had a place to come after school, a healthy place, a decent place, a place where their folks wouldn't worry about them or anything else.
And so as I look back I think this City, this Territory, in fact, almost the whole world owes a tribute to one good South Carolinian, Alexander Hume Ford, with whom I worked for many years, both as a child and later as an adult and I would, myself, like to pay tribute to that wonderful man of imagination and energy, Alexander Hume Ford.
Kea:  Joe, gee thanks so much for that wonderful story and the account of how the Club got started and the tribute to Alexander Hume Ford.  I think that was just great.  Now, I know how humble you are and how reluctant you are to talk about yourself, but you said when you were a kid you noticed some things.  Well, when I was a kid I used to watch you play football, and I knew that you were on the track team, too, of the Outrigger Canoe Club.  And this evening we saw a photograph of you in the canoe 'A'a as one of the four members of that canoe.  Now can you tell us about yourself as an athlete.
Stickney:  Well, you know the Outrigger Club at one time had one of the leading football teams in the Islands.  In fact we have the . . . had the honor on New Year's Day 1920 of playing against the first Mainland college football team ever to play in the Hawaiian Islands.  That was on the old Alexander Hume Ford . . . the old Alexander Field [Laugh] . . . that was before the Moiliili Field opened up or even the Honolulu Stadium. [Laugh]  We also had a track team.  The Outrigger Club was an organization that was live . . an organization for good in the community, and it still is today.
Now, that canoe team you spoke of . . . there were four of us in it there . . . I happened to look at the picture tonight.  There was Ronald Higgins, Francis Bowers, Edric Cook and myself, and the remarkable thing is while that picture was taken fifty-one years ago, all four of us are very much alive.  And I think probably, er, that early sport of canoeing and so on had something to do with it.  As far as I know, with the exception of myself, of course, we are all in good shape. [Laugh]
Kea:  Thank you Joe, you certainly look in good shape, and we really appreciate your comments, and best of luck to you.  Thanks so much.
The next person we are coming up to is Mr. Smith and we just had a little difficulty with him because he is arguing about who's older.  He considers himself young, and I think looking at him he certainly is young; and I know he is going to have some interesting stories to relate to you about his experience when he first joined the Club, and then, of course, later on became President of our Club.
Smith:  Thank you Bill.  Well, I came to Hawaii in 1919 and immediately joined the YMCA and helped in the physical department down there at times and played volleyball, and met Outrigger boys who were the best volleyball players in . . . that I knew of at the time, and it was something to go up against the fellows.  "Dad" was the coach, "Dad" Center, and of course they . . . Duke and Tom Singlehurst and some of these boys who could jump five or six feet, and we respected them very much.
One day my wife came home and said, "I have joined the Outrigger Canoe Club for you and for me and for our two sons" . . and that was in 1928.  So I said, "All right we'll go to the Outrigger," and I came down to the Outrigger and an old friend of mine, not that first day . . . I came down to the Outrigger the first day and put on a suit and went out and hoped somebody would say "Come out and play volleyball," but nobody paid any attention to me.  I was a stranger as far as I could determine and never did do anything that evening.  So I didn't give up . . . the next evening I came out and Vic Kahn was playing on a team and he said, "R.Q. you call for the winners", so I said "winners" and that gave me the right to choose the team to challenge the winners, and from then on we played volleyball, and volleyball was what I liked down here, and what I did down here, and of course one of the first young fellows I met down here was Ernest Tucker Chase who was playing volleyball, and no one to this day has beaten him in the game of . . . with one exception, perhaps, in the game of singles up until the time he retired.  None of these young fellows could touch him.
So from 1928 on I have been a member.  I should qualify that because there was one time . . .I was on the Board with our dear friend and great benefactor, Walter Macfarlane, and I realized that he had quite a time in renegotiating the lease and so on, and I didn't have the time . . . at least I believed I didn't have it, and I said, "Walter, I am going to resign from the Board", and later on I resigned from the Club for a period of a year, but came back after that year.  But we had many interesting go-rounds, and Mariechen Wehselau, she was then Mariechen Wehselau, Mrs. Jackson, was a wonderful helper in the year of 1932 during which I was President.
Kea:  Thanks so much R. Q.  That was Mr. R. Q. Smith, as you heard he was President in 1932.  Thanks so much.  Now Mr. Tucker Chase is going to read into the records, please do.  Mr. . .
Chase:  No, no.
Kea:  He said, no, no.  [Pause.  Laughter]
Kea:/strong> We finally convinced Mr. Chase to read into the record a copy of the minutes dated June 18, 1918 – and here is Mr. Chase and his reading of the record of that time:
Chase: This is an item from the minutes of the meeting held at that time:
"Mrs. Arthur G. Smith and Mrs. L. F. Leo asked permission to address the Board in regard to enforcing regulations concerning bathing suits, especially women's suits, strongly recommending the advisability of legislation compelling women bathers to wear suits conforming to the following: Trousers to the bend of the knee, suit cut four inches down from the neck and two inches below the armpit. They are also very desirous of securing the official backing of the Board of Directors in their campaign for keeping persons attired in bathing suits from the public highways. (Laughter)
"After carefully considering the arguments for and against the above, the following motion was drafted proposed by Mr. (Guy) Buttolph: 'That the Board of Directors of the Outrigger Canoe Club objects to the indiscriminate walking on the streets not covered, and that we also express ourselves as being very much in favor of some ordinance being passed requiring that proper bathing suits should be worn by women bathers' . . . Motion seconded by MR. Soper, and unanimously carried."
Kea: Mr. Chase, thank you very much. As I recall there was an ordinance finally passed, called the Desha Law, and it wasn't until, er, and it wasn't until just recently, after many, many years that this law was finally repealed – and now wht we have is bikinis!
I just got a request . . . Knute just thought of something after listening to Mr. Chase recall some incidences in those minutes — now Knute's got an idea — let him tell you about it.
Cottrell: Talking about the bathing suit ordinance that passed later on and became through the legislature the Desha Bathing Suit Act, reminded me of the time when a few of the ladies of the Uluniu Club were sitting down near the Outrigger Canoe Club on the sands, and they saw approaching two Hawaiian girls dressed up in bloomers, long stockings, and rubber shoes and they objected to the sight of these girls showing off on the beach in such a horrible fashion. These were the suits that their grandmothers used to wear on the beach and they were quite approved at that time, but with the later changes in bathing suits — always discreet, of course, when the girls didn't have any more . . . rather the Moana Hotel didn't have any more suits of that day and age — why they gave these girls the old fashioned bloomers and things. They used to be approved by these same ladies who thought it was horrible to see these two girls exhibiting themselves like that — in that fashion. (Laughter)
Kea: Thanks so much Knute. Now here comes one of those very gracious ladies, Mariechen Wehselau Jackson, who is Chairman of this committee, and it's really a great committee, and I think we are accomplishing a great deal this evening — Mariechen . . .
Jackson: I think we are having a lot of fun getting all this information, and I am sure that we are passing over many, many old members who could contribute to the history of the Club.
Kea: Thank you Mariechen. Now perhaps we ought to tell the folks a little bit about the purpose of this committee, what it is trying to do, perhaps the people who are serving on the Committee, and the objectives, the things we hope to accomplish this year.
Jackson: What we are trying to do is gather facts regarding the Club's history so that eventually we might have a history written of the Club. We've got some valuable information here from very, very interesting stories that can be told about the Club. This committee came into being a short time ago and since then Kehaulani Stowell, one of our members, has been hired by us to gather all the facts and we hope that later on we will have a history. Kehau has been gathering facts from the Archives and from the Library of Hawaii and is tabulating all of this and eventually we will decide just exactly what the approach will be.
Kea: Thank you, Mariechen, that's great. Now can you tell us why we are all here tonight with some of these real grand people from many years ago.
Jackson: The reason for this gathering is that the Club has an accumulation of pictures that have not been identified and also the Club has had for many years, in the vaults of the Bishop Trust Company, two boxes of old ledgers and minutes, and very interesting bits of information about the history of the Club. Such as, oh, a few complaints here and there, and very interesting bills, and also the fact that Harry Steiner collected delinquent dues and was paid some $12.35 for collecting them. As a matter of fact, I think I collected delinquent dues for the Club also at one time.
Kea: Now, you know, like we've noticed all evening from most of these folks who have played a very prominent part in the Club, and the building of the Club, as a youngster I remember reading about Mariechen Wehselau — what a great athlete she was, and I know how difficult it is for her to tell us about how great she was. I wish she would tell us a little bit about her participation, particularly in the Olympics.
Jackson: Well, rather than start with the Olympics, I'd like to say . . . tell you how I joined the Outrigger Canoe Club. The reason for joining the Outrigger was when I was going to Punahou School, a thousand years ago, they had the routine physical ed examination each year and I had quite a bad cold at that time — you know children didn't stay home from school with colds in those days, they just went sniffling to school and Dr. (Edwin) Kilbourne, who happened to be my doctor, said that I had a heart murmur. He didn't tell me that, my mother had to go to Punahou — and Punahou didn't want to have the responsibility of me and asked that I stay out of school for a year. And my mother, being a Christian Scientist, didn't agree with that and instead they agreed to let me continue at Punahou. However, they would not take any responsibility. . . I see "Chippy" Chase thinking over there . . I made an agreement with my father at that time that I would do certain things if he would let me join the Outrigger Canoe Club. So I joined the Outrigger and he bought me a surfboard, and so instead of doing, you know, physical ed, at Punahou twice a week it was in those days, I came down to the Outrigger and I went surfing every single day. OF course I wasn't too good a student . . Chippy can vouch for that. (Laughter) And I learned to surf and dear Dad Center was here and I dearly wanted to swim and then I joined the team and started swimming.
Well, I joined the Club in 1919 and started swimming in races in 1919 and 1920, and then went to the Olympics in 1924, and then went to Australia and New Zealand. Left here on Christmas Eve of 1924 and competed down there in all the women's races in Sydney, Melbourne, Brisbane and all the little outside places, and then back to New Zealand, and then back here . . (Voices in the background. . .) In New Zealand and Australia? I won every single race in Australia and I'm not bragging, excepting one and that was in a place called, er, I believe it was Warwick. And they gave me a terrible handicap there, if I had won the 100 yards I would have had to have beaten the world's record. They were noted for doing that because Duke lost there, and Bill Harris lost — everybody lost there, so . . and Mrs. Fullard-Leo was my chaperone, and then later on I competed in other nationals on the Mainland.
But I would like to say something about the bathing suits many, many years ago in as much as we have dwelled on that a little bit this evening. The Uluniu Club was situated, as you know, right next to the Outrigger Canoe Club. The dear sweet ladies were there, one was Mrs. Leo, and Mrs. . . er, Julie Judd Swanzy, who was the President I recall when I was a member of the Outrigger and a few other dear, sweet ladies, and you see they had our interests at heart, they really did. They didn't want us to, you know, go astray, and all of that, and they would sit there and we called them the Rocking Chair Fleet. That's what the girls did. But we girls at the Outrigger had to wear smocks over our bathing suits, and those smocks had to go to our knees. Now they weren't big full smocks, they were, you know, just straight down pieces. They were made of black sateen, round necks and cut out armholes, but right down to the knees, and we had to wear those when we put on our bathing suits in the locker rooms down to the beach. And then we went swimming — that's what we wore over our bathing suits.
Kea: Mariechen, that was just wonderful. Thank you so much to have those realy happy occasions related here this evening.
Just a second, I think Mr. Chase has a comment to make.
Chase: Just one or two remarks I want to make on the times before Mariechen became a member of the Outrigger Club and a swimmer. The first girl here in Hawaii who blossomed out as a real competitive swimmer was Ruth Stacker, also a Punahou student. Well, in those days, Mayor (Joseph) Fern, Mayor of the City of Honolulu passed an edict that women bathers were not to appear on the beach in men's bathing suits. That is, the suit which came from your neck down towards your knees but with a little skirt on it and the beach patrol simply saw to it that the law was carried out.
Well, Ruth was, as I say, the first notably good swimmer that we remember here, and she would wear a garment such as Mariechen speaks of out from the Club to the Moana Pier which ran out some distance, some hundreds of feet into the ocean. She would then pull off this outer garment, hang it on a nail on one of the piles, and go out and swim in the suit which had no impediments like that in it, then, coming back she would don this garment and come up on the beach. But that was the regulation. No women were allowed on the beach in a so-called man's suit in those days. That was earlier on.
Kea: Before you go, Tucker, in the morning's paper there was a picture showing girl-watchers . . . girls dressed in the modern beach attire which, as you know, is pretty well abbreviated from the attire that Mariechen wore particularly with that overcoat. Do you suppose there were girl-watchers back in those days?
Chase: Well, I don't know about that but I remember coming down to a somewhat later time our pavilion at the Outrigger was right on the beach and the second floor of it — the first, the ground floor, sheltered canoes — and on the second floor was the large hall which was . . . large space which was used for dancing and parties with seats around the side. And I remember when the first bikini was seen at the beach. And a man and a woman thus clad lay on the beach right in front of our pavilion, and I remember that some of the younger set procured bags which they filled with water and which they tossed out upon the lady in the bikini — and then the man. Those suits had not become popular at that time.
Kea: You wouldn't go so far as to say that maybe you participated in tossing out those bags. Were you or were you not in favor of the long attire that they wore in those days.
Chase: Well — er– it was a splendid thing. I remember my mother and father came out to live with me and mother joined . . . before the Uluniu Club was the Women's Auxiliary of the Outrigger Canoe Club. People seemed to think there was just the Uluniu Club — we had the Women's Auxiliary and those people belonged to it. But as time went on there were some, as you gathered from Marichen's announcement, there were some rather conservative ladies in the Women's Auxiliary and, as I remember it, this was somewhat later than my term of presidency. They did not approve of some of the ladies whose husbands were members of the Outrigger Canoe Club, and it developed — so finally they formed the Uluniu Club and were no longer closely affiliated with the Outrigger, but the Outrigger Club went on having a Women's Auxiliary and we still have some women members.
Kea: Things have changed a great deal over the years. Incidentally, how about the men? Did they go around in short trunks in those days, or did they wear something different?
Chase: The men wore suits which went up as far as the neck, but didn't cover the neck. I forget what the dimensions were — two inches below the neck was what the women required, but our suits at that time, I think, had almost a quarter sleeve, and we . . . along about the time when we changed over, most of us, except the conservatives, to the bathing trunks — one of the members of the Outrigger Canoe Club was a rather corpulent man, and they did object to his wearing the trunks only. They thought he ought to wear a shirt with it. That is an actual fact. (Laughter).
Kea: That's just wonderful, Tucker, that's really great — that the men were even careful about their dress in those days.
Knute just thought of something as Mr. Chase was relating some of the old experiences . .. and here's Knute.
Cottrell: E. T. Chase has mentioned one of our first swimmers down here, Ruth Wayson Stacker. When she was about eleven years old Ruth looked like a little bean pole, very skinny, and she came out to the beach and finally she asked us — of the Hui Nalu Club at that time — if we would help her with her swimming. We asked her why, and she said because the North California champion had just come down and issued a challenge in the newspaper to swim any distance, at any time, with anybody down here — any girl down here. And Ruth couldn't swim out to the old platform in front of the old Moana Hotel so Dan Kealimaiki and myself, and Kenneth — I mean Harold Hustace – Curtis Hustace, took her under our wing and finally I was the only one left to coach her, and we worked her until she lost a few more pounds. But at the race down between the Myrtle Boat Club toward the Healani she walked away from the California girl champion very easily in the 30-yard race. This was only about three weeks after she accepted the challenge.
Later she wanted to continue swimming so I finally took her out. I'd ride a surfboard along side of her and took her out, and I put a big sweater on her and she swim from the Moana Hotel out through the reef to Diamond Head down to Kewalo Basin and back again in to the Moana Hotel, and she got a very perfect stroke there. It was a good stroke for a long distance swimmer. In 19–, gee, 1913, when the first Hawaiian swimming team went to California, supervised. Just before we left Honolulu Ruth went down to swim at the docks. She was checked and clocked by a geodetic survey man, and several others with watches and there was no turning place and no starting platform, but she swam over the 440 yards — she had to turn in the water — against Freddie Wilhelm, a distance swimmer. And I was shoving my arm up and down to make her hurry up because they were neck and neck all the way, and then I bawled Freddie out because he wasn't swimming fast enough, but he said, "I was going as fast as I could", and he and Ruth touched almost the same time at the finish would would have been 440 yards. It was, in fact, nearer to 500 yards, and it was in six minutes and four seconds.
The next month when we were in California, the Southern California and North California champions raced each other, Donna Briggs and Mildred Black, I think it was, 440 yards in the Sutro Pool and they made a neck and neck swim of it and they finished in eight minutes and fifty-one seconds. Quite a big difference from six minutes and four seconds without turning boards — and that was the way Ruth swam in those days. . . Thank you.
Kea: Thank you, Knute Cottrell. That was Knute Cottrell, a real old timer and one who has contributed a great deal to the development and building of our Club from a way back. Thank you again, Knute.
After a great deal of coaxing we are finally, I think, we are going to get Ward Russell up here. As you know Ward was President of the Club, and in comparison with some of these real fine old gentlemen, Ward is just a youngster. Here's Ward, and I am sure he will have some interesting events to tell you about, and his experience with the Club here.
Russell: Well, Bill I feel very privileged to be included among this group of old-timers, particularly to be asked to make a few observations. As I look around and see these swimming greats, Knute Cottrell, one of our great, great coaches, and Mariechen, one of our first women Olympic swimming champions, and Chippy Chase, and the rest of you, it's really distinguished company and I am very grateful to have the opportunity to say a few words.
Just reminiscing a little about swimming — I wasn't much of a competitive swimmer although I did swim for the Punahou swimming team, made my letter in swimming. I was more of a diver, and of course I know that brings back some vivid recollections of the divers who performed in your time like "Stubby" (Harold) Kruger and a few others, but I can remember when we swam competitively we swam in the old silk racing suits, but it still was a matter of being covered from the neck down. I don't remember swimming in trunks until after I graduated from high school.
But, just to add a few things . . . one thing, if I may say, is that I was President for four years and I think during a very turbulent period of the Club when we moved from the old location down to this very beautiful location here and to this exceptionally fine facility, and during that period I know that all of you were called upon in one way or another to serve on various committees. R. Q. preceded me and really started the ball rolling when our negotiations with Matson . . . Remmber, R.Q? . . . We darned near . . . What was his name – John . . . what was his name? The fellow from California — who wanted us to give up the Club site. Well, we actually signed the papers, to turn the Club site over to him . .. but many of you served on committees and contributed a great deal to the success of the move.
At that same time also you served on committees which were concerned with preserving the history of the Club and Tommy Thomas here, during my reign – I mean, my tenure – as President started the ball rolling, I believe in getting this particular activity going, because I asked him specifically to get all the material that we had together, and it was he who was really responsible for assembling all of these minutes and books and mementos of the past. And from this initial move I think we graduated to the point where we are here this evening to record some of the events of the past, to identify some of the pictures of the past So again, Bill, thank you very much for this opportunity.
Kea: Ward, thank you so much for bringing us up-to-date and telling us about how the Club moved down here. We appreciate very much your coming here and giving us some interesting comments.
You know as we are going along here some of our folks are getting some ideas and here's a very interesting comment, I think, by Knute Cottrell. Knute . . .
Cottrell: Thank you, Bill. You know, it takes me back a long, long number of years, and the racing down at Honolulu Harbor, and Prince Kuhio had that beautiful A'a, the canoe that couldn't be beaten. It used to be pulled by the boys of Miloli`i after the flying fish and they'd be at it all day long paddling — they were wonderful paddlers. So, Kenneth Brown, the captain of our team which consisted of Harry Steiner, Zen Genoves, Ted Melanphy, himself – Kenny Brown — myself and . . . was it Jack Lishman, Harry? . . . one other boy, I will think of it in a minute. We thought we were the tops because we'd win all of our races so very easily. We used to work hard in pulling canoes and for the races — and then we came up against this regatta. The Miloli`i boys were down here with Prince Kuhio's beautiful canoe and they just walked away from us — and seemingly so very, very easily, and we were just digging in for all our worth, and then Kenny decided that they had a better canoe so we challenged Prince Kuhio to change canoes and let them pull the Liokeokeo and we'd take the A'a, and they left us so far behind it was disgraceful. We didn't want to finish the race at all (Laugh), and that was the only time that the Outrigger Canoe Club was ever beaten.
In other races we'd go around the buoy outside; the fellows in the other canoes nearest us would try to lift up our outrigger and flip it over, and those canoes were just balanced so delicately that a little finger touch, or lift, would throw the canoe upside down, and we'd always take our paddles and slap down at their fingers and say, "Ho`oku a eha i`au — "Let go or I'll hurt you", and that was that. Thank you.
Kea: Knute, thanks very much for that very interesting comment about some of those real old days — that was tremendous . . . Just a moment . . . Here comes Ward Russell — he's just been stimulated again.
Russell: Knute's, er, recounting of the experience in the A`a canoe racing in the old days reminds me of a situation that developed. You might recall that there was a period there when none of the clubs really did much participating in outrigger canoe racing. What happened was that they began to take up rowing and most of the members of the Club belonged to Healani or Myrtle. There was a long period there when we didn't have any outrigger canoe races. Then in 1933 they decided to revive the races and I remember that I was very active at that point and in 1933 I went to Kona. They had them in Kona. Remember? And they had the Kona Club, the Kailua Club, the Hilo Club and Miloli`i was back again in the races. There was Hui Nalu and the Outrigger, and of course, the Honolulu crews were all the athletes — the Outrigger, Healani and they were so confident that they could win everything there and I'll never forget that race as long as I live. We went up there and here the Miloli`i gang came up again and they won every race. We found out later they had come from Miloli`i the day before to compete in the races, and they had paddled up, which is only a matter of about 50 miles. (Laughter).
Kea: You know it's unfortunate that we don't have some of those canoe clubs from some of those remote areas of our State — Miloli`i and some of those remote areas — it's unfortunate that they aren't competing any more.
Here is Mrs. Jackson, again — she just thought of something she'd like to relate to you . . . Just a moment.
Jackson: This is really history as far as the canoeing is concerned in the women's area. Before the first Kona races I was helping Dad Center up at Punahou tank coaching. I went up there every Friday night for years on end helping him coach the kids and I told Dad that Ruth Scudder and Oma Haley and Ann Barkey, who is now Ann Cook, and I were going up to Kona to see the races and Dad said, "Well, why don't you race?" He said, "You know there's going to be a women's race up there." I said "Oh, come on". Now you know Dad was a great kidder and I said, "Well, we're going to go", and he said, "Well, why don't you practice a little bit", and I said, "Well see you up there, Dad." So we went up on the Waialeale — we paid for our trip up there, as we were watching the races and having a great time, you know, tourists, on the top deck, and all of a sudden Potter Thurston, Lorrin Thurston, came out in a speed boat with a megaphone and yelled, "Squeaky, Dad wants you to get your crew together," I said, "OK". I figured that Dad thought that maybe we'd find it more interesting on the beach watching the races and I said, "Come on, let's go" and Carmen Joyce's sister, who was a hairdresser, was aboard too, so we got her to go along with us. There were five of us — and when we got to the beach Dad said, "OK, now, you are going to paddle" and I said, "Well, look Dad, we've never paddled together, and I've never steered a big canoe before, and we needed another person". Well, Dorthea Ruttman Lambert was there. Charlie Lambert and Dot were working. Charlie had a job on Hawaii and they were there. Dot was there, so Dot joined us and that made six of us, and I said, "Look, Dad, let me go out and paddle behind a boy, one of the boys, just so that I know how to steer one of these big canoes." "No", he said, "you'll be all right, you'll be perfectly all right".
As I recall he put us in the Hanakeoki, a nice long gorgeous canoe, and here were the girls. We all had these nice colored bathing suits on except Dot Ruttman Lambert, and she had jeans on or so. And we went out to the mark, to the start of the race, and these elderly Hawiian ladies came out in their muumuus — long muumuus — their nice gray hair all down, you know, and the canoe — they were voluptuouos — the canoe was about three inches from the surface of the water. They came out very stately, you know, and steered out as straight as an arrow, and there we were. We were flirting with the Coast Guard, you see (Laughter) — they were the judges, so we know what to do, they said, "Now, you just row on . . . paddle on by those flags down there" and we said "Yes, that would be fun." So we started out and as Gay — Gay Harris was on the beach — and he said "Gee, Squeaky, you know, I looked and the race started and you people went dashing off" and then he said, "You know, I looked again and I just didn't know whether I was seeing right or not". The trouble was I couldn't steer and I went around like that — all across. We headed for the jduges' boat. (Laughter). We had to tell the judges to get our of our way, and then we zigzagged all over the place, and this other canoe went just straight as an arrow, and you know, slowly, and here we were just steering all over the place. We had speed but no direction and we mowed down flags, and at the end of the race, the ladies from Kona beat us by a very short distance, as I recall. We came second, but that is the way it should have been because they received the gold medals from Princess . . . it wasn't Kawananakoa, yes it was (Abigail) Kawananakoa, and they should have had them, and here we were just ragscallions out there. But it was a wonderful race and the start of the Outrigger women's races. Then we came back and the next year we paddled and Dad had us paddling and we paddled, you see — but that was the start. That crazy race, but real fun. And then we became a crew.
Oh, and then after the race — this was the highlight we came "crew", you see, and so we went down in buses from Napoopoo to Kailua and we . . . No, no, we . . . that's right now . . . I'm getting real old . . . can't remember . . . We celebrated the races at Napoopoo and there was a big luau there which we enjoyed. Then, we went back with all the crews to Kailua, but here we were excursionists, but we also participated in that, and then went back on the Waialeale. Oh, it was delirious . . .
Kea: Mariechen, that was wonderful. That just goes to show you what a great sport Mariechen was when she recognized the Kona group . . . Now, just a moment. Just so we'll keep on course with our recordings. What year was that?
Jackson: '32, I believe. "34? Ward says '34.
Russell: It was '34 — the year of the opening of the Mahalahoa Highway.
Jackson: Well, probably, it could have been — it was a good long time ago, and I do wish that Kona was . . . if it were only now the way it was before.
Kea: Thanks again, Mariechen. Well, I think we've got . . . finally got the date set, it was in 1934, the first, er, race in Kona. Well, we are still getting a big laugh over that race that Mariechen got into over there in Kona where she zigzagged. You probably travelled twice as far as the other crew did. However, they did finish a close second.
Well, Judge Steiner just came up with something and everybody insists that he get it on the tape here. Now, just a moment — now, Judge, will you repeat that story, please?
Steiner: In 1908 we won, the Outrigger won– the four- and six-men senior canoe paddle races. We had our picture taken and in those days we had to be properly clothed. We didn't have six bathing suits of one kind, so I was delegated to go down to McInerny, Ltd. and see Bill McInerny and I invigled him to loan us the use of four bathing suits. They were quite snappy — they had little scallops or something also, and our picture was taken in those suits, and then I returned the suits to the McInerny's.
Kea: (Laugh). Talk about getting things done. Wasn't that great, Judge? That's tremendous. Did they take them in at full price, or did they mark them down after that?
Steiner: Those suits were broken in by champions, so they commanded a high price! (General laughter).
Kea: Thanks so much, Judge. That was Judge Steiner. Well this has really developed into a very interesting and most informative and revealing evening listening to these real old-timers and the great people who helped to get our Club started, and we can be thankful to them, and thank you all for being here this evening. And Mariechen, I think it's been a very successful evening. . . . Your commentator, or the person who has been somewhat responsible for all this is Bill Kea, and I am signing off now. Aloha.