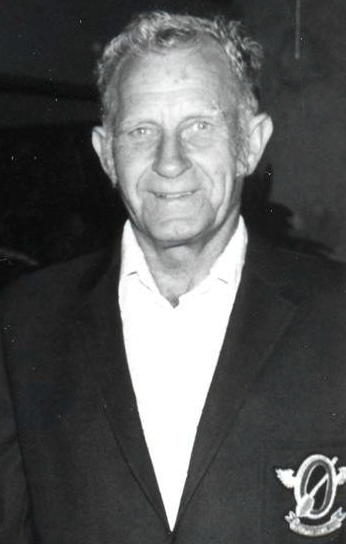 Joined OCC: January 15, 1953
Elected to Winged "O": January 15, 1968
There are many physical items in and near the Outrigger Canoe Club that most members take for granted, as if they were automatically included with their membership and monthly dues. A good many of these things are here because of the hard work and skill of one man—Wally Young.
Wally was born on October 18, 1922 and raised in Heppner, Oregon about the time of bathtub gin and the Charleston. He was a high school baseball player and learned the art of managing champions (a skill he put into good practice here at our Club) by being manager of his state champion high school football team. Wally was an honor student and outstanding debater, or as Hawaiians say, Waha Nui (big mouth).
The war years prevented college plans and Wally found himself flying torpedo bombers and fighters off carriers with the Navy Air Corps. He survived the disaster of the USS Franklin, flying as a photo reconnaissance pilot and helping to map the final victory over Japan.  Wally accepted his discharge in 1946 and became a pilot for Hawaiian Airlines in 1948. In addition to flying, he became well-known as an underwater photographer and conducted seminars throughout the Pacific as one of the original aqualung instructors.
Like so many others, he fell in love with Hawaii and became an Outrigger member in 1953. He served on many committees, but really became active in athletics in 1964 as assistant Club Captain.
Wally's skills as a manager and photographer were evident inasmuch as he escorted the OCC volleyball teams to the nationals in the 1960s. His teams made the finals 16 times in either the Open or Masters division in AAU and national competition and were national champions on three separate occasions.
Wally aided in the early formation of the Junior Summer Sports Program and helped to coordinate the Beach and Water Safety Committee.  It was Wally who was responsible for installing the mooring in front of the Club and for the original fleet of Scorpions. He made the racks for the small boats and supervised the construction and maintenance of the all-important Wind Sock on the edge of the reef.
In addition to serving as chairman of the prestigious Winged "O" honor group for five years, he helped the Club in many other areas, such as providing charter boats for OCC cheering sections following the Molokai to Oahu crews and putting on the annual volleyball Bouillabaisse fund raiser.
Many of those beautiful hand-made trophies awarded to OCC athletes at the annual Athletic Banquet were the product of his skilled labor.  He and the Winged "O" group originated the design and concept of our current athletic awards system.
The OCC is greatly indebted to Wally Young, one of the original group awarded the coveted Winged "O" in 1968.
Wally passed away on April 17, 2005.